Are you looking for gift ideas for teen boys? Check out this Ultimate Gift Guide for Teenage Boys. There are 80+ gift ideas that any guy is sure to love and will make your shopping a breeze.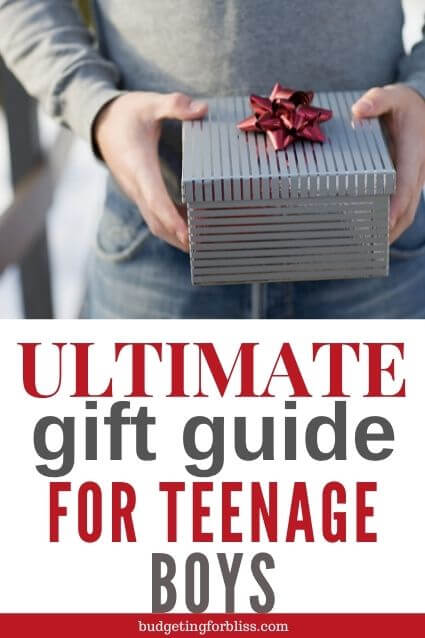 This post may contain affiliate links. You can read my full disclosure here.
Teenage boys can be so difficult to shop for. They are too old for toys but they still like to have fun. It can be a challenge coming up with gift ideas that teenagers actually want.
I have two teenage sons and I know that I have struggled over the last few years trying to find the perfect gift that I know they will enjoy. That is why I decided to sit down and make a list of 80 gift ideas that will help me when I shop for Easter, their birthdays or Christmas this year. But, may also inspire and make shopping for your teen easier too.
Most of the options are budget-friendly but I did include a few big purchase options at the end just in case you have a larger budget.
Looking for stocking stuffers for your teen boy?
Ultimate Gift Guide for Teenage Boys
Gift cards are the number one choice on my teens' wish list. Some ideas for different gift cards include:
Amazon, Google Play, Xbox, Nintendo, and Gamestop.
You could also get them gift cards from their favorite fast-food restaurant. If you would rather have physical gifts that they can open then read on for more gift ideas for teenage boys.
---
Is your teen into working out?
These dumbbells are great because they are adjustable so teens can create their own custom workout. They are perfect for a beginner or fitness enthusiast.
---
Teens love listening to music and these Bluetooth headphones are lightweight, quick charging and can last up to 35 hours.
---
These stainless steel water bottles will keep liquids cold up to 24 hours and liquids hot up to 12 hours.
---
Teens love sunglasses whether they are relaxing on the beach or heading to practice. These polarized sunglasses are budget-friendly and trendy.
---
A great quality wallet at an affordable price. Perfect for teenage boys.
---
This power bank keeps your phone charged, is portable and easy to just throw in your pocket when you are on the go.
---
If your teen is all about collectibles, then they will love Pop Figures! The vinyl figures are a collection of licensed characters from movies, TV shows, video games and more.
---
This cologne has a clean, fresh beachy scent and is budget-friendly.
---
My teens love the Every Man Jack Products and the sandalwood scent is definitely a favorite.
You may also like:
---
Alexa now comes with an alarm clock. This would be a great gift for any teen.
---
What teen boy doesn't love snacks? My boys' most requested gift after gift cards is always snacks.
---
A comfortable way for your teen to enjoy music on the go.
---
All your teens shaving needs in this handy gift set.
---
An easy to assemble basketball hoop for sports enthusiasts.
---
A must-have for any gaming enthusiast who owns an Xbox One.
You May Also Like:
---
Teens can stream movies and their favorite TV shows on Netflix or Hulu (subscription required) or Pluto TV (free) through this Amazon Fire Stick.
---
A high-quality set that is easy to set up. Teens will love competing against their friends and family.
---
A popular party game. Best for older teens 17 and up.
---
A portable Bluetooth speaker that is waterproof that teen boys can take on the go.
---
Teens love video games there is no doubt about that. Video game Controllers are always on their list whether they want to upgrade or want to keep a spare one handy when their friends come over.
---

Complete drawing set for the teen who loves to sketch. It comes with a travel case.
---
A collapsible grip and stand for phones. It's handy to have for taking the perfect picture or as a stand to watch videos.
---
Warm knit gloves for touchscreens. There is no need to take them off when texting or using your phone.
---
Teens can challenge their friends to a game of darts.
---
An excellent gift for the sports enthusiast.
---
A handy guide for teen boys that teach them all the skills they need to learn as they enter adulthood.
---
A stylish way to keep photos and files secure.
---
This 12 in 1 multi-tool is good for any adventure-seeking teen.
You may like: Wallet Ninja
---
Nerf guns aren't just for kids. It's high energy fun for teens and adults as well.
---
Is your teen a photo enthusiast? They can take their smartphone to the next level with this smartphone camera lens, taking wide-angle and close up shots with ease.
---
Every teen needs that perfect pair of memory foam slippers.
---
Teens can battle their friends and family in a fun game of air hockey.
---
Travel Hammocks are popular with teens. Perfect for handing out with friends.
---
Teens can be tough to buy for. A funny coffee mug is sure to make them smile.
Another cool mug option your teen boy may like:
---
Do you have a teen who loves to camp? This tent would be the ideal gift.
---
Who doesn't love to lounge around? This inflatable lounger is great for doing just that.
---
If you know a teenage boy who is a gamer, then this is sure to be on the top of his wish list.
---
---
Everyone can always use a new or extra pair of earbuds.
You may like:
---
Cool pillow lap stand so teens can watch movies, do homework or read magazines on the go or relaxing at home.
---
Teens can take more pictures and videos.
---
A great party game. Fun for all ages.
---
Fun novelty shirts are always a hit with teens.
---
Let teens expressive themselves with these colorful led strip lights.
---
A classic that is fun at any age.
---
Teens love sneakers and these NIKE sneakers are sure to please.
---
A rechargeable wet dry shaver makes a great gift.
---
Comfortable and supportive gaming chair
---
A nice beginner telescope for teens to explore the night sky
---
Teens will love gathering their friends together to play football at night.
---
A convenient and durable bag to carry all your teen's athletic gear.
---
Under Armour, Athletic Wear is must-have apparel for any teenage boy.
---
Books are a great gift for anyone of any age.
---
Batteries are expensive so this charging station is a great alternative.
---
A popular party game for teens.
---
A better way to store gaming headphones so that they don't end up broken.
---
Teens can decorate their game consoles and controllers with their favorite characters and sports teams.
---
59. Subscription Boxes/Services
Some popular subscription boxes and services that your teen may enjoy are:
Loot Crate (gaming, anime, pop culture boxes), MunchPak (candy and snacks from around the world), Dollar Shave Club (razors and grooming products) and Spotify (a music service that gives you access to millions of songs)
---
These shirts are sure to make any teen smile.
---
A perfect way for teens to express themselves.
---
Teens will love the feeling of a surfboard but on dry land.
---
A competitive game with rules that are similar to volleyball.
---
Another party game that is popular with teens.
More party games that your teen boy may love:
---
A blast from the past featuring
200 built-in video games.
---

An immersive experience that teen boys won't be able to get enough of. My boys love playing Beat Saber on their Oculus.
---
A nice budget drone that is suitable for beginners.
---
Portable option to keep drinks cool.
---
Is an iPad on your teen's wish list this year? Here is the latest version that's sure to make any teen boy happy.
---
Great for underwater photos.
---
If your teen wants to learn how to play the electric guitar, this would be a great gift.
---
Teens love video games. You can't go wrong with games or any of the consoles listed below.
---
You may also like:
---
---
Related: Microsoft Xbox Series S
---
---
A fun and challenging game teens will love playing with their friends.
---
Does your teen love to make YouTube videos? This vlogging camera would be an excellent gift to get them started.
---

A smartwatch and fitness watch combined that's sure to be on any teen's wish list this holiday season.
---


80. Activities/Experiences
Some of my favorite gifts to give are activities or experiences. These can include Concert tickets, Theater tickets, tickets to Sporting events, VR experiences, an Escape Room, a Trampoline Park or Theme park tickets.
---
Hopefully, you were inspired and found some great ideas for gifts for your teenage boy this year. They can definitely be challenging to buy for so when you get it right, it's a huge win for everyone.
Looking for more gift ideas for Christmas?
Love free printables? Sign up for access to my free resource library where you can find planner printables to keep you organized all year long.
Follow me on Pinterest for more gift guide ideas.