Do you want to save money for Christmas? Here are two easy Christmas Money Saving Challenges for 2023 that won't strain your pocketbook this year.
This post may contain affiliate links. You can read my full disclosure here.
Love printables?

Sign up here to access my free resource library

that has meal planning printables such as shopping lists and favorite meal worksheets.
Christmas is just around the corner and if you are someone who would like to be ahead of the game this year by not spending the early part of next year paying for this year's gifts then these Christmas money-saving challenges are for you.
Learn how you can save the most money in the least amount of time so you are prepared when the holiday season rolls around.
Although ideally, it's best to try and save money all year, life happens. Maybe your car just broke down or another unexpected expense came up. Sometimes, things just don't work out the way you plan. But, that doesn't mean you have to go into debt to accomplish your savings goals this Christmas.
I know with the holidays fast approaching that many people are trying to figure out ways to save money quickly. That is why I decided to create these two fun Christmas money-saving challenges.
Easy and Fun Christmas Money-Saving Challenges to try in 2023
Unlike most challenges where you have to set aside a certain amount to put away each week, with this challenge you decide how much you can afford to save each day. Then, you simply cross out that amount on your printable worksheet.
Once the 30 days are over, you should have crossed out each square and saved either $500 or $240 for the month (depending on what challenge you decide to take).
If you can afford to do both challenges (maybe you take one and another family member tries the other one) then you can save over $700 for Christmas in one month!
To recap:
On the $500 money-saving challenge I included a few free days but if you can afford to save on those days just pick any amount on the challenge sheet.
Remember if you want to save more you can work on both challenge sheets or even double the amounts on the $500 challenge.
You may like: 30-Day Money-Saving Envelope Challenge
30-Day Christmas Money-Saving Challenges to Print
If you are having a hard time finding the extra cash to save each day, here are a few suggestions:
You can also read how I save money every month just by using these simple tips to make my money stretch further.
Related:
Get Paid to Shop
Since you will be working so hard to save money for the holidays, you might as well benefit from it. In the last few years, like most Americans, I have done most of my holiday shopping online. It's easy and convenient.
What makes it even better? I can earn cashback from that holiday shopping. I use Rakuten when I shop just by using the Rakuten website and searching for the store I want to shop at. (you can also download the browser extension making it even simpler).
Once I find the store, I click shop now and it takes me directly to the website. When you have $5 in your account Rakuten will issue you a check or you can get paid through PayPal. They issue payments 4 times a year.
Sign up with Rakuten if you want to put some cash-back in your pockets after the holiday season is over.
The holidays are a magical time. They remind you to focus on family Christmas traditions such as baking cookies or enjoying Christmas morning breakfast together.
But, what isn't magical is the huge bill that you are left with after the holidays are over. If you would love to have a debt-free Christmas then this money-saving challenge is just what you need.
Looking for inexpensive gift ideas this holiday season?
Print out your 30-Day Money Saving Challenge worksheets and get started with your saving goals today.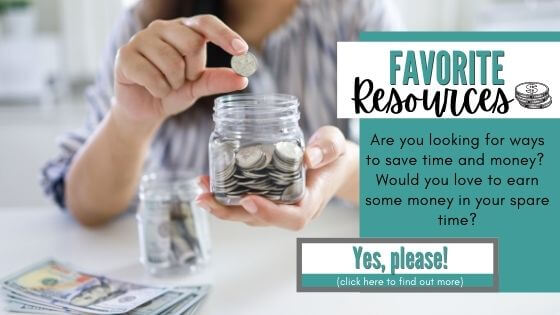 Don't forget to sign up for my Free Resource Library to grab my free planner printables. You will also get access to lots more printables all completely free for you to print out and enjoy!
Follow me on Pinterest for more ways to have a magical holiday on a budget.