Would you love to find a way to increase your monthly income? To be able to use the money to save for Christmas, a family vacation, pay down debt, or build up your savings? Then these 14 Easy Side Hustles are just what you need.
This post may contain affiliate links. You can read my full disclosure here.
In the last 10 years as a stay-at-home mom, I have often tried to find ways to bring in a little extra money for our household.
Side hustles have helped my family go on vacations, pay for groceries, and help pay for Christmas every year.
If you are looking to make a little extra money then this list of 14 Easy Side Hustles will help you achieve your goal and improve your financial situation.
14 Easy Side Hustles to Make Money
Get paid to take surveys
Swagbucks
One of
my favorite side hustles is Swagbucks. It's a reward/survey program that allows you to earn free gift cards from Amazon, Walmart, and many other retailers.
You can also redeem for Paypal.
Swagbucks will pay you to search the web, play games, watch videos, answer daily polls, discover fun offers, and take surveys.
You can sign up for Swagbucks here.
You Can Get Free Gift Cards For Shopping, Searching, and Discovering What's Online at Swagbucks.com
MyPoints
Another reward site that allows you to earn gift cards by searching the web, completing surveys, watching videos, and reading emails just like Swagbucks.
One of the best things I have found about MyPoints is that when you redeem for a digital gift card you get it within minutes.
They also offer physical gift cards if you prefer.
Panel Polls
This is a great survey/opinion site for parents, kids, teens, and young adults.
They have surveys on entertainment, restaurants, parenting etc. They also send you invites to check out TV shows, websites, and online games.
You can signup for Panel Polls here
Get paid to shop
Rakuten
Do you want to earn cash back just for shopping for things online that you normally would?
I use Rakuten every time I shop online. All you have to do is search for the store you want to shop at (you can download the browser extension making it even easier).
Once you find the store, click shop now and it takes you directly to the website. Simply make a purchase and you will receive cashback. It's as easy as that.
When you have $5 in your account Rakuten will issue you a check or you can get paid through Paypal. They issue payments 4 times a year.
Another perk is that they will provide you with coupons and sales from the retailers that you are interested in shopping with. So you are always getting the best deal.
If you would like to sign up you can receive a $10 sign up bonus. Just make a qualifying purchase of $25 for more within 90 days.
Sign up with Rakuten if you want to put some cash-back in your pocket.
Ibotta
Ibotta is a free grocery app that you download to receive cash back just for purchasing things you would anyway, similar to Rakuten.
All you need to do before you shop is open the app, check out the offers available, buy the products, and then take a picture of your receipt.
Your cashback will be deposited into your account within 24 hours.
You can also use Pay with Ibotta, where you link a credit or debit card, go shopping and receive instant cashback.
Click to sign up with Ibotta here.
Some other great money-saving apps I recommend that are similar to Ibotta are:
Read more:4 Best Grocery Shopping Apps to Save Money
Sell your stuff
eBay
eBay is the very first side hustle I had. I would go to garage sales and then resell the items on eBay for a profit.
Do you have clutter in your home? Spend a little time decluttering your home and you are sure to find some things you can sell. Check out 10 Things in Your Home You Can Declutter in 10 Minutes or Less.
Related:
Poshmark
Poshmark is a resale app similar to eBay except it focuses on selling clothes and accessories.
Etsy
If you are into crafting or have a creative hobby then you should open up your own Etsy shop.

People are always looking for quality handcrafted goods to purchase.
Small Tasks
Mturk
Although there is a learning curve, once you get the hang of the site it can be a good way to earn a little extra cash.
You are basically doing small tasks that could be anything from transcriptions, data entry, surveys, and research studies.
There are many groups on Facebook that you can join that will help you use the site more effectively to make the most money.
Side Gigs
Babysit
Babysitting jobs are a great side hustle for teens, college students or stay at home moms looking to earn some extra spending money.
You can post on Facebook, ask friends and family or look around your community to see if anyone is looking for childcare. You can also check out care.com to apply for jobs in your area.
Walk dogs
Love dogs? H
ow about a dog walking job?
If you are an animal lover then this would be the perfect job for you. You can find dog walking jobs on Rover.com or WagWalking.com.
Drive for ridesharing app
Check out apps such as Uber and

Lyft

to earn some extra money on the side.
Rideshare drivers are a great side hustle because it has such flexible hours allowing you to make some cash when it's convenient for you.
Grocery Delivery
If you are looking for another way to make some cash quickly and easily how about signing up with a grocery delivery app such as Instacart or DoorDash?
Both these apps are great if you like to grocery shop and can work quickly and efficiently. Just like rideshare drivers, you have flexible hours and can set your own schedule making this the perfect side hustle.
Blog
Start a Blog
Are you i

nterested in starting a blog? There are so many ways you can make money from a blog with ads, affiliate marketing, sponsored posts, selling products, and courses.
But, your first step is finding an inexpensive and reliable host. I highly recommend Lyrical Host. Check out why –Why you should use Lyrical Host for your blog
These are just a few ways that you can make a little extra income from home in your spare time. I know that many of these sites have been a great benefit to my family over the years.
Check out my favorite resources to save and make money below↓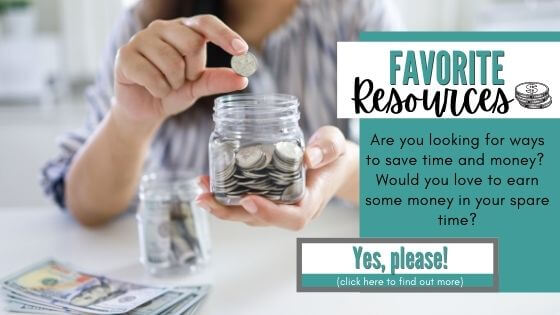 Before you go, don't forget to sign up for my Free Resource Library. You will find planner printables to keep track of all your everyday tasks, cleaning printables, wall quotes, and more.
Follow me on Pinterest to find more ways to make money from home.