Do you find yourself waking up every morning to a sink full of dirty dishes and a messy house? Then, a quick and easy nightly cleaning routine is just what you need to have a stress-free morning.
This post may contain affiliate links. You can read my full disclosure here.
If you're like me, then the thought of having to clean up after a busy day is daunting. All you really want to do is get dinner on the table, spend time with the family, get the kids to bed, and relax with a movie or a good book.
Cleaning is definitely the last thing I want to do. But, I remind myself that it's all worth it if I can wake up to a tidy home the next morning. Plus once you start doing these small tasks each night then they will quickly become a habit.
You May Like:
Why start a Nightly Cleaning Routine?
A few years ago, I found myself struggling to try to find a way to keep up with everything that needed to be done in our home. I would wake up in the morning with a sink full of dishes and clutter on the countertops. Then, go to bed each night dreading the mess that would be waiting for me the next day.
Related: How to Clean a Messy Home When You're Overwhelmed
I wanted needed to take back control and find an easier way to simplify the way I cleaned my home. So, I decided to sit down and make a list of things that needed to be cleaned in each room daily to maintain so it wasn't piling up and creating overwhelm.
I ended up creating a weekly cleaning routine that I still use every day to keep my home clean and tidy.
But, as helpful as it was to have a general plan of attack I knew I needed something more specific to tackle the smaller everyday tasks. So I decided to create a morning cleaning routine and a nightly cleaning routine to make my life even simpler.
The goal with a nightly cleaning routine is to set a small amount of time aside each evening (usually less than 30 minutes) to pick up the clutter, wipe counters, wash or load the dishwasher, and sweep. They are small jobs but they will have a huge impact on the next morning as you will wake up less stressed and ready to start your day.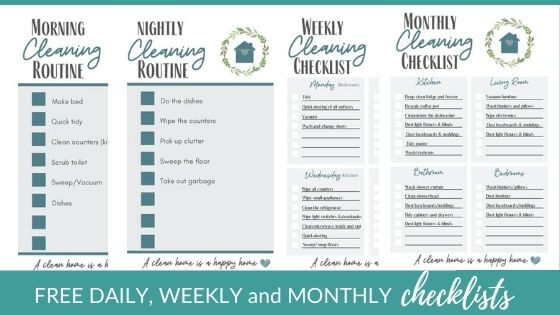 A Few Things to Keep in Mind Before You Begin
Make sure to clear the clutter first
Before you begin any kind of cleaning routine it's important to deal with the clutter in your home. So, take a few minutes before you start your nightly cleaning routine and pick up any items that have accumulated throughout the day. It may be helpful to have a basket handy for toys or other items.
Remember a nightly cleaning routine isn't a deep clean the goal is to maintain your home and keep it tidy. You can always take the extra time during your weekly cleaning schedule to put everything away.
Are you looking for ways to declutter your home this year?
Set a timer
If you find that you get distracted easily, then it may be helpful to set a timer. Give yourself 30 minutes to complete your nighttime cleaning tasks. It may take you less time or a little longer at first because you are getting used to a new routine but as time goes on and it turns into a habit it will be like second nature to you.
Recommended:
Nightly Cleaning Routine for Stress-Free Mornings
After dinner, is usually when I start my nightly cleaning routine. Since it's not a deep clean, I only concentrate on the main living areas of our home starting in the kitchen and then moving on to the living room. It only takes about 30 minutes every night, sometimes less depending on the amount of clutter that needs to be picked up first.
Here is my Nightly Cleaning Routine that helps keep my home consistently clean:
Dishes
I don't know about you but dishes are one of my least favorite jobs, unfortunately, they have to be done.
So, after dinner despite wanting to throw those dishes in the sink and deal with them tomorrow. You should take 10 minutes to wash up your dinner dishes or rinse them and put them in the dishwasher.
Don't forget to wipe out your sink with a soapy microfiber cloth when you are finished.
You May Like: 10-Minute Kitchen Cleaning Checklist
Wipe your counters
After dishes, I will wipe down all the counters in my kitchen along with my table, and stove with an all-purpose cleaner.
Let's face it, what is the point of having a squeaky clean sink if you don't have clean counters to go with it?
You May Like:
Sweep
At this point, I will grab a broom to do a quick sweep of the floors, to pick up any crumbs that have appeared during dinner.
The goal is to be quick, you know you can always do a better job tomorrow.
Related:
Take out the Garbage
Since this isn't my favorite thing to do. My husband will step in and takes care of it when needed.
Tidy Living Room
I will finish up by heading into the living room and picking up any additional clutter I may have missed. I will fold blankets and straighten pillows.
You can also use this time to fold and put away any laundry you have done earlier in the day.
Have pets and want a better way to keep your home clean?
When first starting with a cleaning routine you may find yourself struggling because it's taking you longer than you would like. You may forget things you want to do so to help keep you on task and be more successful I have created a Nightly Cleaning Printable that you can check off.
Quick tip– After printing your list off, you can put it in an inexpensive frame from the dollar store and check off each item with a dry-erase marker or a sharpie (you just have to use rubbing alcohol to remove it). This way you don't have to worry about smudging. Then, wipe clean the next day and start again.
Remember, as you continue to work on your Nightly Cleaning Routine, it will become a habit and will get easier. Just keep going. You will find that your days will become less stressful and since you are keeping on top of your daily tasks it will allow you to be more productive in other areas of your life.
Don't forget to check out my morning cleaning routine, if you are looking for a quick and easy way to tackle your morning cleaning. As well as my weekly cleaning routine that breaks down the chores I do on a specific day.
You may also like:
You can sign up for my Free Resource Library to find planner, cleaning schedules, and wall quote printables. They are all free for you to print out and enjoy.
Follow me on Pinterest for more cleaning motivation.