Have you noticed clutter piling up in your kitchen but you're too overwhelmed to deal with it? Here are 30 Best Things to Declutter From Your Kitchen Right Now.
This post may contain affiliate links. You can read my full disclosure here.
Love free printables? You can sign up for my Free Resource Library. It has free planner printables that will help keep you organized. As well as motivational quotes to print out and hang on your wall. Sign up here.
Do you dread walking into the kitchen to prepare a meal because your counters are cluttered with unused things? You spend so much time moving things around that by the time dinner is prepared you are exhausted. You know things have to change because you are tired of looking at the mess but you are too overwhelmed to deal with it.
Clutter can bring so much extra stress to your life. But finding the time and motivation to declutter can sometimes feel impossible. The good news is that decluttering doesn't have to be so intimidating. Instead of focusing on the entire task (or mess), concentrate on each individual task. Start small and as you complete a task, it will motivate you to keep going.
The goal is always to try and work smarter not harder. I have always felt the key to not becoming overwhelmed when faced with a huge task like decluttering your home is to learn to break it up into smaller pieces.
You may like: 5 Best Beginner Decluttering Tips
This could mean making a plan to spend a week or two decluttering your kitchen. Then, make a list of the things in your kitchen that you want to declutter. Lastly, devote 10-20 minutes each day to working on those things.
Find what works for you. Our time is precious there is no doubt about it. But, that doesn't mean we can't take a few minutes every day to try and declutter one small thing.
It can be as simple as cleaning out your silverware drawer while you are putting away dishes.
Pulling out expired items from your pantry or refrigerator as you put away groceries.
Going through your cookware while you are cooking dinner.
Even adding a few tasks to your weekly cleaning routine.
If you don't have a weekly cleaning routine and you're interested in starting one, you can check out my post-A Weekly Cleaning Routine that Works. Starting a cleaning routine has been one of the best things I have done to keep my home clean and tidy on a consistent basis.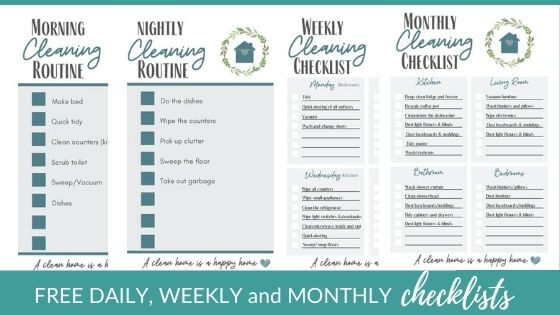 Do you want to keep your home consistently clean?
The Benefits of Decluttering Your Kitchen
Let's face it, the kitchen is the heart of the home. Whether we are cooking, baking, or enjoying good conversation over the dinner table, the kitchen is probably one of the most important places in our home. So, taking that extra effort to make it clutter-free will provide you peace of mind and allow you to appreciate the time you spend in it even more.
Here are a few other reasons to declutter your kitchen:
Makes cleaning quicker and easier- You don't have to constantly move things to clean under them.
Can save time–Once the clutter is gone, you can make sure everything in your home has a place. When your home is organized you can find things easier so you are not wasting your time looking for lost items.
Saves you money– You start to pay attention to what you are buying and bringing into the home because of all the time you spent getting rid of the clutter.
Before You Start to Declutter in Your Kitchen
Gather supplies
Grab some large bins or baskets and a couple of garbage bags. Unless you plan to declutter your kitchen in one day, place them in an area that won't be seen by guests but will be easily accessible when you decide to declutter.
Label one of the bins for donations and one for stuff to sell. Of course, the garbage bags are for trash and the items you decide to keep will go back in the kitchen cabinets and drawers.
Once you have decided to get rid of an item and it's not in good enough condition to donate. Then, throw it out right away or you may convince yourself to let it stay especially if it holds any sentimental value.
Move items you plan to donate out of sight (ex. to the garage) especially if you are the type that likes to hold on to things. Better yet, if you can, immediately take them to a donation center to avoid finding a reason to keep it.
---
"Have nothing in your house that you do not know to be useful or believe to be beautiful." William Morris
---
Questions to ask yourself
Once you start to declutter in your kitchen, there are a few things you should ask yourself before deciding to keep an item:
When was the last time I used this?
If it was over a year ago, then there is a very good chance that you won't use it again. If it's in good enough shape donate or sell it, otherwise toss it.
Do I have duplicates?
Many people like to keep duplicates of items "just in case" but if the goal of decluttering your kitchen is to make more space. Then, evaluate how important the item is to keep or how frequently it is being used.
If you decide you just can't part with it, an option would be to put in a storage bin, label it and move it out of the kitchen to a storage room, the attic, cellar, or garage until the item is needed. But, be picky with what you decide to keep otherwise you are just moving the clutter around.
Would you buy the item again?
When deciding whether or not an item is worth keeping, ask yourself if you would buy it again. If the answer yes, you use it every day then of course keep it. But, if it's something you could probably do without and there are other items that you could use instead then it may be time to get rid of it to free up valuable space.
Basically, when thinking of decluttering concentrate on how much value something has to you, how much you love it, and how useful it is.
---
"Decluttering is infinitely easier when you think of it as deciding what to keep, rather than deciding what to throw away." Francine Jay
---
Clear your counters
Okay, so you are almost ready to start decluttering your kitchen. You've got your supplies ready and you know the questions to ask yourself when deciding whether each item is valuable enough to keep.
But, before you dive in and start opening cabinets and pulling open drawers, you should clear your counters first. Cleaning and decluttering your counters will have a huge impact and encourage you to keep going because you can see the results quickly.
Start by going through the small kitchen appliances that you keep on your counters. Only keep out the ones you use on a daily basis such as the coffee pot or toaster. Find a home for the rest in the cabinet that you plan to keep but don't use as regularly.
Then, move on to any paper clutter that has accumulated on your counters. Go through any mail and separate into 3 piles, a pile to keep out (invest in a mail organizer, if you don't already have one), a pile to file away and a pile to toss/shred.
Last, move any dishes to the dishwasher or the sink to wash and put away any clean dishes that have been left on the counter. Put any food or spices away that has been left out and anything else that needs to go back to it's home.
Now, that you are ready to get started, here are the 30 best things you can declutter from your kitchen.
30 Best Things to Declutter From Your Kitchen Right Now
1.Dishware– Get rid of any dishes that are chipped or stained. Sell or donate items you no longer use but are still in good condition.
2. Bakeware-Toss any cookware or bakeware that is broken or rusted. Pull out anything that you haven't used in a while and sell or dispose of.
3. Cookie cutters- Do you have cookie cutters you don't use anymore? Get rid of the extras or pass them on.
4. Cookware- Duplicates of pots and pans aren't really necessary unless you have a big family. Go through the ones you don't use and then get rid of the ones that aren't in good shape.
5. Cookbooks- Go through your cookbooks and sell or donate any that are just sitting on your shelf collecting dust. If the cookbook only has a few recipes that you make, write them down in a recipe book.
6. Cooking utensils- Toss any utensils that you no longer use, are broken or you have multiples of.
7. Kitchen gadgets– Get rid of duplicates or items that you don't use anymore. Toss anything that has broken and make a list of the items that need replacing.
8. Small appliances- Look over your small appliances and determine the ones you use most frequently. Ask yourself when the last time you pulled it out was. Was it over 6 months? A year? Consider selling or donating it.
9. Expired food in your refrigerator- Pull out the items in your fridge that have gone bad or expired.
10. Pantry items- Check food that has expired, hasn't been used or you no longer want and toss. Better yet, consider donating the food that is still good to a local food pantry in your area.
11. Baking supplies- Go through your baking supplies and check the expiration dates. Toss anything that's gone bad.
12. Spices- Pull out anything old or you haven't used in years and dispose of it.
13. Canned goods- Check your canned goods and get rid of anything expired. Donate anything that you know won't be used up.
14. Plastic dishes- Discard any plastic dishes that are missing lids or are stained. Toss any lids that don't match up with containers.
15. Plastic cups/straws- Do you have an overabundance of plastic cups, the ones you get from amusement parks, or trips? Go through them and only keep ones in good condition that is or will be used again. Dispose of the rest.
16. Water bottles- Only keep the ones that are being used most frequently, get rid of the rest.
17. Coffee cups/mugs- If you are like me, you have way too many coffee mugs. I am always decluttering them because they are something that I love to buy. Lately, I have been trying to only keep the ones that I always find myself reaching for in the morning.
Don't forget to check them over for any chips or stains and toss those.
18. Glassware- Get rid of anything that is chipped or broken. Sell or donate items that you no longer use.
19. Freezer– Go through the freezer and pull out anything that has expired, looks freezer burned or you know won't be used for meals.
20. Junk Drawer– Do you have a junk drawer that contains everything and anything? Many people do. It may contain pencils, pens, scissors, rubber bands, tools, and old batteries.
The best way to tackle a junk drawer is to pull everything out. Throw away any dried-out pens or markers. Toss broken pencils and any garbage. Put away items that belong somewhere else in the home. Then, use dollar store bins to organize like items together.
21. Silverware- Sort through your silverware drawer and pull out anything that has been damaged or stained.
22. Kitchen towels- Discard anything old or stained that you don't use any longer.
25. Dishcloths- Go through your dishcloths. Do they have any holes or stains? Toss them.
26. Sponges or Scrub brushes- Get rid of old sponges and scrub brushes.
27. Cutting boards- Toss any cutting boards that are stained, not used, or broken.
28. Measuring cups and spoons-Look over your measuring spoons and cups. Get rid of any duplicates or ones you don't use anymore.
29. Potholders/Oven mitts- Dispose of any potholders with rips or stains. If you have duplicates, keep your favorites. Throw away anything that is worn or burnt.
30. Under the sink/cleaning supplies- Go through your cleaning supplies and get rid of anything that you don't like.
Hopefully, this list of things to declutter from your kitchen has helped motivate you to clear the clutter in your home.
But, don't be discouraged if you start strong and then skip a few days. Decluttering can be overwhelming. Stepping away to regroup may be just what you need. When you are ready to continue, start small, and keep reminding yourself of all the reasons you wanted to declutter in the first place.
You may like: How to Declutter When You Are Overwhelmed
If you are still struggling with motivation, it may be helpful to set a timer to not only keep you on task but that way you only have to devote a small chunk of time so you don't get overwhelmed.
You can also put on your favorite music, a podcast, or an audiobook. Anything that will help give you motivation when you are struggling.
Always remember….progress is progress no matter how small.
Want more decluttering inspiration?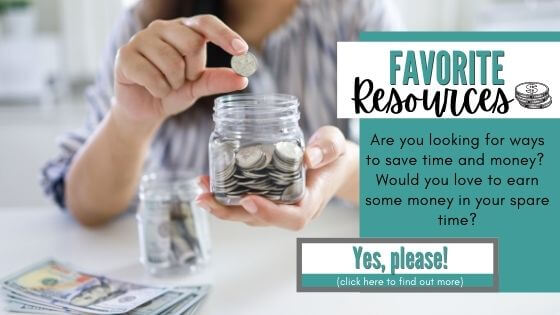 Don't forget to sign up for my Free Resource Library to grab my printables, all free for you to print out and enjoy!
Follow me on Pinterest for more decluttering tips.