Are you planning a trip to Walt Disney World and looking for ways to make it more affordable? Here are 15 Easy Ways to Save on a Disney Vacation.
This post may contain affiliate links. You can read my full disclosure here.
Walt Disney World is the happiest place on earth for a reason. There is no other place that immerses you in the magic of Disney, making you feel like a kid again.
We visited Disney for the first time in 2008 when my boys were 4 and 6 and fell in love the second we walked down Main Street U.S.A. in the Magic Kingdom and got our first glimpse of Cinderella's castle. We were hooked.
Visiting Walt Disney World is a dream come true for many people but because of the expense involved they feel it's impossible especially if they are on a tight budget.
But, with a lot of planning, saving, and budgeting, a Walt Disney World Vacation can be possible for anyone.
Here are some of my best tips for visiting Disney on a budget.
15 Easy Ways to Save on a Disney Vacation
Plan Ahead
1.

Make a Budget
The first thing you must do is to sit down and make a budget. Decide how much you want to spend on transportation, food, souvenirs, park tickets, and accommodations, and stick to it.
2.

When to Visit
Planning a Disney vacation is hard work and one of the most important things you can do when planning a trip is to decide when you would like to visit.
If you go during the summer, holidays, and spring break it is going to be expensive and very busy. The rates are going to be higher and with the kids out of school, the lines for the attractions will be longer.
Try to plan your vacation during the value season. If you are able to go in Jan/Feb or in Early Fall (Sept./ Oct.) Prices will not only be lower, but the weather will be milder. The crowds will also be much lower during this time of year.
If you want more information about the best time to visit Walt Disney World, you can check out WDW Prep School for crowd calendars.
3. Research/Make Plans
Purchase a Disney Travel Guide or check out your local library. Decide what you would like to do most.
Disney is huge so if you go in with realistic expectations then you will have a more enjoyable vacation.
I did a ton of research for our first trip, making notes about rides I thought may be too scary for our boys, the best restaurants to visit with young children, or getting the best use of fastpasses, now Genie Plus. (a paid service)
Once I narrowed down our choices, I made a touring plan for each day we were at the park. I wrote everything down on an index card so I could keep track of our dining reservations, showtimes, and the best times to visit the attractions that we wanted to ride.
You can also join some Walt Disney World Facebook Groups or visit the disboards before your trip to find all the best Disney info and touring advice.
4. Look for Discounts/Sales
Disney offers many discounts throughout the year that can save you up to 30% on room rates.
5. Find Deals on Airfare
Of course, it will be much less expensive if you are able to drive. But, if you have to fly the best thing you can do when looking for airfare is to try and book early.
We have always found the best deals on Tuesdays or Wednesdays.
6. Stay in a Value Resort
If your budget allows for it then stay at a value resort. We love Pop Century Resort. We spend very little time in the room anyway so it works for our family. Reasons to stay in a Value Resort include:
An arcade, multiple pools, gift shops, and a huge food court.

The Disney bus system will take you to all the Disney theme parks and Disney Springs.
Related Post: 12 Reasons to Stay at Pop Century Resort
If you find that staying on property isn't in your budget, there are other alternatives such as staying offsite. Check sites like Expedia, Hotels.com, or Priceline to find the best prices on hotels close to Disney. If you have an RV, another choice would be to stay at Disney's Fort Wilderness Resort.
7. Skip Park Hoppers
I would only recommend park hoppers if you've been to Disney many times before or if you are planning a very short trip.
If this is your first trip, then they are probably not worth the extra expense, especially with young children.
We usually concentrate on one park a day, getting there at rope drop, taking a rest at the resort in the afternoon, and then back in the evening.
8. Do Grocery Delivery
On our past trips, we have used the dining plan* But, I wouldn't recommend it if you want to save money. Children's meals have very limited options and once they turn 10, you have to pay adult prices.
(*They are currently not offering the dining plan at this time)
You get a lot of food but my children could never eat it all at that age. It's great for convenience but bad for the pocketbook.
A better option for saving money is to do grocery delivery through Garden Grocer, Walmart, or Instacart and get it delivered right to your resort. They will usually hold it for you at bell services if your order arrives while you are still at the parks.
9. Eat at Quick-Service Restaurants
There are a lot of great options for quick-service food at Disney plus you aren't tied down to reservations. Some of the restaurants with the best value that we have found are:
Flame Tree Barbecue– Animal Kingdom
Pecos Bill Tall Tale Inn & Cafe Magic Kingdom
Sunshine Seasons– Epcot
10. Save on Souvenirs
You can purchase many things from home to bring on the trip for much less such as ponchos (you will need these as a rain shower in the afternoon is quite common), cooling towels(it get HOT in the summer), character t-shirts, and small toys.
You may like:

Start Saving
11. Collect Change
Start Collecting your spare change in a jar. Before our trips, we would always put a jar or empty coffee can on the top of our fridge and save our spare change. You would be surprised how quickly it adds up.
Recommended Posts:
12. Open a Savings Account
You can open up a savings account and have a small amount deposited each week towards your trip.
13. Sell your Stuff
One of the easiest ways to save for Disney is to start decluttering and sell your stuff. You can have a yard sale or sell your unwanted items online on:
eBay

Facebook Marketplace

Poshmark
14. Sign up for -Swagbucks
Swagbucks is a site that rewards you for taking surveys, making purchases online, playing games, doing searches, and watching videos.
You can sign up for Swagbucks here.
15. Use Disney Gift Cards
One of the best ways we have saved for our Disney vacations is to purchase Disney gift cards before our trip. We used gift cards for souvenirs and meals.
You can also ask for gift cards for birthdays or any holiday leading up to your trip.
These are just a few ways to save on a Disney vacation. It can be attainable if you put a little aside and plan for it. Disney is a great way to make some amazing memories that will last a lifetime.
Would like to save more money at Walt Disney World?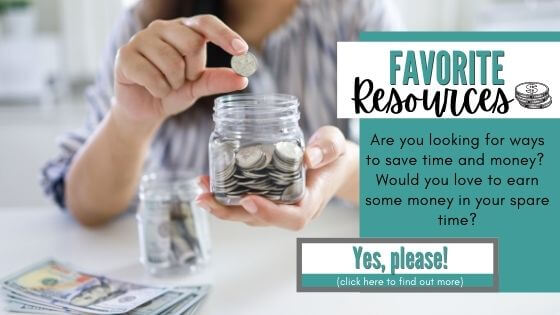 Don't forget to sign up for my FREE Resource Library filled with planner printables including a Disney Travel Planning Sheet. Also, check out my Pinterest Disney boards for more ways to plan and save for a Walt Disney World Vacation on a budget.
Have a magical day!