If you are someone who finds themselves making the same dinners over and over again then these 20 Easy Theme Night Dinner Ideas may just be what you are looking for to change up your weekly meal plan.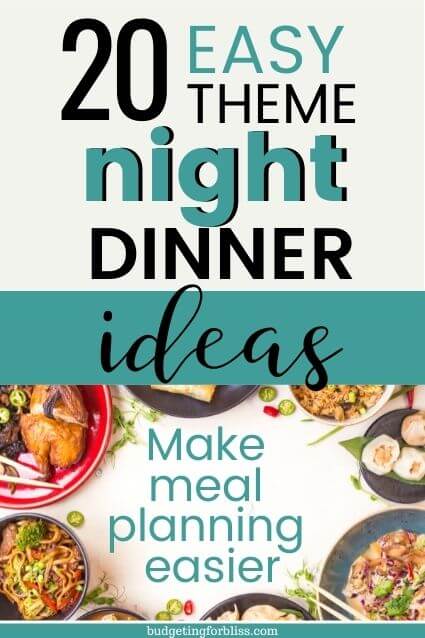 This post may contain affiliate links. You can read my full disclosure here.
Love printables? Sign up here to access my free resource library that has meal planning printables such as shopping lists and favorite meal worksheets.
Meal planning can be challenging. When I first started monthly meal planning, I struggled to come up with so many meal ideas at one time.
It wasn't until I came up with some strategies to help me be more successful that I began to really enjoy meal planning.
Besides, keeping pantry staples on hand and making freezer meals when I need dinner in a hurry, using theme night dinners has been the ultimate time-saver when planning our meals.
What are theme night dinners?
Theme night dinners are when you pick a theme for your meals every night. So, on Monday you choose a theme (in our home it's Italian night) and you can either try a new recipe or make a family favorite using that theme. Then, you simply do this for every day of the week.
Why should people use theme night dinners?
A theme night meal plan eliminates a lot of the stress that comes with trying to come up with so many different dinner ideas.
It inspires you to try out a few new recipes. I know it has encouraged me to dust off some of my old cookbooks.
It prevents you from making the same meals night after night.
Helps you save money on groceries because you are only buying what you need to plan your meals.
You don't eat out as frequently because you know what you are having for dinner every night.
This guide will give you an idea of how I plan our theme meals for the week but you can change things around so it works for you. I've included some alternate ideas just for that reason.
Looking for easy and inexpensive meal ideas?
Theme Night Dinners

Monday- Italian Night
My boys love pasta recipes so we decided to make Monday's Italian Night. Here are a few of the Italian meals that we enjoy in our home:
spaghetti and meatballs

lasagna

baked ziti

chicken parmesan

chicken alfredo
Some other suggestions are Meatless Monday or Mexican Monday.
Tuesday- Taco Tuesday
Tacos are a huge favorite in our home so that is what we choose to eat on Tuesdays. Here are a few other options that we like making on Tuesdays:
enchiladas

nachos

fajitas

taco salad

quesadillas
Some other suggestions for Tuesdays could be Try-it Tuesday or Take-out Tuesday.
You may like:
Wednesday- Breakfast Night
As much as I wish I could prepare a nice big breakfast every weekend for the family, it rarely happens with our busy schedule.
However, since breakfast is a family favorite we decided to include it in our theme nights.
Some of our go-to breakfast ideas for dinner include:
egg casseroles

french toast casserole

pancakes

omelets

breakfast burritos
Here are a few more easy breakfast ideas:
Some other suggestions are Chicken Dinner Wednesday or Kid's Choice Wednesday.
You May like:28 Easy Shortcut Rotisserie Chicken Dinner Ideas
Thursday- Try Something New Thursday
Thursday is the day that I will check Pinterest or go through some of my cookbooks to find a new recipe that I would like to try.
Recommended:
Some other suggestions are for an Asian Food Night or Kids Cook Night
Friday- Pizza Night
Pizza is one of my favorite meals so any excuse to include it in one of our theme nights, I couldn't pass up.
As much as we love traditional pizza, we also like to try out different types of pizza such as:
barbecue chicken pizza

buffalo chicken pizza

breakfast pizza
On Fridays, we also enjoy calzones or strombolis. Some other suggestions for Friday night are Family Favorites or Seafood Night
Saturday- Souper Saturday
During the summer months, this is actually Grilling Saturday but once fall arrives we change it to Souper Saturday.
Some of our favorite soups/stews are:
broccoli cheddar

tomato macaroni

vegetable soup

chicken noodle

chili

beef stew
Related: 30 Cozy and Delicious Soup Recipes
If soup isn't for you, then you could also have a Leftover night or a Salad night.
Sunday- Slow Cook Sundays
On Sundays, I try to prepare something in the slow cooker. Sundays are all about family for us, so not having to think about spending the day preparing dinner is a bonus.
You could also try Casserole Sunday (Here are some of our favorite chicken casserole recipes).
Don't forget about dessert:
Meal planning can be such a great way to save money and get the family involved in the planning process.
Are you looking for ways to save on your groceries?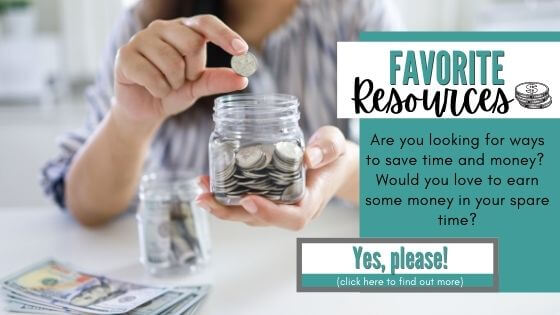 Do you love free printables? You can sign up for my Free Resource Library. You will find meal planning printables and more. All are free to print out and enjoy.
Follow me on Pinterest for more meal-planning inspiration.