Are you looking for ways to pay down debt, start that emergency fund, or even save up for that vacation that you have always wanted to take this year? Learn these 15 simple ways to save money in 2023.
This post may contain affiliate links. You can read my full disclosure here.
Saving money can feel impossible when you are living on a tight budget. However, it can be done if you are willing to make a few small changes every day.
Some of the reasons people want to save money
Being more frugal each day will help you take back control of your money and achieve your savings goals faster.
Learn how these quick and easy tips will not only help you save money this month but all year long.
15 Simple Ways to Save Money in 2023
1. Stop eating out
I know this is an obvious one. But, it's also one that can be really hard to give up. Life is busy with work, school, practices, and appointments. There are going to be so many nights when it seems easier to grab fast food. We love to eat out. It's a way we reward ourselves for a hard or stressful week so we justify the cost.
But, if you stop for a moment and think about how much you are spending you would realize you could save between $100-$500 a month just by preparing your meals at home and skipping the drive-thru.
An option would be to pull out that crockpot in the morning. You are much less likely to stop to pick up food if you know you have something already cooked and waiting for you when you get home.
You May Like:30 Days of Dump and Go Crockpot Meals
2.

Pack your lunch
Preparing your own meals at home can save you hundreds every month especially if you are buying your lunch every day.
Don't have time to pack your lunch in the morning? You can meal prep at the beginning of the week so you have all your lunches ready for the week ahead.
Related: 30 Easy Make-Ahead Lunch Ideas
3. Make a budget
A budget helps you become more aware of the amount of money you have coming in and going out of your household each month. It can help you become more mindful of your spending habits.
If you would like to learn more about starting a budget you can find out how in my Beginners Guide to Budgeting in 5 Easy Steps.
4. Meal plan
Most people are shocked when they sit down to do their budget and see how much they are spending on food every month. Food can add up quickly if you let it.
But, if you take the time to sit down before you shop and plan out what you are going to make for dinner every week then you can save money and stick to your budget.
You can learn how to start a meal plan with my Beginners Guide to Meal Planning in 8 Easy Steps.
Looking for more ways to save money on groceries?
5. Get a library card
The library offers free books, magazines, audiobooks, music CDs, movies, internet access, children's programs, and events.
You can also download the app Libby to your phone so you can borrow ebooks from the library.
6. Shop around
Being a loyal customer is great but not when your rates continue to rise year after year. Shop around for your car and house insurance. You may be able to find better rates elsewhere.
7. Cancel cable
We canceled our cable over a year ago and don't even miss it. We subscribe to Netflix for movies and Hulu to keep up with our favorite television shows. This has allowed us to save almost $100 a month.
*If this sounds too drastic for you and you're not quite ready to cut the cord yet. Then, look over your cable bill and see what you could do without. Give the cable company a call and try to negotiate a better deal. Remember they want your business. In most cases, they will try to work with you.
8. Shop sales/ thrift stores
If you are in need of new clothes check out your local thrift stores. You will be surprised at the selection of name-brand merchandise at a really great price.
9. Stop impulse purchases
I know sometimes it's easier said than done but if you know it's something that you don't need then it's better to walk away and sleep on it. I always try and use the 30-day rule. If after 30 days you still want the item and you can afford it, then go ahead and buy it.
10. Cancel your memberships/subscriptions
Do you have a gym membership that you don't use? Cancel it. Also, stop any subscriptions such as Spotify, or magazines as well as subscription boxes that can be pricey.
Related: 12 Tips for Losing Weight on a Budget
11. Use cash
One of the best ways to avoid impulse purchases and save money is to only use cash for purchases. It's so much easier to swipe your debit or credit card. But, if you budget how much cash you can spend and only bring that when you go to the store then you are much more likely to stay within your budget. Thus, allowing you to save more money.
You may like:
12. DIY projects
You will surprise yourself with how much you can do if you take the time to learn. YouTube is a great resource for this. Of course, some things should be left to professionals but small jobs are definitely feasible.
Recently, I decided to completely redo my outdated honey oak kitchen cabinets. It was an easy and inexpensive DIY project that turned out amazing. Learn how you can Gel Stain your Cabinets on a Budget.
Related Post: How to Gel Stain a Kitchen Table
13. Watch movies at home
Movie theaters are so expensive these days between the tickets, the popcorn, and the soda. Some alternatives are to plan a movie night in. Watch a movie on Netflix, Disney+, or Hulu instead.
You can also borrow movies from your local library to watch.
You May Like:
14. Turn down the thermostat
Turning down the thermostat even just a few degrees can save you money each month. We turn our thermostat down at night and when we are not at home to save even more money.
15. No spend challenge
Challenge yourself not to spend any money for a whole weekend. If you succeed, work up to a week. Look for free activities that you can do as a family such as going on a hike or having a game night.
Related:
These are just a few simple ways that you can save money this year. As you can see, with just a small amount of effort you could be saving hundreds of dollars every month. It won't be long before you have enough to accomplish your savings goals.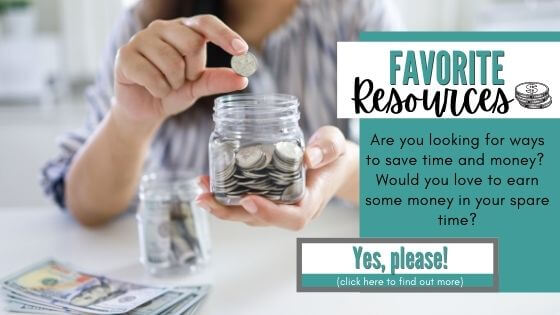 Love Printables? Sign up for access to my Free Resource Library. You will find planner printables to keep you organized on your savings journey. All free for you to print out and enjoy.
Follow me on Pinterest for more money-saving ideas.