Are you stuck in a cleaning rut? Do you find that you are spending countless hours on the weekend trying to catch up? This stress-free weekly cleaning routine may be just what you need to get your home back in order.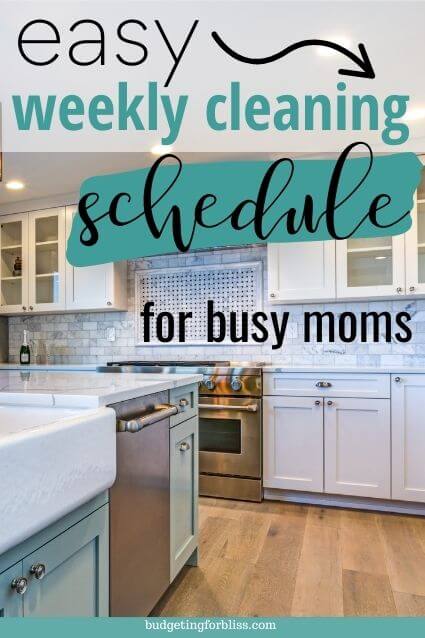 This post may contain affiliate links. You can read my full disclosure here.
A few years ago, I was having a hard time figuring out the best way of keeping my house clean.
I was overwhelmed and didn't know where to begin. I felt like I couldn't keep up with everything that needed to be done.
Honestly, I didn't have the motivation. I needed help. I needed a routine.
So, like most people I scoured the internet searching for a solution to my problem. I found a lot of cleaning routine suggestions and I tried a few but unfortunately, they didn't work for me.
I would start strong but quickly lose momentum.
Then, I got back into the habit of letting it pile up only to spend a whole day cleaning the house from top to bottom on the weekends. It was exhausting!
Related:
Finally, I decided to sit down and really think about what would work for our home. I came up with a weekly cleaning routine that I have been able to stick to for the last 3 years.
I have decided to share it, hoping it will inspire you to give it a try and see if it will work for you too.
To sum it all up, each day of the week is designated for a room in my house. I have decided that focusing on one room at a time works best for me.
Personally, I like to walk away from each room knowing it's done for the week.
Related:
Weekly Cleaning Routine

Monday- Bedrooms
Monday is a bedroom day for me. My boys are responsible for keeping their room picked up throughout the week. But, on Mondays I like to:
Tuesday- Bathrooms
Wipe down all countertops with an all-purpose cleaner
Clean the inside of the medicine cabinet including the toothbrush holder
Scrub toilet
Clean the shower/bath
Wipe mirrors
Quick dusting
Sweep/ Mop Floors

Wednesday- Kitchen/ Dining
Wipe all counters and small appliances that are on my countertops
Clean the refrigerator
Wipe the light switches and doorknobs
Clean microwave inside and out
Quick dusting
Sweep/ mop floors
Thursday- Living room
Vacuum the carpet
Quick dusting
Wipe down TV remote controls and light switches
Thursday is also the day that I designate doing laundry. I prefer to get it done in one day. But, I realize that it may not work for some.
If this is the case then you can always throw a load of laundry in during your morning routine. You can read more about my morning routine HERE.
Have pets and want a better way to keep your home clean?
Friday- Catch-Up
Friday is whatever you didn't have time for during the week.
I also run errands
Pay bills
Work on monthly cleaning tasks or de-cluttering projects
Recommended Posts:
Saturday/Sunday
In our home, the weekends are for spending time as a family. So, besides my morning routine and nightly routine. (you can learn more about my nightly cleaning routine HERE.) I try not to do any additional cleaning on the weekends.
That's it. I hope my routine motivates you to start cleaning. Don't forget to print out my Weekly Cleaning Routine Printable below.
Related Posts:
Do you love printables? You can sign up for my Free Resource Library. You will find planner, cleaning schedules, wall quote printables, and more. All free to print out and enjoy.
Don't forget to check out my Pinterest boards for more cleaning motivation.