Are you stuck in a cleaning rut? Do you find that you are spending countless hours on the weekend trying to catch up? This stress-free weekly cleaning routine may be just what you need to get your home back in order.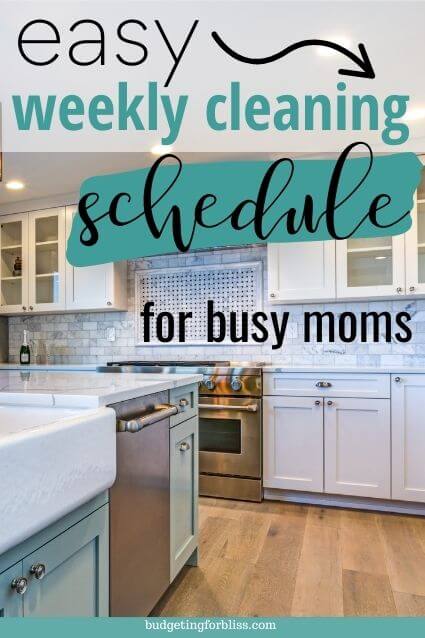 This post may contain affiliate links. You can read my full disclosure here.
Love free printables? You can sign up for my Free Resource Library. It has free planner printables and I've recently added new cleaning checklists for the morning, nightly, weekly, and monthly cleaning routines.
A few years ago, I was having a hard time figuring out the best way of keeping my house clean.
I was too overwhelmed and didn't know where to begin. I felt like I couldn't keep up with everything that needed to be done.
Honestly, I didn't have the motivation. I needed help. I needed a routine.
So, like most people, I scoured the internet searching for a solution to my problem. I found a lot of cleaning routine suggestions and I tried a few but unfortunately, they didn't work for me.
I would start strong but quickly lose momentum.
Then, I got back into the habit of letting it pile up only to spend a whole day cleaning the house from top to bottom on the weekends. It was exhausting!
I finally decided to sit down and think about what would really work in our home and came up with a weekly cleaning routine that I have been able to stick to for the last 3 years.
You May Like:
How to Keep Your Home Consistently Clean
This weekly cleaning routine along with my morning, nightly, and monthly routine have been a huge factor in my ability to keep my home clean on a consistent basis.
Although some people may actually enjoy cleaning, I am not one of those people. But, what I do love is a clean home, and using routines, good cleaning habits, as well as a few cleaning hacks has helped make cleaning my home much easier.
What is a weekly cleaning routine?
To sum it all up, each day of the week is designated for a room in my house. I have decided that focusing on one room at a time works best for me. I like walking away from a room and know that it is done for the week.
Since I've been doing this weekly cleaning routine for so many years now, it's become a habit and I don't even think about it anymore. After completing my morning routine, I immediately jump into my weekly cleaning routine and can usually get them both done in less than an hour.
There may be some days when you are unable to get to your weekly cleaning on a certain day and that's fine. Life happens. Just continue with your daily cleaning tasks and you can either work on that room on your catch-up day or get to it next week.
You May Like: Simple Daily Cleaning Schedule You Can Stick To
Eventually, it will get easier for you, and you will find that being able to keep your home consistently clean will end up saving you time and allow you to be more productive every day.
Helpful Cleaning Tips Before You Begin
Gather your supplies
Put together a caddy of all your favorite cleaning supplies. Cleaning may seem less like a chore if you are able to use cleaning products that you like or items you've been wanting to try. A few must-have products that I keep in my cleaning caddy are:
Glass cleaner (I use vinegar most of the time)
All-Purpose Cleaner
Toilet Cleaner
Clear the Clutter
Although it's not necessary it does make cleaning much easier because there are fewer things to clean around. If you have thought about decluttering your home but have been too overwhelmed by the whole process, then these beginner decluttering tips may help.
You can also start my 30-day Home Decluttering Challenge to clear the clutter in your home in only 30 days.
Learn more easy ways to Declutter in your home:
Set a timer
It can be challenging trying to start a new habit or routine. You may find that at the beginning you are very motivated but as time goes on, you start to feel overwhelmed and want to give up. It may be taking you longer than you thought or you have a hard time staying focused.
One of the best tips that I have used to keep me focused is to set a timer especially when you are first trying to form a habit. If you are like me and enjoy a good challenge then a timer will help you stay on task and motivate you to keep going.
Even though my cleaning routines are a habit now, I still like to use a timer every now and then when I am feeling unmotivated to clean.
You May Like:
Use cleaning checklists
Keeping cleaning checklists somewhere that I can see them also holds me accountable so that I am staying on top of my cleaning tasks. If you would like to, you can print out my free cleaning checklists below.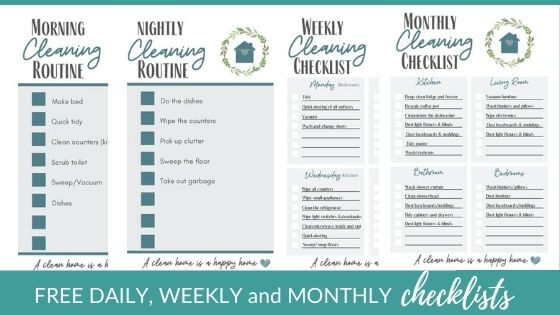 Weekly Cleaning Routine

Monday- Bedrooms
Monday is a bedroom day for me. My boys are responsible for keeping their rooms picked up throughout the week. But, on Mondays, I like to:
Dust all furniture
Vacuum
Wash and Change Sheets
Tuesday- Bathrooms
Wipe down all countertops
Clean the inside of the medicine cabinet including the toothbrush holder
Scrub toilet
Clean the shower/bath
Wipe mirrors
Quick dusting on surfaces
Sweep/ Mop Floors

Wednesday- Kitchen/ Dining
Wipe all counters and small appliances that are on my countertops
Clean the refrigerator
Wipe the light switches and doorknobs
Clean microwave inside and out
Quick dusting
Sweep/ mop floors
You May Like:10-Minute Kitchen Cleaning Checklist
Thursday- Living room
Vacuum the carpet
Quick dusting
Wipe down TV remote controls and light switches
Thursday is also the day that I designate doing laundry. I prefer to get it done in one day. But, I realize that it may not work for some.
If this is the case then you can always throw a load of laundry in during your morning routine.
Have pets and want a better way to keep your home clean?
Friday- Catch-Up
Friday is whatever you didn't have time for during the week.
I also run errands
Pay bills
Work on monthly cleaning tasks or small decluttering projects
Saturday/Sunday
In our home, the weekends are for spending time as a family and relaxing. So, besides my morning routine and nightly cleaning routine. I try not to do any additional cleaning on the weekends.
That's it. I hope my routine motivates you to start your own weekly cleaning routine. Make sure to print out your free cleaning checklists (above) to help keep your home consistently clean.
Do you want to learn how I deep clean my home throughout the year?
Do you love printables? You can sign up for my Free Resource Library. You will find planner, cleaning schedules, wall quote printables, and more. All are free to print out and enjoy.
Don't forget to check out my Pinterest boards for more cleaning motivation.