Do you want to take your family camping this summer but you don't know where to start? This Ultimate Guide to Family Camping on a Budget includes helpful tips, activities, meal ideas, and a free packing checklist.
This post may contain affiliate links. You can read my full disclosure here.
Although it's been a couple of years since we have gone camping as a family, we have decided this is the year that we are going on a family camping trip. It seems like the perfect way to get away from the hustle and bustle of everyday life.
When I sat down the other day to start planning our family camping trip, I realized how much is involved from finding the best (inexpensive) camping gear to activities and meal ideas while we are there. Needless, to say it started to feel a little overwhelming.
But, the planner in me got to work making a list of all the activities we could do and the food and camping gear that we needed to bring. The goal of this family camping trip is to make it affordable and fun. So, if you are looking for the best tips to take your family camping this summer, check out this ultimate guide to family camping on a budget.
Ultimate Guide to Family Camping on a Budget
Best Family Camping on a Budget Tips
Make a camping reservation
You've packed up your car with all your camping gear with the kids excited to begin a new adventure in the back, but when you pull up to the campground you find out that they don't have any availability. This can be frustrating for you and disappointing for the kids as you frantically try to find another spot to camp without having to drive another 100 miles.
Take a few minutes before you head out on your family camping adventure and decide where you would like to camp. Visit Reserve America, Go Camping America, or KOA Campgrounds to find campgrounds in your area.
Once you've found where you would like to camp, then it's time to find the perfect spot. Look over the different campsites. A few things you may be looking for include:
Being close to services like restrooms and running water. (keep in mind that you may not want to be too close because then you will have other campers constantly walking near your campsite all hours of the day).
Choosing a camping spot that has flat ground can make it much easier when putting up your tent and sleeping.
Not being too close to other campers. Campsites that are too close together can be loud especially if your camping neighbors stay up late into the night making it hard to try and get any sleep.
Prep your food ahead of time
To make your camping trip less stressful when it comes to mealtime, try to prepare as many meals as you can ahead of time. Cut up veggies and fruit and put them in containers. Breakfast meals are some of the easiest meals to prep before you go camping. A few days before, make a large batch of egg sandwiches or breakfast burritos, stick them in the freezer until you are ready to pack your cooler.
Related: 18 Best Freezer Meals to Stretch Your Budget
Save money and borrow camping gear
If you are looking to make this family camping adventure as cheap as possible, then look into borrowing camping gear from friends and family. You can also check thrift stores and garage sales for camping equipment.
Worst comes to worst, bring stuff from home. Blankets will work instead of sleeping bags. Bring pots, pans, dishes, and silverware instead of buying some if you don't have the extra in your budget.
Bring your own firewood
Buy your firewood locally and bring it with you when you take your family camping trip. The cost of firewood at the campground can be pricey.
Stay close to home
When deciding on a camping spot, save money on gas and stay closer to home. You will probably find campgrounds are less expensive near you anyway. Ask friends and family if they know of any free camping spots to save even more money on your next family camping adventure.

Essential Camping Gear
Tent
The best way to go camping with your family on a budget is to go tent camping. Plus, the cost of reserving a tent camping spot is very economical for a weekend.
When purchasing a tent, try and get one that is a little bigger than what you think you may need. So, if you have 4 people in your family then a 6 person tent is usually the way to go for more space. Most 6 person tents will fit 2 queen-size air mattresses.
A few other things you may consider:
a ground cover or tarp
rainfly- we have been camping many times when it has rained and it's definitely not very fun waking up soaked in the morning.
Sleeping bags or blankets
Sleeping bags are a great investment if you plan on going camping in the later part of summer into early fall. Nights can get chilly when you are camping, so a sleeping bag can provide extra warmth.
However, if you plan to go in the middle of summer, a light blanket may be all that you need. It can get stuffy in the tents at night.
Air mattress
If you have ever tried sleeping on the hard, cold ground then you can probably understand why I put this as an essential item to bring camping. Air mattresses are relatively inexpensive and worth the cost of having a little comfort while you are tent camping with the family. The last thing you want is grouchy kids the next morning.
Lawn Chairs
Although most campgrounds have picnic tables it's nice to have a few lawn chairs that you can place around the fire pit to cook your meals and enjoy some yummy s' mores after dark.
Firewood
You can't have a campfire without firewood. So, make sure that you purchase it before you get to the campgrounds to save money.
Cooler
Make sure to bring a cooler with ice or ice packs to keep your food cold.
Cooking supplies
Don't forget to pack a griddle or skillet and skewers for cooking over the fire. Then, head to the Dollar Tree and pick up inexpensive plates, cups, silverware, and a plastic table cloth.
Food
Of course, we can't forget about the food. It's one of the best parts of camping. Hot dogs and hamburgers are always a quick and easy option. But, if you are looking for more camping food ideas keep reading as I share a few inexpensive and fun camping food ideas below.
Items such as bug spray, sunscreen, flashlights/lanterns, and drinking water should also be on your camping essential list.
Print out my Free Family Camping Checklist for more must-have items to bring on your next family camping trip.

Family Camping Activities
Most campgrounds have many things that you can do such as fishing, hiking, and swimming. But there are so many other activities you can enjoy when family camping. You can bring a lighted football or light up frisbee and play catch. Kan Jam is a lot of fun or you can load up your bike and take a family bike ride.
Here are a few more fun, inexpensive camping activities you can enjoy together:
Card games
Don't forget to pack a deck of cards when you head out camping. Teach your kids how to play Rummy, Solitaire, War, or Crazy 8's. We love playing the card game, Trash. If you have never tried it, I share how to play in my 60 Indoor Activities for Kids post.
We also love Uno, Skip-Bo, and Phase 10.
Get up and move
If you have younger kids a game of Simon Says is always fun. Charades are a great game to play for any age. You can print out a list or use the charades word generator at (The Game Gal)
Word games
Play games like hangman or tic tac toe. Create silly stories and keep everyone laughing with a fun game of mad libs.
Campfire games
Games like 20 Questions, Would you Rather, Never Have I Ever and Guess the Lyrics are a hit with teens.
Storytelling is popular among younger children. Tell scary (or not so scary) ghost stories around the fire.
A game of finish the story is always a fun time as you start a story and have each family member contribute to the story until you get to the end.
Stargazing
Grab a blanket and look up at the stars. You can download a free stargazing app on your phone to explore the night sky.
Make s' mores
Honestly, nothing says summer like roasted marshmallows over a campfire. Grab some graham crackers and chocolate for a satisfying sweet treat.
Camping Food on a Budget
One of the best parts of camping is the food. I love cooking our food over the campfire. These easy camping food recipes are quick and easy options that require very little prep. Most of these ideas can be made at home before you leave so they are all ready to go when you arrive.
Breakfast
Omelets in a bag
Omelets in a bag are as simple as adding your favorite veggies (ex. pepper, onions, mushrooms), meat (bacon, ham, or sausage), and shredded cheese (your choice) to a ziplock freezer bag. Then, add in the eggs, seal the bag, and squish everything together. Place in a large pot and boil for about 10-12 minutes. Cook until eggs are set and no longer runny.
Breakfast Burritos
Breakfast burritos are one of our favorite quick breakfasts to take camping as they can be made up ahead of time. They are the perfect freezer meal. Make a big batch and before you leave, take them out of the freezer and stick them in the cooler.
When you are ready to eat them, (make sure they are individually wrapped in aluminum foil) place them on the fire pit grate and cook for 10-15 minutes.
Muffins
Make your favorite muffin recipe and then once cooled, wrap in plastic wrap, then put in a ziplock freezer bag and pop into the freezer until you are ready to leave for your camping trip.
Pancakes
A super simple camping breakfast option is to use your favorite pancake mix and add it to a storage bag. Once you are ready to cook your pancakes, just snip off the corner of the bag and squeeze out the pancake mix onto a skillet. Drizzle on a little syrup when you are done and enjoy!
Lunch
Homemade Lunchables
Yes, this is as simple as it sounds. Pack lunch meat, slices of cheese, and crackers, then add in some fruit and veggies and pack in a plastic storage container.
Wraps
Wraps are one of my favorite on-the-go lunches. Try these Super Easy Ham Roll-ups from Longbourn Farm for a quick make-ahead and filling lunch idea to take with you camping.
Hot Ham and Cheese Campfire Sandwiches- enjoy these ham and cheese campfire sandwiches from Taste and Tell. A quick and easy lunch option even picky eaters will love.
Campfire pigs in a blanket
If you are looking for an easy lunch idea when you are camping that your kids will love then pick up a package of hot dogs and crescent rolls.
Open your package of crescent rolls and wrap a pre-cut triangle around each hotdog. You can put your pigs in a blanket on aluminum foil and cook them over the campfire or put them on a skewer to roast over the fire for about 15 minutes, or until the crescent roll is cooked through.
Dinner
Pizza Pies
Pizza pies are my absolute favorite camping food. I have fond memories of eating them around the campfire as a kid. The best part is that they are so quick and easy to make. All they require is a loaf of bread, pizza sauce, mozzarella cheese, and pepperoni. You can cook them like grilled cheese in a skillet but it's definitely worth it to invest in one of these pizza pie irons. Just make sure to spray the iron and butter the bread or it may stick.
I don't know anyone who doesn't enjoy a good taco every now and then. In our household, Taco Tuesday is definitely a thing. So, when I heard about a walking taco, I knew it was something that we had to try.
(The Girl Who Ate Everything)
Sausage Foil Packets with Corn
A hearty and tasty dinner to enjoy around the campfire. Foil packet meals are so delicious. You can basically add in any variation (cheese, green beans etc.) and it will still come out amazing.
(The Salty Pot)
If you love fajitas, then you need to try this Chicken Fajitas Foil Packet. Filled with seasoned chicken and veggies it's the perfect dinner to enjoy while you are camping.
(Tastes Better From Scratch)
Hobo Dinner Hamburger and Potato Foil Packet
An inexpensive and hearty meal, the hobo dinner foil packets are loaded with potatoes, carrots, onions, and a delicious hamburger patty.
(Spend with Pennies)
You may also like:
Free Camping Checklist
Camping can definitely be the perfect family fun activity when you are on a budget. However, in order to make sure your next camping trip goes smoothly, a family camping checklist is essential. That is why I made a free packing checklist for you to print out before your next camping trip this summer to ensure that you don't forget a thing.
Simply download and print out the free camping checklist below.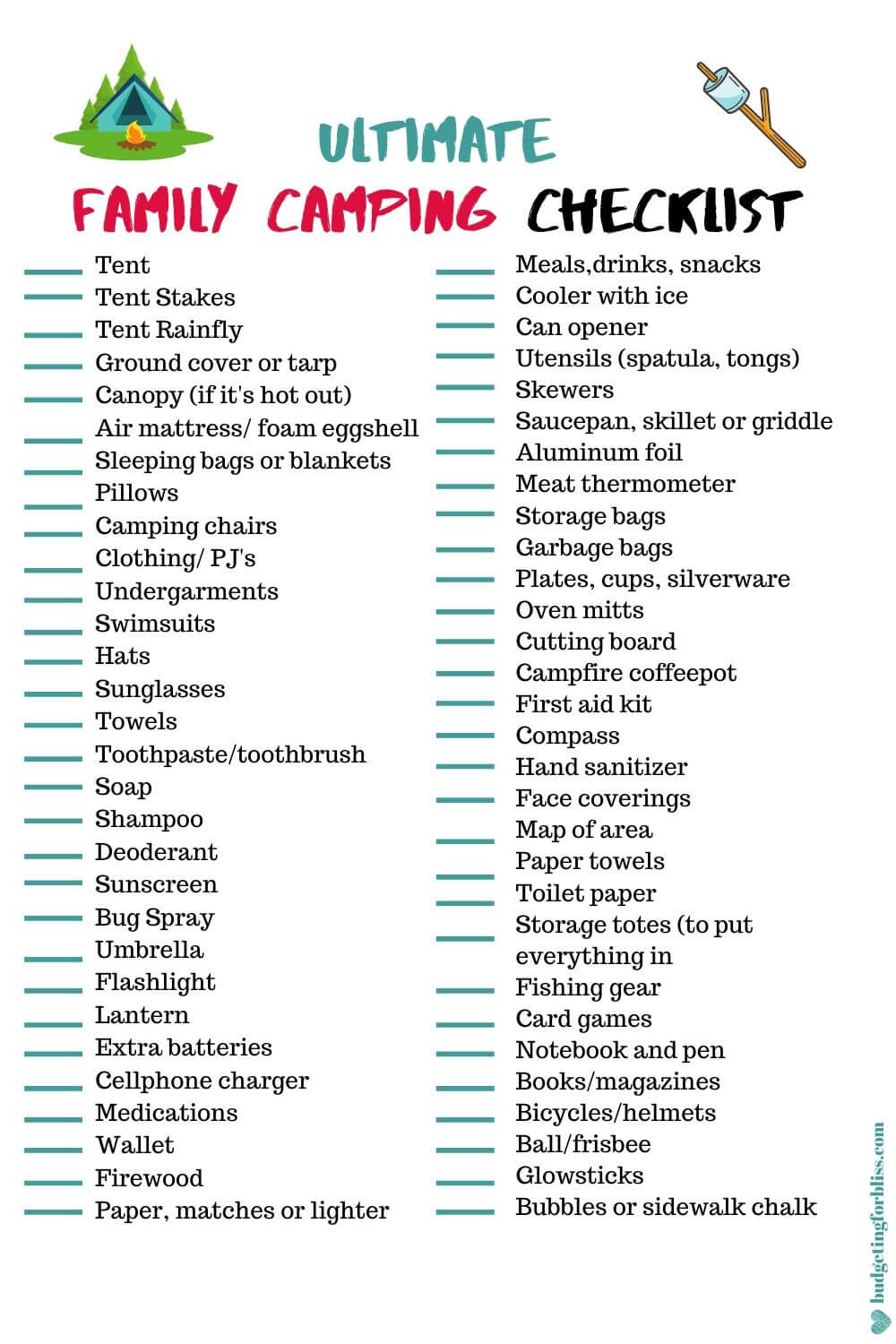 Ultimate Family Camping Checklist
Hopefully, these ideas for family camping on a budget will encourage you to relax under the stars and create wonderful memories with your loved ones this summer.
You may like:
Follow me on Pinterest for more family fun activities on a budget