Looking for free cleaning checklist printables? Simplify your cleaning routines with my free cleaning checklists for daily, weekly and monthly cleaning.
This post may contain affiliate links. You can read my full disclosure here.
Love free printables? You can sign up for my Free Resource Library. It has free planner printables, plus wall art quotes to decorate your home.
While I love having a clean and tidy house, cleaning is not something I enjoy doing. But, I know it must be done because procrastination just ends up making things worse as you are spending the entire day or weekend catching up.
However, knowing something has to be done and actually fitting it into your every day can sometimes become a challenge. Especially, if you are looking at the huge task in front of you. It can be so overwhelming knowing that you have your entire house to clean and keep clean on a daily basis. Life is crazy busy, there is so much pulling for our attention that many times cleaning goes to the bottom of the list.
You may like:
Cleaning Routines Make Life Easier
A few years ago, I started using cleaning routines and schedules because I needed to simplify my cleaning tasks, so they wouldn't be so stressful. Creating cleaning routines that work for me and my home has been one of the best things that I have done, and definitely saved my sanity over the years.
This is why I decided to create cleaning checklists, to not only keep myself on task but to share with you. If you are looking for quick and easy cleaning routines that will help you take back control of your home then these cleaning checklists are for you.
The best part about using these cleaning checklists is that you will start to establish cleaning habits, and eventually, you won't even need the checklists because they will become automatic for you. It will help you consistently stay on top of your cleaning tasks so you have a cleaner home that you can be proud of.
Free Cleaning Checklists: Daily, Weekly, and Monthly Printables
These daily, weekly, and monthly checklists will help to keep you on task so you can spend less time cleaning and more time doing things that you love to do.
Simply download and print out the free cleaning checklists below. Then, place them somewhere that's easy to see, such as the refrigerator or you could put them in a binder to pull out when you need them. If you want to check off the boxes, you can laminate them or put them in a picture frame from the dollar store. Just use a dry erase marker or a sharpie (wipe with alcohol to wipe clean). This way you can use your free cleaning checklists again and again.
Free Cleaning Checklists: Daily
When it comes to my daily cleaning checklists, I divide them into a morning and nightly cleaning routine. Both routines focus on areas that need to be cleaned everyday like the kitchen and bathrooms.
You should be able to tackle these daily cleaning tasks in less than 30 minutes since they only concentrate on making beds, cleaning counters, sweeping, and dishes. You will find as your daily cleaning routines become a habit, you will become more efficient in cleaning your home.
Morning Cleaning Routine Checklist
It usually takes me less than 15 minutes to complete my morning cleaning routine. I start my routine by spraying all my counters in the kitchen, and then I move on to the bathroom and do the same. Once I have finished in the bathroom, I head back to the kitchen to wipe things down so I can let the cleaner sit a little longer in the bathroom. It's a quick spray and wipe before I move on to sweeping and putting the dishes in the dishwasher.
You can learn more about my Quick 5 Step Morning Cleaning Routine here.
Click HERE to Print the Morning Cleaning Checklist
Nightly Cleaning Routine Checklist
A nightly cleaning routine is one of the most important parts of keeping your home clean on a consistent basis. The reason for this is because it's the last cleaning of the day so it's the one that will help set you up for a more productive morning.
Just think about how you feel in the mornings that you wake up with a sink full of dishes and clutter everywhere because you didn't get around to cleaning up the night before. It sets the tone for the whole day. You get up and you are instantly overwhelmed looking at the mess all around you. It's even worse when you don't have time to deal with it and it's waiting for you when you come home.
Taking a few minutes every evening after dinner, to pick up any clutter and get your dishes washed or put away, your floor swept and counters cleaned off helps to prevent those stressful mornings when you would rather go back to bed than deal with the mess.
You can learn about my nightly cleaning routine here.
Click HERE to Print the Nightly Cleaning Checklist
Free Cleaning Checklists: Weekly
A weekly cleaning checklist encourages you to take a few minutes every day to focus on one room in your home. This will help you avoid having to spend an entire day cleaning every room in your home in one day because you are keeping up with it on a daily basis.
By choosing to concentrate on only one room every day eliminates unnecessary stress because you're not putting so much pressure on yourself to get it all done at once. The best part is that as time goes on, you will notice that it gets quicker and easier to keep your home clean because you are keeping up with it.
You can find out more about my weekly cleaning routine in A Weekly Cleaning Routine that Works.
Click HERE to Print the Weekly Cleaning Checklist
Free Cleaning Checklists: Monthly
A monthly cleaning schedule reminds us to clean the areas of our home that we may often forget about. During my weekly cleaning routine, I will do a quick dusting of my home. But, once a month I will go through each room in my home and do a thorough dusting of all surfaces.
In order to make a monthly cleaning schedule work for you, you'll need to rotate deep cleaning tasks into your weekly cleaning routine. This can be done by choosing one specific room a week to spend a little extra time in. Or if you prefer, you could choose one day a month to get all your deep cleaning done.
Here is my Easy Monthly Cleaning Schedule if you would like to learn more.
Click HERE to Print the Monthly Cleaning Checklist
You may like:
Cleaning Routines and Checklist Tips
Cleaning routines and checklists can be extremely helpful when trying to establish new cleaning habits. However, keep in mind that habits can take time to develop so if you find yourself super motivated when you first start but as time goes on, you start to get really busy and begin to skip a few days here there. Don't give up.
Eventually, you will establish better cleaning habits as long as you consistently keep trying. A few missed days here and there doesn't mean that the routine doesn't work. It just means you haven't formed a habit yet. It will take time.
In the meantime, you can always speed clean or do a power hour cleaning to catch up if you need to.
Have pets and want a better way to keep your home clean?
Clear the Clutter
To make your cleaning checklists run more smoothly, try to keep on top of clutter in your home. You will find that your cleaning will go much quicker if you are not constantly moving stuff around to clean under it. Clutter can multiple very quickly if you let it build up. Take a few minutes every month to declutter a countertop, drawer, or cabinet.
Find more decluttering motivation: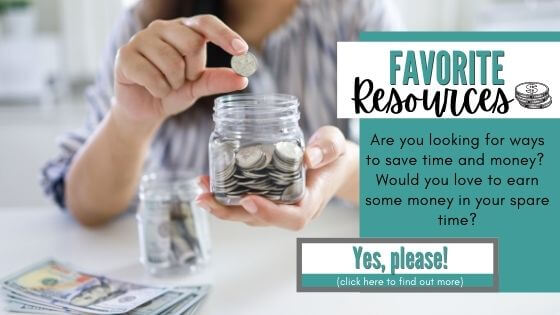 Before you go, don't forget to sign up for my Free Resource Library. You will find planner printables to keep track of all your everyday tasks, cleaning printables, wall quotes, and more.
Follow me on Pinterest to find more cleaning tips and inspiration.