Looking for an easy dessert recipe for Easter? These 24 Delicious No-Bake Easter Dessert Recipes are perfect for your next Easter celebration.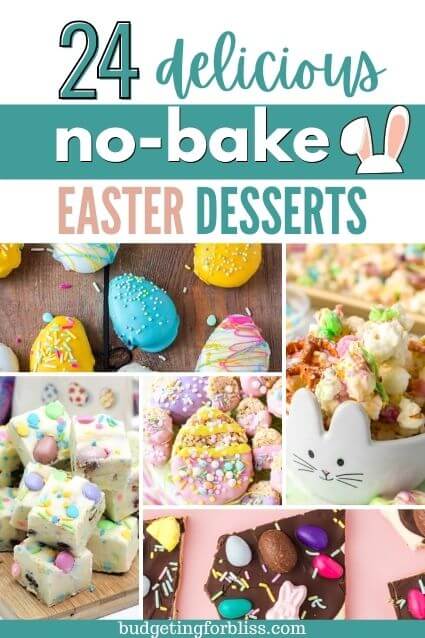 This post may contain affiliate links. You can read my full disclosure here.
Love printables? Sign up here to access my free resource library that has meal planning printables such as shopping lists and favorite meal worksheets.
Spring is finally here and I couldn't be happier. It's so nice to see the daffodils starting to bloom. Although, I haven't spent too much time outside enjoying the warmer weather as I've been spring cleaning and decluttering the last couple of weeks.
With all the deep cleaning that I've been doing in my home, I didn't realize how close Easter was. So, I figured I should get busy and decide what gifts to get my boys for Easter and to make a plan for Easter dinner.
Besides enjoying the usual holiday ham (here are a few recipes to use up that leftover holiday ham) and all the delicious sides including our favorite air fryer side dishes, I knew I needed to choose an Easter dessert.
Since I wanted something quick and easy, I decided to make a no-bake dessert recipe. No-bake desserts are a perfect choice for any holiday celebration because they are not only simple to prepare, but they free up the oven so it can be used to bake other holiday dishes.
Here are 24 delicious no-bake Easter dessert recipes that include cakes, pies, cheesecakes, and Easter treats your kids are sure to love.
24 Delicious No-Bake Easter Dessert Recipes
No-Bake Easter Cakes and Pies
Easter Creme Egg Icebox Cake– Food Meanderings
This magical easy Easter Creme Egg Icebox Cake is a glorious, yet simple combination of whipped cream, graham crackers, and Easter creme eggs.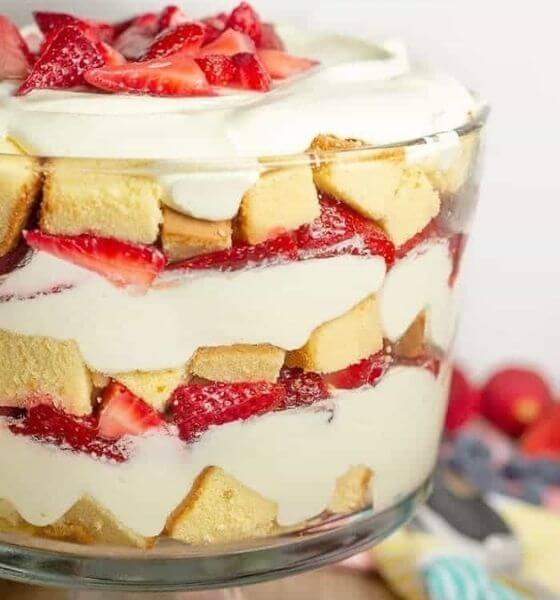 Easy Strawberry Trifle with Pound Cake– Scattered Thoughts of a Crafty Mom
The sweet strawberries, creamy pudding, and pound cake really come together and scream deliciousness in this super easy strawberry trifle with pound cake recipe. This strawberry dessert will be a complete hit with all your guests.
Lemon Blueberry Tiramisu-Miss in the Kitchen
Lemon Blueberry Tiramisu is a quick and easy no-bake dessert that is perfect for Easter and spring gatherings. A spring twist on the classic.
No-Bake Peanut Butter Pie– Finding Zest
No-Bake Peanut Butter Pie is a creamy and fluffy pie that is super quick and easy! This rich dessert is absolutely sinful and sure to be a hit at your Easter celebration.
No-Bake Chocolate Pie-Lemons and Zest
Easy No-Bake Chocolate Pie is going to be your new favorite dessert! Chocolate ganache folded into chocolate whipped cream in an Oreo cookie crust and topped with freshly whipped cream. No baking is required and so rich, thick, and creamy.
Easter Jell-O Pie– Princess Pinky Girl
This no-bake easy-to-make Easter Jello-Pie is a light and refreshing way to layer pretty pastel colors in a graham cracker crust. It takes only 15 minutes to prepare the pie filling, simply using 4 flavors of fruity jello, cool whip, and water that pile high into a buttery crumb crust.
Strawberry Mousse Pie– Simple and Seasonal
Strawberry Mousse Pie is light, creamy, and bursting with fresh strawberry flavor! Made with fresh strawberries and cream, it's the perfect spring dessert.
No-Bake Key Lime Pie–Spend with Pennies
No-Bake Key Lime Pie uses minimal ingredients and is completely ready in just 15 minutes.
Lemon Chiffon Pie with Gingersnap Crust– Went Here 8 This
Sweet whipped cream mixed with tangy lemon curd in a homemade buttery gingersnap crust, this No-Bake Lemon Chiffon Pie is ultra-easy to make.
No-Bake Cheesecake Recipes for Easter
Strawberry Crunch Cheesecake-Alpine Ella
The most delicious and creamy no-bake strawberry cheesecake in a golden Oreo crust and topped with a strawberry crunch topping. This is basically strawberry crunch ice cream in a cheesecake.
No-Bake Raspberry Lemonade Cheesecake– Spatula Desserts
This no-bake Raspberry Lemonade cheesecake consists of a silky, ultra-creamy lemony cream cheese filling, tangy raspberry compote in a crunchy, sweet crust that is enhanced with frozen dried raspberries for the ultimate luxurious taste.
Cadbury No-Bake Cheesecake– Savor and Savvy
Easy layered no-bake Cadbury Mini Cheesecake is the perfect low-effort dessert for Easter using ingredients you are familiar with. The technique uses simple copper mats to make the circles prior to freezing the layers.
Easter No-Bake Treats
Easter Bark– Play Party Plan
This fun Easter bark recipe combines graham crackers, marshmallows, and chocolate with all of your favorite Easter candies for a deliciously fun Easter treat.
No-Bake Easter Chex Bars– Budget Delicious
These 4 ingredients No-Bake Chex Bars are easy to make with your favorite Easter candy. An affordable sweet treat that is perfect for Easter.
Bunny Bait– Little Sunny Kitchen
This fun and festive Bunny Bait snack mix is the perfect sweet and salty treat for your Easter celebrations.
Easter Egg Truffles-Fantabulosity
These no-bake egg truffles are adorable for Easter and are made with crushed, frosted animal cookies, cream cheese, and other easy ingredients, making them a delightful holiday dessert.
Easy Easter Chocolate Fudge– Sustain My Cooking Habit
The kids will love this Easter chocolate fudge loaded with colorful sprinkles and with no baking involved, you'll certainly love how easy it is to make.
Crisped Rice Easter Egg Treats-Sizzling Eats
These Crisped Rice Easter Egg Treats are a delicious and easy way to show your holiday spirit or excitement for spring. Made with just a few simple ingredients, these yummy cereal eggs are sure to be a hit with everyone in the family.
Bird Nest Cookies–Art From My Table
Bird Nest Cookies are adorable no-bake cookies, that look like nests, topped with mini chocolate eggs. A blend of chocolate, peanut butter, and butterscotch gives them the ultimate flavor.
Easter Egg Oreo Truffles-Persnickety Plates
These Easter Egg Oreo Truffles are no-bake, made with just five ingredients, fun for kids to decorate, and the perfect addition to an Easter sweets table.
Easter Rocky Road– It's Not Complicated Recipes
Easter Rocky Road is an ideal sweet treat or edible gift. This simple to prepare recipe is a favorite no-bake dessert for chocolate lovers. A delicious dark and milk chocolate base are filled with marshmallows, coconut, and Mini Eggs. The slice is topped with creamy white chocolate and decorated for your Easter celebrations.
Rice Krispies Easter Treats– This Delicious House
Rice Krispies Easter Treats are so fun to make and include hidden Cadbury Mini Eggs. Cute and festive, don't miss this Easter recipe that little ones will enjoy.
Easter Charcuterie Board-Aubrey's Kitchen
This Easter Charcuterie Board is the perfect dessert candy dessert board to serve at your next Easter party or Springtime Brunch. Packed full of Easter candy charcuterie board ideas from chocolate bunnies, to peanut butter Easter eggs, to marshmallow peeps, this is an Easter dessert that the adults and kids will love.
Easter Chocolate Covered Strawberries– Cincy Shopper
Carrot Easter Chocolate Covered Strawberries are easy to make! Make them for Easter dessert, to top a cupcake, cake, or even as a gift. Juicy strawberries coated in orange chocolate resembling a carrot are always delicious.
More easy dessert recipes you may like:
Don't forget to sign up for my Free Resource Library to grab my meal planning printables. You will also get access to lots more printables all completely free for you to print out and enjoy!
Follow me on Pinterest for more recipes and meal planning inspiration