Are you looking for easy and savory side dishes that you can cook in your air fryer? These 29 Delicious Air Fryer Side Dishes are the perfect accompaniment to any weeknight dinner.
This post may contain affiliate links. You can read my full disclosure here.
Love printables?

Sign up here to access my free resource library

that has meal planning printables such as shopping lists and favorite meal worksheets.
When most people think of an air fryer the first thing that comes to mind is visions of crispy french fries or breaded chicken. And while it does an excellent job of making your french fries come out all crunchy and delicious. It can also cook up amazing desserts, breakfasts, appetizers, and side dishes as well.
You may like:
How does an Air Fryer Work?
If you are not familiar, an air fryer is a healthier way to "fry" your food. It does this by circulating hot air (up to 400°) thru a convection fan resulting in crispy and golden brown deliciousness.
What are the benefits of using an air fryer?
There are so many benefits to using an air fryer besides the obvious one which is to cook your food in a healthier way. Some other advantages are:
It cooks your foods quicker than in a conventional oven saving you time in the kitchen.
Makes clean up a breeze. It usually only requires a quick wipe. You can also use parchment paper or aluminum foil to make cleaning even easier.
Perfect to use in the hotter months as it doesn't heat up your kitchen as an oven does.
No more dealing with soggy leftovers from the microwave, since the air fryer produces crispy food when reheated.
You may like: How to Clean an Air Fryer to Make it Last
---
Important things to know– When using your air fryer it's best to shake your basket a few times to ensure even cooking. Also, don't use aerosol sprays such as Pam in your air fryer as it can cause your basket to peel. Rub on your oil instead or invest in an oil mister.
Learn more tips and tricks about this versatile appliance with my 20 Best Air Fryer Tips for Beginners.
---
Why an air fryer is ideal to use for side dishes
An air fryer is a perfect choice for cooking your side dishes because it frees up the stovetop and oven space for your main dishes. It also makes cooking your side dishes quicker and easier. And let's face it, it makes preparing dinner a lot more fun.
This is the air fryer that I have and I love it. It's not only affordable but it's the perfect size for my family of four.
Looking for some more air fryer recipe ideas?
29 Delicious Air Fryer Side Dishes
These air fryer garlic fries are perfectly crisp and loaded with cheese and garlic!
These Air Fryer Stuffed Mushrooms are filled with a savory flaked lump crab stuffing then baked in the air fryer or oven for pop-in-your-mouth goodness at your next party.
Air Fryer Bacon Wrapped Asparagus makes an easy side dish in the Ninja Foodi (or any other air fryer brand you may have on hand). Even non-asparagus lovers find a way to chow down when crispy bacon makes its appearance.
A super easy, delicious, and crispy side dish recipe! These breaded Air Fryer Artichoke Hearts are gluten-free, vegan, and allergy-free! Tossed in a lightly seasoned breading, there's no oil needed for these healthy air fried artichokes.
You will love these easy and delicious air fryer garlic parmesan mushrooms. They are the perfect side dish to any dinner. They are literally so simple to throw together you will be wondering why you haven't cooked your mushrooms in your air fryer sooner.
All you need to do is to slice your mushrooms and toss in olive oil, salt, pepper, and Worcestershire sauce. Then, add your mushrooms to your air fryer basket. Air fry for 8 minutes, making sure to shake your basket halfway through cooking.
While air frying your mushrooms, combine butter and garlic in a dish. Add to the cooked mushrooms and sprinkle with parmesan and parsley.
Note:
We prefer our mushrooms cooked down, similar to how they are sauteed in a skillet on the stovetop. So, I make sure to slice my mushrooms quite thin. However, you can prepare them thicker or decrease the cooking time.
Air Fryer Garlic Parmesan Mushrooms
Enjoy these tender and delicious air fryer mushrooms full of butter, garlic and parmesan flavors.
Ingredients
8

ounces

white mushrooms

cleaned, dried and, sliced

1½

tablespoons

olive oil

½

teaspoon

worchestershire sauce

¼

teaspoon

garlic powder

1

tablespoon

butter

melted

salt and pepper

to taste

½

tsp

parsley
Instructions
Combine sliced mushrooms with olive oil, worcestershire sauce, salt and, pepper.

Place in the air fryer and cook at 390° for 7-8 minutes. Shake the basket halfway through cooking.

While mushrooms are cooking, combine butter and garlic in a dish.

Remove mushrooms from the air fryer and toss with butter and garlic. Sprinkle parmesan cheese and parsley on top.
Notes
There is no need to preheat the air fryer. However, you can do so if you would like, just cut back the amount of cooking time.
Wash your mushrooms and dry thoroughly before putting them in the air fryer.
Make sure to place your mushrooms in a single layer so they cook evenly. 
Since air fryers can cook differently, check your mushrooms in the last 4 minutes of cooking so you can ensure they do not overcook and dry out.
For a healthier version, you can omit the butter or substitute it with olive oil.
Looking for ways to get the most out of your new air fryer?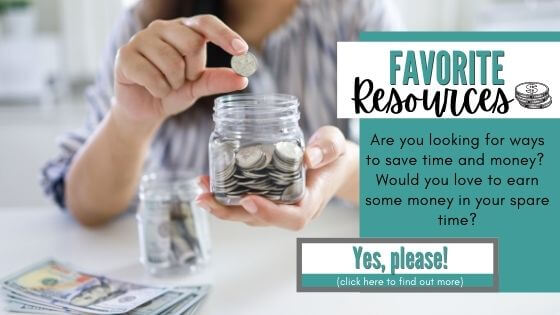 Don't forget to sign up for my Free Resource Library where you can find meal planning, shopping list printables, and more.
Follow me on Pinterest for more air fryer recipe ideas.