Are you feeling unmotivated to deep clean your home? This 30 Day Deep Cleaning Challenge with free printable calendar will help you get your home sparkling clean in 30 days.
This post may contain affiliate links. You can read my full disclosure here.
Love free printables? You can sign up for my Free Resource Library. It has free planner printables and I've recently added new cleaning checklists for the morning, nightly, weekly, and monthly cleaning routines. Sign up here.
Now, that the New Year is finally upon us, I'm ready to start getting my home back into shape. As much as I love the holiday season it's nice to have a refresh. And deep cleaning is the perfect thing to do once the new year has arrived.
Although, I use spring and fall cleaning checklists, there are time when I feel my home could use a deep clean and it's usually around the first of the year.
But, just like with any big project, as much as we are excited to start making goals and plans for the new year. Finding the time to implement those plans can feel overwhelming so we end up avoiding them all together.
That is why I decided to sit down and create a 30 day deep clean challenge to easily get your home back in shape when it needs a good thorough cleaning.
30 Day Deep Cleaning Challenge
Despite using morning, nightly, weekly and monthly routines, that have completely changed the way I clean my home, every now and then a good deep cleaning is in order. And, since I love a good challenge I thought sharing my 30 day deep cleaning challenge would be a great way to kick off the new year.
How does a 30 day deep cleaning challenge work?
A 30 day cleaning challenge is setting aside a certain amount of time every day for an entire month to get your home deep cleaned.
Why should you use a 30 day deep cleaning challenge?
A cleaning challenge is a great way to find motivation to clean your home when you are feeling overwhelmed with the mess and don't know where to start. Since each day is devoted to a specific task it allows you to stay focused on your goals.
A few reasons this 30 day cleaning challenge may work for you:
You can use it any time of the year. It doesn't have to be spring, it can be the middle of summer. Find what works for you and your schedule.
It gives you focus so you know exactly what areas you should concentrate on. Of course, if you want to be more thorough, you can read my post about all the places that people forget to clean in their homes.
You don't need spend hours and hours cleaning your home, since you are only devoting a small amount of time to clean each day.
It's only a 30 day commitment to get your home back in shape.
Some helpful cleaning tips before you begin
Before you begin there are a few things that will help you make the most of this cleaning challenge.
Gather your supplies
Assemble a caddy of all your favorite cleaning products, as it will not only keep you organized when you start cleaning but help you stay motivated to clean once you've begun.
Some of my favorite products include:
Vinegar
Baking Soda
All-Purpose Cleaner
Clear the clutter
Before you start deep cleaning your home, you might want to look around and try to eliminate any clutter. Trust me, it will make the whole cleaning process easier. If you have a lot of clutter in your home, you may benefit from starting my 30 Day Home Decluttering Challenge first especially if you are feeling overwhelmed or lacking the motivation to begin.
If the whole process of decluttering is too stressful for you, I understand completely. Decluttering can be so hard. It took me years to finally let go of the guilt I felt trying to declutter my home. But, honestly it's so freeing and the best part is that your house is so much cleaner and organized after the clutter is gone.
Less stuff means less things to clean so it's definitely worth the effort. Here are 10 easy things you can declutter in your home today. Each task takes less than 10 minutes to finish.
Learn more ways to Declutter your home:
Focus on one room at a time
There are all kinds of cleaning challenges and many of them have you completing tasks randomly throughout your home. While it gets the job done, I like to focus on one room at a time because it gives me a sense of accomplishment once the room is finished.
You will notice that in this challenge that Week 4 is dedicated to doing tasks throughout your home, mostly because it made sense to do things like wiping down walls or cleaning windows all at once rather then trying to fit the same tasks in each week.
Work from top to bottom
If your goal is to work smarter and not harder then cleaning from top to bottom is the best way to clean your home. If you stop and think about it, it doesn't make sense to mop your floor and then dust the top of your cabinets because then all the dust and debris falls on your clean floor.
So, throughout the challenge you will work on cleaning each room from top to bottom so you know that your home is completely clean.
Print my 30 Day Deep Cleaning Challenge Calendar
The last thing you should do before starting the challenge is to print out my free 30 day deep cleaning challenge calendar. Place it somewhere that is easy to see (like the refrigerator) to encourage you to stick with the challenge. Then, simply cross off each day that you complete.
Let's Start Deep Cleaning
Week 1- Kitchen
Day 1- Clean the microwave
Wipe the outside down with a wet cloth and then fill a bowl with water and a tablespoon of vinegar. Microwave on high for about 5 minutes. The steam will loosen any food particles allowing you to easily wipe the inside clean.
Day 2- Clean stovetop and oven
Clean the top, front and sides of your stove with your favorite cleaner. Then, remove the racks from your oven, scrub clean and then wipe down the inside.
Day 3-Dust on top of cabinets
Get a microfiber cloth or extendable duster to remove dust and cobwebs.
Day 4- Wipe down the outside of your cabinets
Wipe down or dust the outside of your cabinets. Disinfect the cabinet pulls.
Day 5- Clean inside of cabinets and drawers
Remove all dishes, utensils and cookware from cabinets and drawers. Wipe the shelves and drawers down and then put back items, decluttering and organizing as you go.
Day 6- Clean the refrigerator
Remove all food from the fridge and then wipe it down inside and out. Throw away any food that has gone bad or expired and put back the rest. Don't forget to clean off the top.
Day 7- Clean dishwasher and sink
Although it may seem crazy to clean something that's sole purpose is to clean. However, the dishwasher can accumulate a lot of food debris and grime. Not to mention, it won't be as efficient at cleaning your dishes.
Simply putting a cup of vinegar on the top rack and running it through a cycle will help break down any residue or build-up that has occured making it easier to wipe clean.
Week 2- Livingroom/ Bedrooms
Day 8 Dust all picture frames, wall art, decorations and wood furniture.
Use a microfiber cloth to remove any dust that has gathered. Don't forget to clean the glass on the picture frames.
Day 9- Clean furniture
Take out the vacuum and using the upholstery tools, vacuum your sofa and chair cushions. Make sure to vacuum underneath and in the crevices as well.
Day 10- Clean out dressers
Remove clothing from drawers, wipe out the drawers and then replace the clothes refolding if necessary. This is actually a great time to declutter and pull out anything that you don't wear anymore to sell or donate.
Day 11- Clean Closet
Go through your closet and tidy any shelves, get rid of any clothing you no longer want and vacuum the floor.
Day 12-Clean out under the beds, vacuum, mop or dust.
Pull out anything that has found it's way under the bed and put away. Toss any trash and then vacuum the dirt and dust that has accumulated.
This VacMop has been a huge timesaver for me cleaning those hard to reach places on my laminate floors.
Day 13- Wash bedding, blankets, linens and throws.
Remove bedding, blankets and throws to toss in the wash. Go through your linen closet and do the same.
Day 14- Vacuum floors
Vacuum all carpets and spot clean if necessary.
Week 3- Bathroom/Laundry room
Day 15- Wipe out medicine cabinet
Remove all items from your medicine cabinet, wipe out with a wet cloth, declutter anything that has expired or you no longer use and then replace the rest.
Day 16- Clean all mirrors
Wipe down all mirrors with glass cleaner or vinegar.
Day 17- Clean shower, showerhead, and bathtub
Scrub your tub and shower with your favorite cleaner. This easy DIY Daily Shower Cleaner Recipe from One Good Thing By Jillie works great for cleaning your shower.
Day 18- Clean under sink
Pull everything out from under your sink and wipe the inside down. Replace items, decluttering as you go.
Day 19-Disinfect toilets
Use toliet cleaner and scrub the inside of your toilets. Completely clean outside of toilet including the back.
Day 20- Wipe out trash bins and garbage cans
Wash and deoderize the inside of all your trash bins and garbage cans. Wipe down the outside with a disinfecting wipe.
Day 21- Wash the outside of your washer and dryer.
Make sure to clean out the lint trap and clean the inside of the washer.
You may like: How to Clean Your Bathroom in 5 Minutes
Week 4- All rooms
Day 22- Wipe down all doors, door handles and light switches
Go room to room and wipe down all the doors and disinfect all door handles and light switches.
Day 23- Dust all light fixtures
Take down light fixtures and using a microfiber cloth, gently wipe out any dust or debris that has accumulated.
Day 24- Wipe down the walls (Kitchen and Bathroom(s))
I like to wipe down my walls with a damp cloth to remove any marks or stains. However, if you prefer you can always use a dust mop instead and wipe from top to bottom.
Day 25- Wipe down walls (Living room and Bedrooms)
Continue with wiping down the walls. You can use a magic eraser to get any scuff marks or crayons (from kid's bedrooms.)
Day 26- Dust window blinds
You can use a microfiber cloth to wipe down your blinds or try this mini blind duster.
Day 27- Clean all windows, window sills
Use these ultra-fine microfiber cloths or vinegar and a newspaper to clean all your windows and window sills. (try using a toothbrush to get into all the small crevices in your window sill.)
Day 28- Wash curtains
Take down all curtains to wash and then iron if needed.
Week 5- Finishing up
Day 29-Clean the baseboards
Wipe down all the baseboards in your home with a microfiber cloth or dust mop.
Day 30- Mop all floors
Mop all laminate, tile or hardwood flooring.
---
That's it! A simple and effective 30 day deep cleaning challenge to make cleaning your home easier. If you want to keep your home consistently clean, you can print out the free cleaning checklists below. Don't forget to grab your free 30 day deep cleaning challenge printable before you go.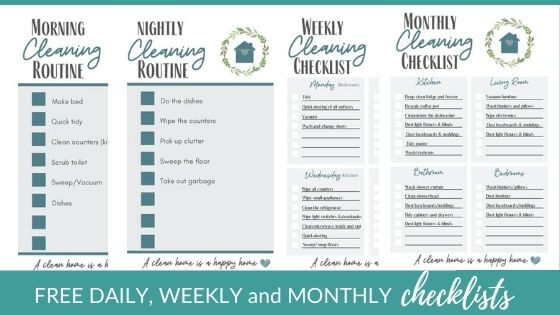 There is no doubt about it cleaning can be a chore but using this 30 Day Deep Cleaning Challenge along with establishing good cleaning habits and a few cleaning hacks thrown in here and there have helped me stay on top of my cleaning through the years.
Looking for more cleaning motivation?
Don't forget to sign up for my Free Resource Library where you will find planner, cleaning schedules, and wall quote printables. All free to print and enjoy.
Follow me on Pinterest for more cleaning motivation.