Are you looking for fun and frugal Christmas traditions to start this year to make your holiday more magical? These 25 Family Christmas Traditions are the perfect way to create memories your kids will cherish for years to come.
This post may contain affiliate links. You can read my full disclosure here.
I know if I were to ask my kids what are some things that they remember most about the Christmas holidays throughout the years it's probably not going to be the toy truck they received when they were six or the Bop-It game that was packed away long ago. It would be the holiday traditions that we have created and they look forward to every Christmas.
Christmas traditions remind us that the holidays are so much more than presents neatly wrapped and tucked under the Christmas tree, but a time for celebrating and making cherished memories with family and friends.
---
"Maybe Christmas, he thought, doesn't come from a store. Maybe Christmas, perhaps…. means a little bit more." –The Grinch
---
25 Family Christmas Traditions for a Magical Holiday
Before Christmas
1. Sing Christmas carols
Christmas caroling can be so much fun around the holidays. But, you don't have to leave the house to enjoy singing Christmas carols. Have a Christmas karaoke night and let everyone choose their favorite Christmas song to sing.
Some of my favorite classic Christmas carols include:
2. Decorate a gingerbread house
They have some really festive gingerbread kits available you can buy in stores or online that your kids will love decorating.
But, if you want something a little more budget-friendly, you can get this adorable gingerbread cookie cutter set, so you can make a gingerbread house year after year.
If you are looking for something last minute, how about using graham crackers and icing. Check out this tutorial by Real Life Dinner.
(our cookies from cookie day last Christmas)
3. Have a cookie day
The day before Christmas eve is officially cookie day in our home. Every member of our family picks out their favorite cookie to bake (our chocolate chip cookie recipe is always on the top of the list).
Of course, sugar cookies are a must! We love using a variety of holiday cookie cutters and decorating them with homemade icing. Plus, we add in a new cookie or treat to try.
Baking our favorite Christmas cookie recipes can be a lot of work but it's something that we all look forward to every year. Plus, we get to enjoy our sweet treats the entire week of Christmas, freeze some for after the holidays and share with family.
You May Like:
4. Collect or create homemade family ornaments
Our family loves to travel and when our boys were small we started picking up ornaments from our summer vacations to display on our tree every year as a reminder of all the fun we had and the memories we made.
When we haven't been able to get away, we've made homemade ornaments instead, usually with every family member's name on them. Last year, we used wood slices and painted them with chalk paint (from Dollar Tree).
Then, we just wrote our names, added holiday sayings, and decorated them with different color paint pens.
5. Make a Christmas Craft
Christmas crafts are a great way to bring out a little holiday spirit. Every year, our traditional holiday craft is to make paper snowflakes. As my boys have gotten older, the snowflakes have become more elaborate but it's still a tradition that we carry out year after year. And, I still hang them proudly on my kitchen cabinets for everyone to see when they enter our home.
6. See Christmas lights
An inexpensive way to enjoy the holiday season is to take a drive around your neighborhood to see all the dazzling Christmas displays.
7. Read Christmas stories
Reading Christmas stories every night before bed when our boys were small was one of my very favorite Christmas traditions. Over the years, I purchased holiday books from eBay and we borrowed from the library so that we read a new story every night leading up to Christmas.
A few of our favorite Christmas Children's books include "Snowmen at Christmas" and "You Can Do It, Sam".
8. Watch Christmas movies
It's a must every year to get together and watch "A Charlie Brown Christmas" in our home. We pop some popcorn, have gingerbread cookies, and enjoy some hot cocoa.
A few other Christmas movies we enjoy are:
9. Get an advent calendar
An advent calendar is a fun way to countdown to Christmas. In the last couple of years, I decided to make our own DIY Advent Calendar.
All I did was purchase a holiday-themed jar from the Dollar Tree, filled it with Hershey kisses, and numbered each kiss from 1-25. Every day in December, we are able to enjoy a small sweet treat while counting down to Christmas day.
10. Take family Christmas pictures
Family Christmas pictures are a must every year. It's a lot of fun to see how everyone has changed and especially how much our boys have grown.
11. String popcorn garland
If you are looking for a new tradition to start that involves decorating your tree in an old-fashioned way, consider popcorn garland. It's as easy as threading a needle with some string and then pushing the needle carefully through the center of a popcorn kernel. You can also add cranberries if you want to make your popcorn garland more festive.
12. Have a hot cocoa bar
A hot cocoa bar can get anyone in the holiday spirit and can be paired perfectly with a Christmas movie or game night. Fill jars with hot cocoa mix, marshmallows, whipped cream, chocolate chips, and mini candy canes.
13. Start a family Christmas game night
Do you love playing games with your family? Then, how about starting a new tradition of Christmas family game night. It can be as easy as adding a little holiday flair to your favorite board games.
Of course, your games don't have to be Christmas-themed, you can always pull out any board game, add some Christmas music, snacks or a Christmas dessert instead.
14. Do a Secret Santa gift exchange
A secret Santa gift exchange is an enjoyable way to exchange gifts without anyone knowing who chose who. We have had a great time with secret Santa gifts over the years. Just make sure to set a price limit so everyone is spending the same amount on each other.
15. Make a countdown chain
We have used countdown chains to count down vacations and holidays through the years. It can be as simple as having your kids cut out strips of different color construction paper and using a glue stick or tape to make a loop, connecting them together as you go.
16. Dollar Tree gift exchange
A few weeks before Christmas every year when our children were younger, we would go to the Dollar tree and give them a small amount of money to Christmas shop for my husband and I. They loved picking out gifts that they thought we would enjoy and we absolutely loved receiving them because we knew they had put so much thought into them.
Learn how to have a magical Christmas without spending a fortune:
17. Watch a tree lighting
Does your town have an annual tree lighting or Christmas festival? If you haven't yet, start a tradition by searching for festive activities in your area that your family can enjoy together. Otherwise, you can always catch the Rockefeller Plaza tree lighting. It's something we always try to catch on TV every year.
18. Write on Mugs with Sharpies
How about trying a DIY Mug made with Sharpie markers? These mugs are perfect to use to enjoy your cocoa on a cold wintery day while watching your favorite Hallmark Christmas movies. Here is an easy tutorial by Six Clever Sisters.
We made these mugs last Christmas and they made wonderful gifts for family.
19. Put up Christmas decorations together
Gather the family together and put up Christmas decorations. Add in some snacks and cookies to get everyone in the holiday spirit.
Related:10 Cheap Ways to Decorate For Christmas
20. Wrap Christmas gifts while watching your favorite Christmas movie
One of the traditions my husband and I have is to pick an evening after the kids have gone to bed to wrap Christmas presents while watching some of our favorite Christmas movies like "Miracle on 34th Street" or "It's a Wonderful Life".
21. Decorate the Christmas Tree the weekend after Thanksgiving
It's become a family Christmas tradition every year to decorate our tree the weekend after Thanksgiving. Of course, you can pick any day such as the first of December or Thanksgiving night but picking a certain day or time gives the family something else to look forward to during the holiday season.
22. Create a Christmas bucket list
You can use these fun ideas to create a Christmas bucket list. Print out a calendar online or you can use a dry-erase calendar that you keep on your refrigerator so everyone can see it.
Christmas Eve
23. Read "The Night Before Christmas"
A perfect way to end Christmas eve is to gather around the Christmas tree and take turns reading "The Night Before Christmas."
24. Give Christmas Eve Pajamas
We have the tradition of giving pajamas on Christmas Eve. We've done this since our boys were small. It's so nice to look forward to having a new warm & cozy pair of pajamas to wear Christmas morning.
Christmas Morning
25. Make a special Christmas morning breakfast
You can make Christmas morning even better with a special holiday breakfast. We have made pancakes that look like reindeer or snowmen. We have enjoyed breakfast casseroles, monkey bread, and warm cinnamon rolls.
Hopefully, our family Christmas traditions have inspired you to start some of your own this holiday season. Although, it's easy to get caught up in the hustle and bustle of the holiday, taking the time to appreciate and create memories with those around us is what makes Christmas so magical.
Looking for Christmas gift ideas?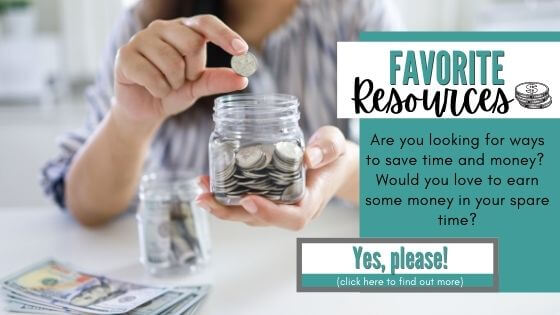 Do you love free printables? Sign up for my Free Resource Library to grab my planner printables. You will also get access to lots more printables all completely free for you to print out and enjoy!
Follow me on Pinterest for more ways to have a magical holiday on a budget.