Are you forgetting to clean these things in your home? Check out this list of the 90 places people forget to clean in their homes.
This post may contain affiliate links. You can read my full disclosure here.
Love free printables? You can sign up for my Free Resource Library. It has free planner printables, plus wall art quotes to decorate your home. Sign up here.
Lately, I have started getting the itch to spring clean my home. I'm so ready for winter to be over so that I can open up the windows to let the fresh air in and soak up the sunshine.
Although, deep cleaning my home isn't my favorite thing to do. I know how much better I feel when I have completed the task. Plus, getting it done in the spring, allows me to enjoy more time outside during the summer instead of being stuck in the house cleaning.
Looking for ways to clean your home fast?
As I pulled out my spring cleaning checklist and started to make a plan to begin, it got me thinking about all the places in our homes that we may forget to clean on a regular basis.
Even though I try to consistently keep up with my morning, nightly, weekly, and monthly cleaning schedules there are things that I miss here and there. This is why I thought creating this list would help keep me accountable in case I've missed something. Maybe this list can help you too.
Find easy ways to keep your home consistently clean: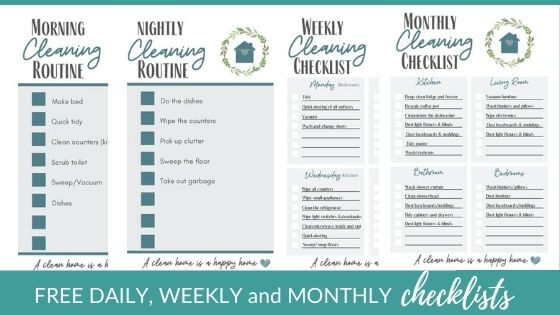 90 Places People Forget to Clean in Their Home
Here is a list of all the places that you should be cleaning but may be missing in your home.
Kitchen
The kitchen is the hub of the home. It's where we seem to spend the most time in, gathering, talking, and eating. So, it's no surprise that this list is the longest.
1. Behind the refrigerator
2. On top of the refrigerator
3. Refrigerator shelves
4. Ice cube trays
5. Kitchen Table Legs
6. Kitchen Chairs
7. Microwave (inside, on top, and underneath)- to clean the inside of the microwave, fill a bowl with a ½ cup of vinegar and a ½ cup of water and place it into the microwave until it starts boiling. I usually do it until the microwave door looks like it's starting to steam up. Then, just wait for a few minutes before you wipe out. It's as easy as that.
8. Coffee maker-an easy way to clean your coffee pot is to run some vinegar through first and then run water through a few times after until the vinegar smell is gone.
9. Kitchen utensil drawer
10. Backsplash
11. Cabinets
12. Under cabinets
13. Oven drawer-I rarely use my oven drawer so this is one of those places that are easily forgotten.
14. Oven racks
15. Stovetop burners
16. Vent hood– these can get really greasy, you may want to invest in a degreaser to make cleaning this easier.
17. Garbage cans (inside and out)
18. Inside the sink– you can keep your sink shiny and clean with this powder cleanser.
19. Sink stoppers
20. Under the sink
21. Small Appliances (toasters, blenders, mixers, can openers, etc.)
22. Dishwasher (inside and outside)- place a cup of white vinegar in your dishwasher and run it through a cycle and then wipe clean.
You may like:10-Minute Kitchen Cleaning Checklist
Living Room
The living room is the place where we relax, watch television, and snack which can lead to crumbs getting between the cushions and under furniture. Here are some places you may be missing in the living room.
23. Remote Controls– the best way to clean these is to dip a cotton swab in rubbing alcohol and wipe over the entire remote. You can also grab a toothpick to get into any small crevices. You can also use disinfecting wipes if you prefer.
24. TV screen
25. Behind and under furniture- this vacuum has made it so easy to maneuver around my furniture because it's so lightweight and has such great suction.
26. Under furniture cushions
27. End stands
28. Throw pillows
29. Throw blankets
Bathrooms
So, you are probably cleaning all the obvious spots in the bathroom such as the sinks, mirrors, toilet, and bathtub/shower. But, there may be some spots that you have completely forgotten about and you didn't even realize it.
30. Shower Curtains
31. Bathtub/Shower Drain
32. Shelves in your Bath/Shower
33. Shower Door
34. Showerhead– if you have build-up on your shower head the best way to clean it is to fill a plastic bag with white vinegar and place it over the showerhead. Make sure the showerhead is immersed and secure with a rubber band and let it soak for a few hours or overnight if it's really bad.
35. Garbage can
36. Under the Sink
37. Behind the toilet
38. Toilet plunger
39. Toilet brush
40. Medicine cabinet– the medicine cabinet can not only get cluttered with stuff but it can get really dusty and dirty. The best thing to do is to pull everything out and declutter. Throw out anything you are no longer using or that has expired and then wipe out the inside before replacing the items you plan to keep.
Learn more ways to Declutter your home:
41. Toothbrush holder
42. Bathroom exhaust fan
43. Bath mats
You may like: How to Clean Your Bathroom in 5 Minutes
Office
Electronics can get really dusty plus they are hot spots for touching as they are used so frequently. Look around your home office to see if there are any other hidden places you may be missing.
44. Computer Mouse
45. Computer Keyboard
46. Computer Screen– these electronic wipes are perfect for safely cleaning your electronic devices.
47. Pens and Pencils
Bedrooms
Since we usually don't spend as much awake time in the bedroom as we do in other rooms in the house it can often get overlooked. Take a minute to look in your closets or under the bed and add those tasks to your cleaning routine.
48. Closet floor
49. Mattress
50. Pillows– to avoid having your pillows clump up after washing, you can put one or two tennis balls in a sock and throw them in the dryer with your pillow.
51. Under the bed
52. Drawers
Have pets and want a better way to keep your home clean?
Laundry Room
Cleaning the washer is not usually something that you think about cleaning. After all, how dirty can it get? It's the thing that is cleaning our clothes. But, like anything every now and then it needs a little TLC to make sure that it continues to run as it should.
53. Dryer vent
54. Lint trap
55. Washer (inside and out)
56. Dryer (inside and out)
57. Behind the washer and dryer
58. Laundry hampers
59. Laundry baskets
All Rooms
Here are some of the things that are probably scattered throughout your house in multiple locations. Take a look to see if there is anything on the list that you may be missing when you clean.
60. Light Fixtures
61. Lamps and lampshades
62. Window Sills
63. Curtains
64. Baseboards
65. Picture Frames
66. Doors
67. Door frames
68. Top of Doors
69. Doorknobs
70. Light Switches
71. Area Rugs
72. Carpets-you can keep carpets smelling fresh by sprinkling some baking soda over the carpet and letting it sit for a few hours and then vacuum as you normally would.
73. Walls
74. Handrails
75. Cleaning tools (vacuums, mop, or sponges)- an easy way to clean your sponges is to throw them in the microwave for 1-2 minutes.
76. Ceiling fans– This duster is the perfect solution for cleaning these because of the extendable handle.
77. Blinds
78. Air filters and air vents
79. Reusable grocery bags
80. Bookshelves
81. Thermostat– this is one of those places I'm constantly forgetting about and it's touched multiple times a day. Simply wipe clean with a disinfecting wipe or an alcohol swab.
Outside
So, now that we have covered the inside of the home it's time to think about all the places we may forget on the outside.
82. Outside garbage bins
83. Recycling bins
84. Grill
85. Patio Furniture
86. Garage
87. Windows
88. Gutters
89. Doors
90. Handrails
Even if you have a cleaning routine and have got in the habit of cleaning certain places in your home consistently, there may be things that you are forgetting to clean. A monthly cleaning schedule can help with this as well as doing a deep clean twice a year.
You may like: Fall Deep Cleaning Checklist
Hopefully, this list will help you realize all the places that should be kept clean but might be getting neglected. Just add a few jobs into your weekly cleaning routine so it doesn't feel overwhelming. Luckily, most of these jobs won't take long to complete and the reward is a cleaner home you can be proud of.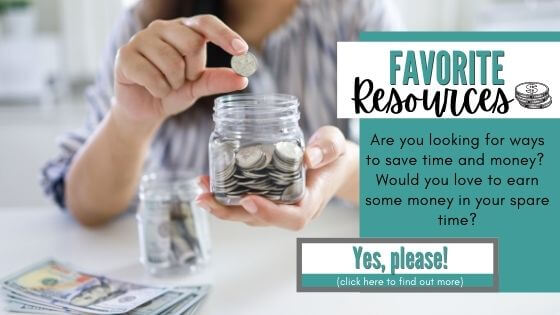 You can sign up for my Free Resource Library to find planners, cleaning schedules, and wall quote printables. They are all free for you to print out and enjoy.
Don't forget to follow me on Pinterest for more cleaning motivation.