Groceries can be one of the biggest expenses in your budget. Here are 6 easy ways to cut your grocery bill in half every month.
This post may contain affiliate links. You can read my full disclosure here.
Love printables?

Sign up here to access my free resource library

that has meal planning printables such as shopping lists and favorite meal worksheets.
Do you ever go to the store determined to stick to your budget but end up walking out with a cart full of groceries and instantly regret your purchases after you've seen the bill? It can be really frustrating when you want to save money but you don't know how or where to start. Luckily, groceries are one of the easiest things to cut back on in your budget.
These money-saving tips can help you finally take control of your grocery budget and the best part is that you don't even have to use coupons. Although, I have had success with using coupons in the past. I found that it took a lot of extra time searching, clipping, and matching them to sale items to make it worth it.
Plus, if you don't use coupons effectively then you can end up spending more money by purchasing products that you don't need or won't use just because you are getting them for a cheaper price.
With a few small changes, you can cut your grocery bill in half every month and use the money you've saved to build up your emergency fund, pay down debt or take that vacation you've been putting off.
Before you begin, look over your grocery budget
Anytime you are trying to save money, the first thing you should consider is how much you want to spend and make a budget. It's important to sit down with a pen and paper to map out a plan of attack. Determine how much you are currently spending on groceries and then set a goal of what you would like to achieve.
By sticking to a budget you're not buying more than you need. Instead, you're being intentional with your purchases which will encourage you to save more.
Here are the 6 Easy Ways to Cut Your Grocery Bill in Half. I've been using these tips for years and have been really successful in saving money on our grocery budget.
6 Easy Ways to Cut Your Grocery Bill in Half
Meal Plan
Meal Planning is one of the best things we have done to save money on our groceries each month. Before meal planning, I would go to the store and purchase things that I thought we would use but they ended up going to waste.
A meal plan doesn't have to be complicated. Remember simple is better when it comes to meal planning. If your goal is to save money, then it's not necessary to plan extravagant meals with a lot of ingredients. A chicken breast seasoned and baked with vegetables is easy to make.
Shop your pantry and fridge first. Use items you have on hand and plan meals around those items. If you are stuck figuring out what to make, flip through cookbooks, visit Pinterest or start incorporating theme night meals into your meal plan.
Looking for easy recipes to try?
It's helpful to have a weekly meal planning pad so you can fill it in with your meal ideas. Make sure and note any meals that your family loved so you can mark them on the calendar to cook again. You can print out this free family favorite meals printable to make planning your dinners even easier.
If you are new to meal planning and would like to learn more, check out Beginner's Guide to Meal Planning to get you started.
Make a List
Before you head to the grocery store, make a list of what you need to buy and stick to it. This will help to reduce impulse shopping so you are not purchasing items that you don't need.
When you sit down to make your list group like items together. Look at the meals you chose for the week and make a list of the ingredients you will need. Then add each item to the different categories. Put all produce together, all meat, all dairy, and so on.
Group your items by category
Another option if you want to take it one step further is to list your items by where you will find them. I will do this a lot if I am running short on time and want to get what I need and get out as quickly as possible. So, for example, produce is usually at the front of the store so that would be first on your list. If the bread aisle is second, then that would be next and then you just keep adding items aisle by aisle.
Of course, this option only works if you are familiar with your supermarket's store layout. But, it's a huge timesaver in the store and prevents you from having to backtrack.
Keep a notepad on the fridge
In addition to making a list before you go to the grocery store, it may be helpful to keep a notepad on your refrigerator so that you can make a note of things you have run out of it. This way you aren't forgetting anything at the store and you won't have to make another trip later in the week. Fewer trips to the grocery equal more money in your pocket.
Comparison Shop
You may have a favorite grocery store. But, that doesn't mean you have to be loyal to just that one store. Make sure you are comparison shopping to get the best deal.
Check sales circulars and compare prices while you are in the store. Make a note of which store has the lowest price. Don't assume just because one store is known for having cheaper prices that everything is lower. Do some research so you know you are getting the best deals.
Buy in Bulk
Buying in bulk can save you a lot of money if you are doing it correctly. In order to make buying in bulk worth it, you need to consider a few things.
Will it get used? Think about whether your family will eat it in time before it expires.
Can you store it? If you don't have a big enough pantry or freezer then it may not be worth getting.
However, if you have space and know that the food will get eaten then buying in bulk is a great option. Just make sure you are looking at the price per unit so you are not overpaying. I love buying meat in bulk because I can use it for many meals when I sit down to make my meal plan.
Shop Generic
This should be an obvious one but you would be surprised how many people would prefer to buy name-brand products. They think that quality and taste won't be as good. However, generic products can taste just as good and sometimes even better depending on the product.
What most people don't know is that store brands don't have to pay for high marketing costs and fancy labels which is why they are able to sell them to consumers so cheaply.
Use Grocery Pickup
I have recently started using Walmart Grocery Pick Up and I can't say enough good things about it. I don't even have to walk into the store which helps me avoid impulse purchases and all the sneaky spending traps that grocery stores use.
It's as simple as searching for items on their app, adding the exact items to your cart, and checking out. You pick a time to get your order and it's ready for you when you get there plus they load it in your car for free. It helps you stay on budget because you are able to take items out or look for a cheaper alternative as you are shopping if you are getting too close to what you want to spend.
You can use Ibotta to save more money through Walmart Grocery Pickup
All you have to do is to open the Ibotta app and look for the offer from Walmart Pickup.
If you have never used Ibotta before, it's an app that lets you earn cash back for purchasing products that you buy anyway. If you would like to learn more about this money-saving app you can sign up for Ibotta here.
There you have it 6 Easy Ways that can cut your grocery bill in half. It takes very little effort but the amount of money that you can save is huge. If you would like even more tips to save money on your groceries, check out my 30 Easy Ways to Save Money on Groceries.
Related Post:4 Best Grocery Shopping Apps to Save Money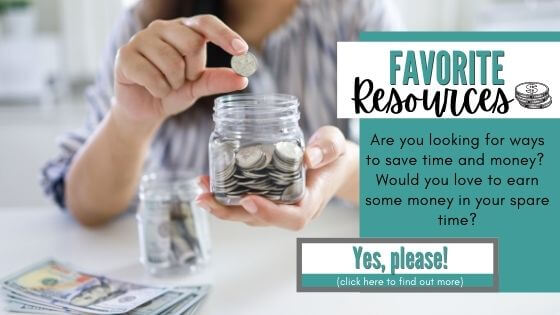 Don't forget to sign up for my Free Resource Library where you can find meal planning, shopping list printables, and more.
Follow me on Pinterest for even more money-saving tips.