Looking for simple and budget-friendly meal ideas to make with ground beef? These 35 Quick and Easy Ground Beef Dinner Ideas will make meal planning a breeze.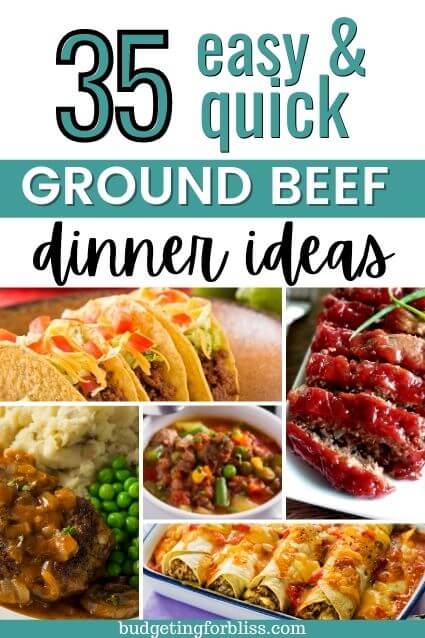 This post may contain affiliate links. You can read my full disclosure here.
Love printables?

Sign up here to access my free resource library

that has meal planning printables such as shopping lists and favorite meal worksheets.
Ground beef is the perfect solution when you need something quick and easy for dinner. This time of year can get crazy busy with the kids back in school and the holidays quickly approaching. So, having fast meal ideas ready for those busy weeknights can be a huge time saver in the kitchen.
More easy meal ideas:
How long does ground beef last?
Ground beef that is raw can last 2-3 days in the fridge before it needs to be cooked otherwise you will need to freeze it. Refer to the use-by date on the ground beef package.
After the ground beef is cooked and reaches a temperature of 160º F, it can be stored for up to 4 days in the fridge.
How to freeze ground beef
Buying ground beef in bulk is a great way to save money on your groceries especially if you plan out your meals. I use a monthly meal plan and purchasing large packages of ground beef to separate and freeze into smaller packages for multiple meals helps us stretch our grocery budget every month.
Related:
You can freeze your ground beef by separating it into 1lb. packages and placing it into Ziplock quart size freezer bags. I like to flatten the ground beef so it's easier to stack in my freezer.
Ground beef should last for about 3-4 months in your freezer before it needs to be used up. Once you are ready to use it, you can defrost it in the microwave or take it out the day before and place it in the refrigerator.
Looking for more ways to save on groceries:
How to Cook Ground Beef
Ground beef is so easy to cook up, just add thawed ground beef to a frying pan or cast-iron skillet, season, add onions if desired, then use a hamburger chopper to break up the ground beef while cooking. Cook the ground beef until brown or cooked through.
Here are some hearty and delicious ground beef recipes that you can enjoy on your stovetop, in your oven, Slow Cooker, Instant Pot, and Air Fryer. Enjoy!
35 Quick and Easy Ground Beef Dinner Ideas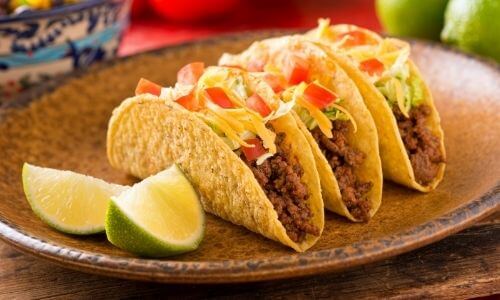 Family Favorites
Family Favorites that are requested time and time again. They include classics like meatloaf, but also kid-requested meals like tacos, burgers, and meatball subs.
Tacos
Tacos are a huge crowd favorite and are requested in my household week after week. The best part about tacos is that they come in so many variations. You can enjoy them in hard shells, softshells, taco boats, on tortilla chips as a taco salad, or over nachos.
Simply brown ground beef in a skillet, adding this homemade taco seasoning (Gimme Some Oven) while cooking, then choose an option above and top with cheese, lettuce, tomatoes, onions along with any other topping you like.
Need a quick dinner on the go, try these Walking Tacos from Eating on a Dime. It's an easy option the kids will love.
Burritos
Burritos are another Tex-Mex Favorite plus they are so easy to make. All you need is a pound of cooked ground beef. Then, add beans, onions (optional), and cheese. Roll up in a flour burrito sized shell and microwave for about 20-30 seconds to melt the cheese and warm the tortilla shell. Serve with salsa and sour cream.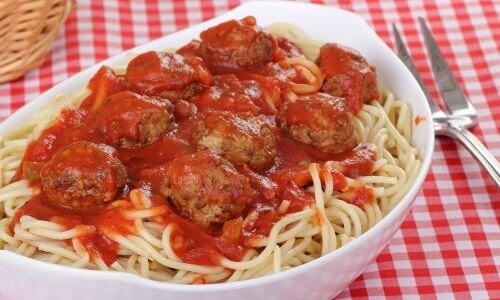 Spaghetti and Meatballs
This delicious pasta dish is our go-to for a quick and easy weeknight dinner at home. Most people can't resist spaghetti and meatballs which is why it's not only a family favorite but also perfect to serve when you have guests coming over since it's so budget-friendly.
Start by boiling your pasta, and then prepare your meatballs:
Simple Meatball Recipe
1 pound of ground beef
1/2 cup of bread crumbs
1/4 cup of milk
1 egg
1/2 tsp Worcestershire sauce
1/4 cup of parmesan cheese
package of onion soup mix
1/2 tsp garlic powder
1/2 tsp Italian seasoning
a sprinkle of salt and pepper
Preheat oven to 400° and line a baking pan with aluminum foil (for easy clean-up). Then, combine all ingredients in a large mixing bowl. If the mixture feels too dry, you can add a little more milk to moisten. Shape mixture into even-sized meatballs. You should be able to get 20 meatballs on your baking pan evenly spaced out. Bake for 20 minutes or until no longer pink in the center.
Drain and rinse pasta and heat your favorite homemade marinara sauce or use jarred spaghetti sauce if you prefer. Once meatballs are cooked, add to your sauce and then serve over pasta. Enjoy with a side salad and garlic bread.
Meatball Subs
Meatball subs are the perfect way to use up leftover meatballs from your spaghetti and meatball dinner. Just add your meatballs (recipe above) and sauce to a sub roll and top with mozzarella cheese. Then, place in the oven under the broiler for a minute or two until cheese is melted.
Sloppy Joes
As you know sloppy joes can be as easy as adding a jar of sloppy joe sauce to cooked ground beef and served on a hamburger bun to get dinner on the table fast. However, if you are looking for something homemade that can be just as quick and tastes even better, we love this sloppy joe recipe from Pioneer Woman.
Michigan Hot Dogs
We live in upstate New York, so Michigan hot dogs are a staple around here. Honestly, summer doesn't feel complete unless we've had a Michigan (or two.) But, this tasty treat can be enjoyed all year long.
If you've never heard of a Michigan hot dog, it's usually a red (glazier) hot dog with a meaty sauce on top. This summer, I attempted to make Michigan Sauce in the slow cooker and it received a thumbs up from everyone in my family. I will definitely be making it again.
You can find the recipe here. (recipe courtesy of Home in the Finger Lakes)
Taco Pizza
Taco and Pizza combined are like a match made in heaven. A crispy pizza crust with all your favorite taco toppings. This Taco Pizza Recipe from the Girl Who Ate Everything is a must-try on your next Taco Tuesday night.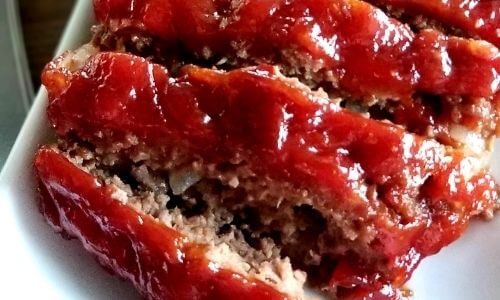 Meatloaf
Nothing says classic and comfort like meatloaf. It's the perfect Sunday family dinner. Add in some mashed potatoes and some veggies and you have a hearty and delicious meal.
Easy Onion soup Meatloaf with a Tangy Bacon Glaze
2 1bs of ground beef
3/4 cup of milk
3-4 slices of bread torn up into small pieces
1 egg
Package of onion soup mix
1 tablespoon of Worcestershire sauce
1/4 cup of parmesan cheese
1/2 tsp of garlic powder
salt and pepper (to taste)
Tangy Bacon Glaze
1/2 cup of ketchup
1 tsp of ground mustard (or I have used yellow mustard if that is all I have)
3 tablespoons of brown sugar
2 tablespoons of barbecue sauce
1/2 package of real cooked bacon pieces (this is usually located near the bacon bits in the grocery store) or you can use 1/4 cup of cooked bacon chopped up.
Preheat oven to 350°, Mix all meatloaf ingredients in a large bowl and then spread mixture in an 8×8 inch baking dish. Bake for 1 hr or until no longer pink in center. While meatloaf is baking combine glaze ingredients and spoon over the top of your meatloaf during the last 15 minutes of baking.
Burgers
I couldn't leave burgers off the list of family favorite recipes to make with ground beef. Since most people know how to make a classic hamburger, I thought I would share some easy ways that you can jazz up your burgers for your next family barbecue.
Ground Beef Skillet Recipes
Skillet recipes are an easy way to use your ground beef when you need to get dinner on the table fast.
Salisbury Steak
Similar to meatloaf but shaped into patties this delicious and hearty dinner is perfect to throw together during the week. Add in some garlic mashed potatoes and veggies for a comforting weeknight meal. This Salisbury steak recipe from Recipe Tin Eats is so tasty, your family is sure to fall in love with it.
Philly Sloppy Joes
My family loves this recipe. If you are a fan of a Philly cheesesteak these sloppy joes are the next best thing. They are loaded with flavor and so easy to put together. Try this recipe by Six Sisters Stuff, you won't be disappointed.
Meatball Stroganoff
Meatball Stroganoff is one of my favorite ways to use ground beef. The flavors are delicious and it's so easy to make. All you need to do is boil a package of egg noodles in a pot and while they are cooking prepare meatballs (* see recipe above). Once meatballs are cooked, add to drained egg noodles with 1 can of cream of mushroom soup, 1/2 cup of sour cream, and about 1/2 cup of milk. Season with salt and pepper and cook over medium heat until warmed.
Ground Beef Noodle Stirfry
Are you looking for an easy stir fry that you can be made quickly and tastes delicious? This Ground Beef Noodle Stirfry (Damn Delicious) is not only tasty but simple to prepare.
Pasta Dishes to Make with Ground Beef
Pasta dishes are the best go-to dinners that are not only frugal but can be thrown together in no time. Here are some of our favorite ground beef pasta dishes.
Skillet Lasagna
Skillet lasagna is the perfect solution when you don't have time for traditional lasagna. It has all the delicious flavors but without all the work. Try this recipe from The House of Yumm, it can all be made in one pot and takes only 30 minutes from start to finish.
Pizza Pasta Bake
Like most people, pizza is one of my favorite meals so the fact that it's combined with pasta (another favorite) makes this a must-have dinner in our home and I'm positive your family will love it too.
It's so easy to make, start by boiling one box of penne pasta. While the pasta is cooking, brown 1lb of ground beef in a skillet. Once the pasta and ground beef are done drain and combine them in a large bowl with a jar of spaghetti sauce, 1/2 package of sliced pepperoni, and 1/2 cup of mozzarella cheese.
Pour into a 13×9 baking dish and top with another 1/2 cup of mozzarella cheese, 1/4 cup of parmesan, and the remaining package of pepperoni. Sprinkle Italian Seasoning on the top and then, bake at 350° for 30 minutes. Serve with a side salad and Italian bread.
Cheeseburger Pasta
Who doesn't love a good cheeseburger now and then? Combine it with pasta and you have a winning combination. Try this delicious Cheeseburger Pasta recipe from Dinner at the Zoo for a hearty and satisfying meal.
Read more:22 Easy Pasta Recipes for Weeknight Dinners
Ground Beef Casseroles
Casserole recipes are the best option for those chilly fall days. I love having casseroles on Sundays, I plan them into our theme night dinners. They make a perfect comforting dinner that satisfies everyone in the family.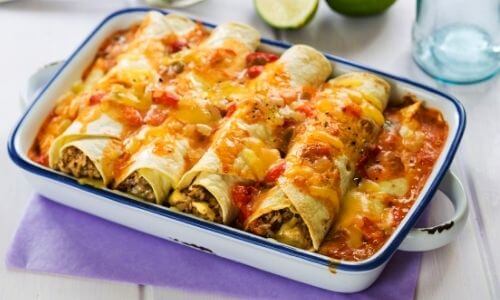 Enchiladas
These are quick to prepare but also easy and delicious. Brown your ground beef, add to tortilla shells with shredded cheddar cheese, roll up and place in a greased 13×9 inch baking dish. Top with enchilada sauce. We like the flavor of Old El Paso but you can always make homemade enchilada sauce if you prefer. Add more shredded cheese to the top and then bake at 350° for 30 minutes until warm and bubbly.
Shepherd's Pie
Shepherd's pie is classic comfort at its finest. The best part is that's frugal and easy to make. This recipe by The Wholesome Dish will have your family asking for seconds.
Cabbage Rolls
Making cabbage rolls when the weather starts to cool down in September is a fall tradition in my household. This cabbage roll recipe from Sweet and Savory Meals is so delicious and easy to make.
Stuffed Peppers
We don't have stuffed peppers nearly as often as we should. They are such a hearty and delicious meal that should be frequently added to any weekly meal plan. This easy recipe from Spend with Pennies is not only tasty but a great option to serve when company comes over.
Tator Tot Casserole
Tator Tot Casserole is the go-to frugal dinner and hearty enough to feed a large family. This simple Tator Tot Casserole by The Salty Marshmellow should be a staple if you are looking for a budget-friendly comforting casserole recipe.
More casserole recipes you may like:10 Easy and Hearty Chicken Casserole Recipes
Soups and Stews with Ground Beef
Who doesn't love a good, hot bowl of soup on a cold day? These ground beef soup recipes are hearty and satisfying.
Hamburger Soup
This hamburger soup by Spaceships and Lazer Beams is the perfect soup for weeknight dinners because it's so quick and easy to prepare. Loaded with veggies, and ground beef makes for a tasty and comforting meal.
Taco Soup
There is nothing better than a warm bowl of Taco soup on a chilly fall day. This Taco Soup Recipe (Cooking Classy) is a crowd-pleaser.
Tomato Macaroni Soup
Tomato macaroni soup is my family's go-to soup when the weather starts to turn cold. My family loves this recipe from Lil' Luna, I'm sure yours will too.
Chili
Chili is not only warm and comforting but it can be prepared in a variety of ways. You can use white beans, kidney beans, or no beans at all. We prefer making our chili without beans and top it with shredded cheddar cheese and a spoon full of sour cream on top. We use tortilla chips to eat it and serve cornbread on the side.
However, if you are looking for a more traditional chili recipe that is not only easy but hearty, check out this recipe by Budget Bytes.
Related: 30 Cozy and Delicious Soup Recipes
Slow Cooker Ground Beef Meals
Slow cookers are a busy mom's best friend. Simply add your ingredients in the morning and you don't even have to worry about dinner until everyone is ready to sit down at the table. These ground beef slow cooker recipes can be enjoyed during the cold winter months or even on a hot July day when you don't feel like cooking.
Crockpot Sweet and Sour Meatballs
These sweet and sour meatballs (Dinner at the Zoo) are perfect served over rice for an easy and tasty weeknight dinner.
Cabbage Roll Soup
This slow cooker cabbage roll soup recipe from My Organized Chaos lets you enjoy all the wonderful flavors of cabbage rolls without all the work that goes into them.
Check out 27 Easy Dump and Go Crockpot Meals for more delicious and easy recipes you can make in your slow cooker.
Ground Beef Instant Pot Recipes
Ground beef dishes in my instant pot are some of my favorite recipes. These recipes are perfect for busy weeknights at home when you need dinner on the table in a hurry. The best part about these recipes is they are literally one-pot meals so there are no extra dirty dishes to deal with from preparation.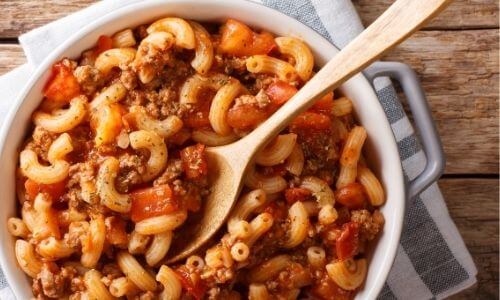 Instant Pot Goulash
This Instant Pot Goulash (I Don't Have Time for That) is one of the first recipes that I made in my Instant Pot and has quickly become a family favorite.
Instant Pot Taco Pie
An easy and delicious dinner to make in your Instant Pot, this recipe by Simply Happy Foodie will be one you make again and again for your family.
You may like:25 Easy Instant Pot Recipes for the Beginner- simple and quick instant pot recipes that will make cooking dinner a breeze.
Air Fryer Recipes with Ground Beef
I love cooking in my air fryer and I have had so much fun trying out new recipes lately. These air fryer ground beef recipes are a few of our favorites.
Air Fryer Cheeseburgers
This air fryer cheeseburger recipe(Stay Snatched), came in handy this summer as my son doesn't like the taste of burgers on the grill. So, anytime we had burgers I would just toss some ground beef patties in the air fryer and he was able to enjoy burgers with the rest of us.
Air Fryer Philly Cheesesteak Egg Rolls
These air fryer Philly cheesesteak egg rolls (Hungry Girl) are filled with everything you love in a Philly cheesesteak but without all the extra fat that cheesesteaks traditionally have.
You May Also Like:
There you go, 35 quick and easy ground beef recipes that are frugal and delicious. Hopefully, they provide you with a little inspiration the next time you sit down to make your meal plan.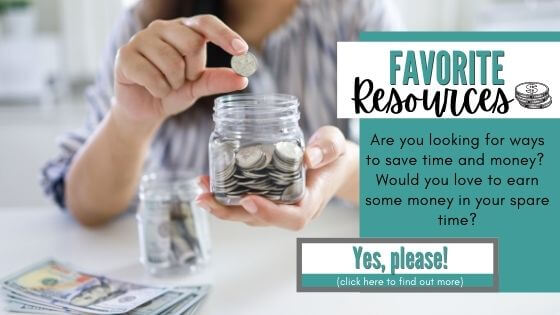 Don't forget to sign up for my Free Resource Library to grab my meal planning printables. You will also get access to lots more printables all completely free for you to print out and enjoy!
Follow me on Pinterest for more recipes and meal planning inspiration