Have you rushed home to make dinner only to realize that you have no idea what you are going to make once you get there? This list of 85 easy budget-friendly meal ideas may be just what you need for those busy weeknights.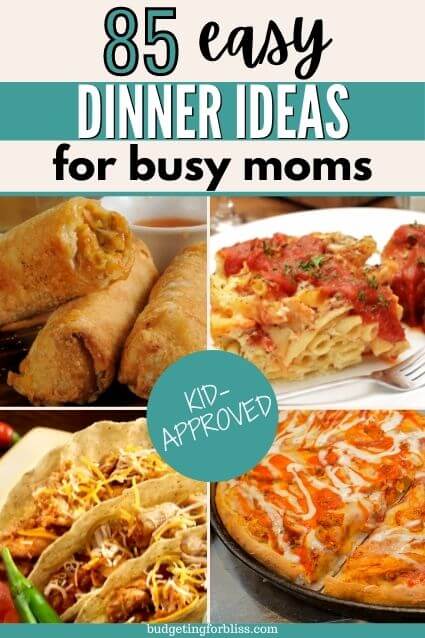 This post may contain affiliate links. You can read my full disclosure here.
Love printables?

Sign up here to access my free resource library

that has meal planning printables such as shopping lists and favorite meal worksheets.
Let's face it after a long and stressful day it can be challenging coming up with easy and cheap meal ideas that the whole family will love.
You spend too much time looking in your cupboards frantically trying to decide what to make while chaos is happening all around you. The kids are yelling. The dog is barking. You finally give in and order take-out even though you know it will wreak havoc on your budget.
This is why using a meal plan where you decide what to have in advance for the week ahead can not only save your sanity on the nights you are crazy busy but will also reduce your grocery bill.
Meal planning is a great way to save you time in the kitchen and also help you stick to your food budget. Just by stocking up on pantry staples, using theme night ideas, or even writing down your favorite meals makes dinner time less stressful.
Recommended:
But, as great as a meal plan is, there are always going to be those times when trying to think of a week's worth of meals becomes a daunting task.
Maybe you are stuck in a dinner rut and find yourself planning the same meals over and over. Or, you are just looking for a little inspiration to add to your meal plan.
Either way, this list of 85 easy meal ideas are budget and kid-friendly. You will find pasta meals, and recipes using ground beef, chicken, and pork. As well as casserole dishes, crockpot meals, and soup recipes.
Looking for more easy and budget-friendly meal ideas?
(* meals prepared in the crockpot)
85 Easy Budget-Friendly Meal Ideas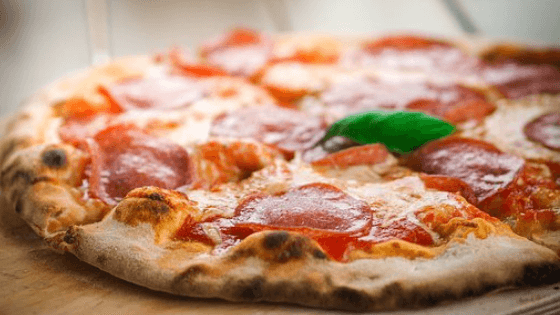 Italian Meals
Homemade Pizza- Add Pepperoni, Cheese, or Veggies.
Hawaiian Pizza– Add pineapples and ham
Barbecue Chicken Pizza -Cook and shred chicken breast or tenderloin, mix with your favorite barbecue sauce then top with your favorite cheese.
Buffalo Chicken Pizza– (Bake.Eat.Repeat)
Margarita Pizza– Grab your favorite pizza sauce, and top it with fresh tomato slices, basil, and mozzarella cheese.
(To keep things quick and easy, I use frozen pizza dough or frozen bread dough for the pizza crust and bake all pizzas at 450 degrees for about 12 minutes. But ovens vary so you may have to adjust cooking times.)
Calzones – (Dinner at the Zoo)
Stromboli- (Saving 4 Six)
French Bread Pizza– (The PennyWiseMama)
Goulash– (Lil' Luna)
Spaghetti and Meatballs- You can use frozen meatballs or make your own. Combine with your favorite sauce and pasta.
Lasagna– (Kraft Recipes)
Sour Cream Noodle Bake– (Pioneer Woman)
Baked Ziti- Combine your favorite jarred or homemade sauce with ziti or penne pasta. Sprinkle with mozzarella cheese, parmesan cheese, and Italian seasoning. Bake 350 degrees for about 30 minutes or until the cheese is bubbly.
Chicken Alfredo- Combine cooked pasta, grilled chicken cut up into bite-sized pieces, alfredo sauce, and broccoli. Heat until sauce is warm, then serve. Sometimes, after combining everything I will put it in a 9×13 baking dish, sprinkle it with mozzarella cheese, and bake at 350 degrees until heated through and the cheese is melted.
Chicken Cacciatore– (The Typical Mom)*
Chicken Parmesan– (Cafe Delites)
Asian Meals
Beef and Broccoli– (Savory Tooth)
Sweet and Sour Chicken– (Dinner then Dessert)
Sweet and Sour Pork– (Betty Crocker)
Eggrolls- serve with rice and stir-fried vegetables.
Chicken Stir-Fry– (Mom on Timeout)
Salads/Sandwiches
Chef Salad- Combine lettuce, tomatoes, cucumbers, and carrots with ham, turkey, or chicken. Add cheese and a hard-boiled egg.
You May Like:
Greek Salad- Toss together lettuce, cucumbers, tomatoes, red onion, olives, and feta cheese. Drizzle with Greek dressing.
Caesar Salad- Add romaine lettuce, croutons, and parmesan cheese to a salad bowl and top with your favorite caesar dressing.
BLT- Toast two slices of bread and spread them with mayonnaise, then arrange bacon, lettuce, and tomato between the toast.
Club Sandwich– (Food Network)
Grilled Cheese Sandwiches- Place a slice of buttered bread in a skillet, add your favorite cheese and place another slice of bread on top. Cook both sides until the bread is golden brown and the cheese is melted. Serve with tomato soup.
Tuna Melt– (The Kitchen Magpie)
Chicken Salad- (How to Feed a Loon)
Chicken wraps- Place grilled or breaded chicken strips in a soft tortilla shell with lettuce, tomato, bacon pieces, cheese, and mayonnaise or ranch dressing. Wrap up and serve.
Buffalo Chicken Sandwich– (Sweet Little Bluebird)*
Pulled Pork Sandwich-Cook Pork Butt in the slow cooker with 1/2 cup of water and 1 cup of your favorite barbecue sauce. Cook low for 8-10 hours or on high for 4-6 hours. Once it's done take it out and shred it, then put it back in the slow cooker to keep warm, and add more barbecue sauce if desired. Serve on a toasted bun.
You May Like-30 Days of Dump and Go Crockpot Meals
Pulled Chicken Sandwiches- I cook this the same way I cook our pulled pork sandwiches. You can also serve it with coleslaw on top
Crispy Chicken Sandwich– (Moms Need to Know)
Chicken Parmesan Sliders– (Real Housemoms)
Philly Cheesesteak Sloppy Joes– (Six Sisters Stuff)
Homemade Subs- Split a sub roll in half and add all your favorite veggies, meat, and cheeses.
Meatball Subs – I share my meatball recipe in this 35 Quick and Easy Ground Beef Dinner Ideas post.
Sloppy Joes– (Stuck on Sweet)
Sausage and Peppers– (Shugary Sweets)*
Hamburgers –with waffle fries or sweet potato fries.

Beef Meals
Steak- with baked potatoes or steak fries.
Beef Stew– (Mrs. Happy Homemaker)*
Pot Roast– (Joyously Domestic)*
Meatball Stroganoff– (The Seasoned Mom)*
Meatloaf– (Pioneer Woman)
Shepard's Pie- (Our Small Hours)
Salisbury Steak– (Sidetracked Sarah)*
Stuffed Pepper Casserole– (Brooklyn Farm Girl)
Chili– (Eating on a Dime)*
Foil Packet Kielbasa– (Eazy Peazy Mealz)
Do you love foil-pack dinners?
Mexican Meals
Tacos- chicken or beef with hard or soft shells
Chicken Quesadillas (Nerdy Mamma)
Chicken Enchiladas(Sandy Toes and Popsicles)
Skillet Enchiladas (Kraft Recipes)
Fajitas- Beef or chicken served with rice
Taco Salad- Combine all your favorite taco toppings in a dish, add tortilla chips, and top with salsa, sour cream, and guacamole.
Recommended: Easy Layered Nacho Casserole
Pork Meals
Pork Roast- Cook Pork Butt in the slow cooker with 1 cup of water and a packet of onion soup mix. (4-6 hours on high) Serve with mashed potatoes and veggies.
Pork Chops-with mashed sweet potatoes and your favorite vegetable.
Pork tenderloin- with brown rice and veggies.
Baked Ham– with au gratin potatoes or homemade macaroni and cheese and a vegetables
You May Like: 32 Easy Recipes for Leftover Ham
Chicken Meals
Chicken and Biscuits–Combine shredded rotisserie chicken, 1 can of cream of chicken soup, 1 can cream of celery soup, a bag of mixed vegetables, and salt/pepper to taste over the stovetop until warm. Serve over biscuits.
Related:
Chicken and Dumplings(Spend with Pennies)*
Chicken Pot Pie (Eat Picks)
Breaded Chicken- with roasted red potatoes and veggies.
Chicken Stuffing Bake (Six Sisters Stuff)
Italian Chicken (Grace and Good Eats)
Parmesan Chicken (Taste of Home)
Crispy Cheddar Chicken (Jamie Cooks It Up)
Chicken Bruschetta Bake (Kraft Recipes)
Oven-Fried Chicken (Savory Nothings)
Barbecue Chicken in the oven with roasted potatoes and corn.
Rotisserie Chicken- with mashed potatoes, gravy, and green beans.
Chicken Shish Kabobs- Place chicken and veggies on a skewer and grill until vegetables are tender and chicken is cooked through. Serve with rice.
Soups
Chicken Noodle Soup (Family Fresh Meals)*
Broccoli Cheddar Soup(The Recipe Critic)
Taco Soup (The Frugal Girls)*
Tomato Macaroni Soup
Cabbage Roll Soup (Moms with Crockpots)*
Lasagna Soup (Campbell's Kitchen)
Breakfast Meals
Breakfast Casserole (Savor and Savvy)
French toast, Waffles, and/or Pancakes- with sausage or bacon and orange juice.
Egg Muffin Sandwiches
Breakfast Burritos- Scramble eggs and combine with cooked sausage, ham, or bacon. Top with shredded cheddar cheese and roll in a tortilla shell. Then, I usually pop them in the microwave to melt the cheese. (These are great to make for a freezer meal)
Related:
Omelets
There you have it. Of course, you can mix and match the sides and veggies to your liking. You could also add some French bread, Italian bread, garlic bread, or biscuits to any of the meals.
Do you have one of these popular small appliances?

You can make dinner time a breeze by cooking in your air fryer or instant pot. Here are a few of my must-have recipes to cook in these small appliances: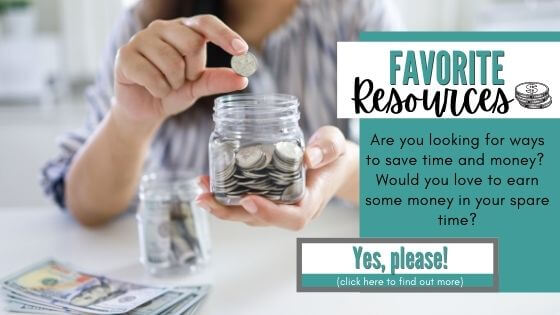 Don't forget to sign up for my Free Resource Library. You will find meal-planning printables and more. All are free to print out and enjoy.
Follow me on Pinterest to find more quick and easy dinner ideas on a budget.