Try these 10 Best 20 Minute Meals for busy weeknights to get dinner on the table quickly when you don't have time to cook.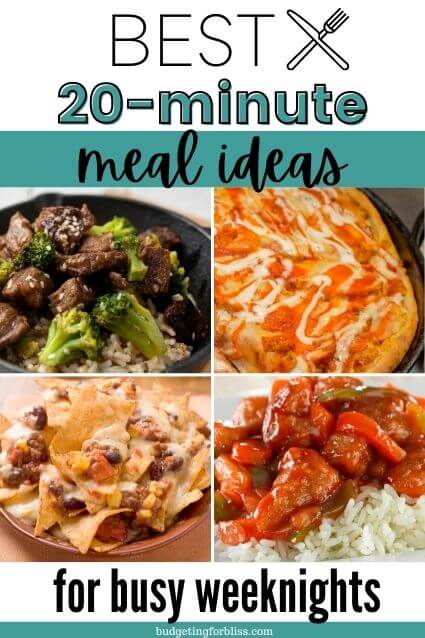 This post may contain affiliate links. You can read my full disclosure here.
Love printables? Sign up here to access my free resource library that has meal planning printables such as shopping lists and favorite meal worksheets.
I know that weeknights can be crazy busy. There never seems to be enough time in the day to get everything done. By the time dinner rolls around, it's tempting to grab takeout when you have no energy to cook and you're short on time.
You can save more time at home with these 30 Time-Saving Hacks for Busy Moms.
All you want are super simple meal ideas that are not only affordable but can feed your hungry family fast on those nights when you don't want to cook but you also don't want to wreak havoc on your budget.
Luckily, you are in the right place.
If you know me, you know that I am all about finding ways to make delicious, quick meals with simple ingredients without spending a fortune.
These easy and affordable meals only take 20 minutes or less from start to finish and please even the pickiest of eaters. You will have dinner on the table before you know it.
Looking for more easy meal ideas:
Best 20-Minute Meals for Busy Weeknights
Here is a list of my family's favorite quick and easy 20 minute meals. All of these meals are budget-friendly and kid-approved.
Philly Cheesesteak Sloppy Joes
While we love traditional sloppy joes, especially this recipe from the Pioneer Woman, we also love to change it up with these Philly Cheesesteak sloppy joes. This recipe by Six Sisters is an easy alternative to the classic sloppy joe recipe and is satisfying and delicious.
Try this healthier alternative- Swap out your ground beef for ground turkey, use whole wheat rolls, fat-free beef stock, and light provolone cheese.
Beef and Broccoli
If you are looking for something that is cheaper than take-out and just as tasty. You need to try this easy beef and broccoli recipe from Just a Taste. You can have this simple, healthier than takeout dish on the table in less than 20 minutes.
Chicken quesadillas
Chicken quesadillas are so simple to make and can be easily customized. All you will need is some flour tortilla shells (fajita or burrito size), cheddar cheese, mushrooms, onions, peppers, and cooked chicken.
Just cut up the chicken into bite-size pieces and sauté in a skillet with some olive oil until cooked through. Or use a rotisserie chicken from the store for a quicker option. I also like to use my instant pot to cook chicken and shred it for easy weeknight meals.
You may like:
Once your chicken is cooked, remove it from heat and saute onion, peppers, and mushrooms. Cook until soft, then combine with shredded cheddar cheese and place on a tortilla shell. Fold over and brown in the skillet until cheese is melted. Serve with salsa, sour cream, and guacamole.
Lazy Lasagna
Lasagna is one of those classic comfort foods that are usually reserved for Sunday dinners because of the amount of time it takes to prepare. However, you can still enjoy your favorite pasta dish on weeknights by making Lazy Lasagna instead.
Lazy Lasagna is the perfect way to enjoy all those yummy flavors without all the work. Simply brown ground beef in a pan. While your ground beef is cooking, boil some rotini noodles until cooked.
Then, drain your ground beef, add your drained pasta and favorite marinara sauce along with a container of cottage or ricotta cheese, 1/2 cup of parmesan cheese, and a cup of mozzarella cheese.
Add your favorite spices, we like minced onion, garlic powder, salt, pepper, and Italian seasonings. Heat until cheese is melted and bubbly, remove from heat and enjoy! Serve with garlic bread and a side salad.
Sweet and Sour Pork over Rice
Sweet and Sour Pork doesn't have to be complicated. It's actually very easy to throw together and just like the Beef and Broccoli is much more affordable than take-out. Not to mention better for you because you control the ingredients you put in.
Start by cutting your pork into strips and then cook it in a skillet until golden brown.
Sweet and Sour Sauce
Ingredients:
1/3 cup of vinegar
1/3 cup of Worcestershire sauce
1/3 ketchup
1½ cups of sugar
Juice from a can of pineapples (save pineapples to add later)
In a separate saucepan, combine vinegar, Worcestershire sauce, ketchup, sugar, and the juice from a can of pineapples. Cook on medium until it comes to a boil then turn down to low and let it simmer for a couple of minutes.
Then add:
1-2 bell green bell peppers in 1″ chunks
pineapple chunks
Cooked Pork
Add pork, peppers, and reserved pineapple chunks with 1-2 tsp. of cornstarch to the sweet and sour sauce. Bring to a boil. Boil for 1 minute stirring constantly. Then, turn down the heat and simmer until peppers are tender. Serve over rice.
Looking for more simple pork recipes?
Chicken Parmesan Sliders
If you want a quick and easy way to enjoy chicken parmesan without all the fuss, you should try these delicious sliders.
Grease a 9×13 inch baking dish, add the bottom of 12 dinner rolls (we like using Hawaiian rolls) to the dish. Top with cooked chicken tenders, spaghetti sauce, and mozzarella cheese. Add the top of the dinner roll, brush with melted butter and then sprinkle with garlic powder, parmesan cheese, and Italian seasoning.
Bake at 350° for 10-15 minutes or until cheese is melted and tops are golden brown.
Buffalo Chicken Pizza
Pizza is always our go-to meal when we know we are going to have a busy evening. It's the perfect meal for everyone because it's so easy to customize.
My family loves buffalo chicken dip so one of our favorite pizzas to make is Buffalo chicken pizza. I like to use frozen bread dough for the crust. (I just take it out earlier in the day to thaw.) But, you can make it even quicker by getting the prebaked pizza crust.
All you need to do is mix together a ½ cup of ranch dressing, 2 tablespoons of butter, and ½ cup of Frank's Red Hot Sauce.
I spread half of the mixture on the dough and then combine the remaining mixture with about 2 cups of shredded or rotisserie chicken. Add that to the dough and sprinkle with 1 cup of mozzarella cheese. Bake at 425° for 10-12 minutes.
Kielbasa, Zucchini, and Noodles
We love this quick throw-together weeknight dinner. It actually came about after we were craving a foil packet dinner one night but didn't want to deal with wrapping it and then baking it.
So, we just cut up the kielbasa and zucchini and fried it in the pan. Boiled the egg noodles until cooked, then drained and added butter, garlic, and parmesan cheese to taste. Once the kielbasa was cooked through and the zucchini was tender, it was removed from heat and served over the noodles. Easy and delicious.
Meat Lover's Pizza Pasta
Pizza seems to be everyone's go-to dinner in a pinch. But, how about taking it to the next level by adding pasta for a must-have meal that everyone in your family will love. (I know mine can't seem to get enough).
Start by boiling one box of penne pasta. While the pasta is cooking, brown ½ lb. of ground beef and ½ pound of ground Italian sausage with one diced onion in a skillet. Add, pasta sauce, ½ package of sliced pepperoni,½ cup of mozzarella cheese, and heat through while the pasta is boiling.
Drain the pasta and add it along with the meat and cheese mixture to a 13×9 baking dish. Top with another 1/2 cup of mozzarella cheese, 1/4 cup of parmesan, and the remaining package of pepperoni. Sprinkle Italian Seasoning on the top and broil in the oven until cheese is melted. (watch carefully so it doesn't get too brown). Enjoy!
Related:22 Quick and Easy Pasta Recipes for Busy Weeknights
Taco Bake
We look forward to Taco Tuesday in our home, so I'm always on the lookout for new and fun recipes to try. But, when I know that I need dinner on the table fast. This recipe is the one we turn to time and time again.
Preheat oven to 375°, then brown ground beef in a skillet and add taco seasoning. Place tortilla chips in a baking pan and top with the cooked ground beef mixture and favorite toppings of your choice (jalapenos, black beans, or corn) Add shredded cheese and bake for about 5-10 minutes or until cheese is melted.
Then, you can top with lettuce, tomato, onions, salsa, sour cream, and guacamole.
Want some more delicious ground beef recipes?
Weeknight dinners don't have wreak havoc on your budget and be time-consuming to prepare. You can get dinner on the table fast with these super simple meals that take 20 minutes or less.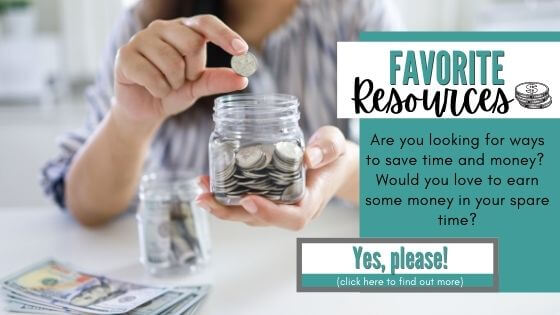 Don't forget to sign up for my Free Resource Library to grab my meal planning printables. You will also get access to lots more printables all completely free for you to print out and enjoy!
Follow me on Pinterest for more recipes and meal planning inspiration