Do you want a simple but effective way to save money quickly? Start this easy 30 Day Money-Saving Envelope Challenge today.
This post may contain affiliate links. You can read my full disclosure here.
Love printables? Sign up here to access my free resource library that has meal planning printables such as shopping lists and favorite meal worksheets.
What is a 30 Day Money-Saving Challenge?
A 30-day money-saving challenge is simply an easy way to set and reach your financial goals in a short amount of time. You are basically challenging yourself to save a specific amount of money every month.
Easy 30 Day Money-Saving Envelope Challenge
This challenge is perfect for you if you have a difficult time saving money, or live on a lower income but would still like to save money.
To make the challenge more fun, it uses cash envelopes, however, if it's easier for you to transfer money to a separate savings account that will be just as effective. The ultimate goal is to save money so do whatever works best for you.
To Begin:
Pick up a box of plain white envelopes and then number each envelope 1-30. You can decorate them if you would like or print the envelope tags below to encourage you to start saving.
Every day pick one envelope, it doesn't matter if it's $30 or $4.
Add that amount of money to the envelope.
It's as simple as that. After 30 days, you will have saved $465
Some Quick Tips:
You may find that it's easier to add bigger amounts at the beginning of the week or after you get paid and save the smaller amounts until the end of the week.
Make it a habit to add your money to your envelope in the morning. If you end up waiting until after work or later in the day. You may not have as much money to add to your envelope.
If you find yourself struggling to add the larger amounts, simply pull out envelopes 16-30 and just use envelopes 1-15. Once they are filled, then start again. You will be able to save $120 every 15 days, so that's still $240 every month.
The goal is to save money, so make it work for you and your income.
Why this money-saving challenge works
Let's face it, there are so many different types of money-saving challenges online. However, many stretch on for an entire year, and while that can work for people who are good at saving money, for those who have never saved before it can seem intimidating.
Since this challenge is only a 30-day commitment, you are able to reach your goal quicker. This can be a huge motivator to keep going and try to save even more money.
One of the best parts of this money-savings challenge is that you are in control. So, if you want to save for the entire year, you can keep repeating it month after month.
A money-saving challenge can help you pay off debt, save for a vacation, build that emergency fund you've been putting off, or even set aside money for back-to-school shopping and special occasions.
Check out my fun Christmas Money-Saving Challenges here if you want to try something different to save money for the holidays.
Some other ways to save money
If you find that you're still struggling to save money, then it may be time to find some things that you can cut back on. As well, as earning some extra cash.
Try a no-spend challenge
A no-spend challenge is one of the best ways to find some extra cash when you are struggling to save money. Since you are choosing to only buy essentials during a no-spend challenge such as a mortgage, utilities, and car payments, you will have more money to contribute to your savings challenge.
Look for free activities that you can do with the family to save money and still have fun.
You may like:
Meal Plan
Meal planning has been one of the best things that I have done to save money for our household. Just taking a few minutes to plan out our meals for the week has saved us hundreds on our groceries. We have been able to reduce our trips to the grocery store every month resulting in less food waste and impulse purchases.
If you are new to meal planning and would like to learn more, You can read my Beginner's Guide to Meal Planning to get you started.
Here are some more simple ways to save money on groceries:
Cut back on eating out
Although, this one is pretty obvious it's actually the best way to save money quickly. Most people spend between $100-$500 a month eating out, which is between $1200-$6000 dollars a year. This is on top of what they are spending on groceries.
When you stop to think about it, that's a lot of money that could be used for other things such as home improvement projects you've been putting off, or the vacation you haven't taken in years, or the emergency fund you've been wanting to start.
Remember this doesn't mean you have to give up eating out entirely. Sometimes, it's a nice treat after a really stressful day. You just need to find ways to make it work for your budget. Find coupons, go out to breakfast instead (it's usually cheaper than dinner), or visit on a kid's eat-free night.
Here are a few more ways that you can Eat out on a Budget here.
Declutter to sell your items
An easy way to make some extra cash in a pinch is to sell your old stuff. If you are unsure what to sell here are 106 Easy Things to Declutter in Your Home. The list should give you an idea of what you can declutter. Then, just sit down and make your own list of what you want to sell. Gather your items and list them on eBay, Facebook Marketplace, or Poshmark.
Grab your 30 Day Money Saving Challenge Printables Below
Do you want an easy way to keep track of how much you've added to your envelopes? You can print out this Money-Saving Envelope Tracker. Simply cross off the amount that you've added to your envelope every day. It keeps you organized so know exactly how much you have saved.
If you would prefer to have a blank money-saving envelope tracker printable (without the numbers)so you can do the 15-day challenge twice instead, you can print out the blank tracker here.
I've also created this envelope printable (below) that you can cut out and tape or glue to your envelopes. So you can start this 30-day money-saving envelope challenge right away.
Hopefully, this money-challenge has inspired you to start saving today.
You May Like: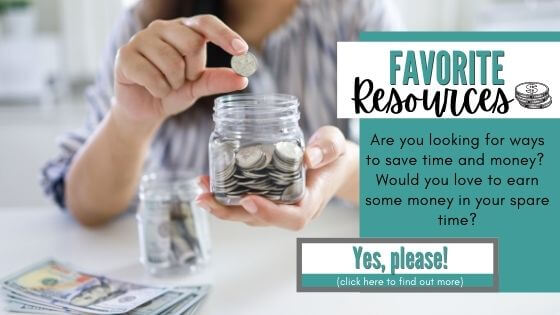 Don't forget to sign up for my Free Resource Library to grab my free planner printables. You will also get access to lots more printables all completely free for you to print out and enjoy!
Follow me on Pinterest for more ways to save money.