A great way to get organized and be more productive is by taking advantage of Time Blocking to plan your day. It will allow you to stay on top of your daily tasks and be more intentional with your time.
This post may contain affiliate links. You can read my full disclosure here.
Let's face it there is a lot to do as a Mom. You are taking care of your kids, you are taking care of the house. You are working, carpooling, setting up appointments, going to appointments, practices, and playdates. The list goes on and on.
There never seems to be an end to the number of things you have to do every.single.day.
It can be overwhelming. So, to survive in the day-to-day chaos. You make to-do lists and try to find ways to manage your time better. You may purchase calendars and planners hoping one will keep you on track allowing you to finally overcome the overwhelm.
This was me. I spent so much time trying to find the perfect way to keep my life organized and be more productive but nothing seemed to work. It wasn't until last year when I discovered time blocking to plan my day that something finally clicked. I was finishing my to-do lists. I was remembering appointments.
Why? Because I was breaking up my day into small manageable tasks.
What is time blocking?
Time Blocking is essentially designating specific tasks to be completed during a certain block of time during your day. It increases your productivity by encouraging time management techniques.
How to Use Time Blocking to Plan Your Day
1. Set your tasks
What do you want to focus on?
I chose to focus on what I call my Daily five. These are the 5 most important things I would like to accomplish each day.
Daily five tasks
1. Family (spending time with husband and children)
2. Working/Blogging (writing posts, creating graphics, editing, and researching)
3. Household (cleaning, errands)
4. Exercise
5. Me Time (self-care, hand-lettering, reading, watching movies)
Your list may look completely different than mine. You may work outside the home or have small children. But, this just gives you an idea.
Where to begin?
The idea is to section your day into blocks. You can do this two ways. You can be more specific by dividing your days into time segments. An example of this would be:
8:00-9:00- Household Chores
9:00-11:00- Work/Blog
11:00-12:00- Lunch
12:00-3:00- Work/Blog
3:00-4:00- Carpool/Errands
4:00-8:00- Family time
8:00- until bed- Me time (or catch up on any tasks I need or want to finish before the end of the day.)
The alternative would be to separate your blocks into Morning, Afternoon, Evening, and Late Evening. An example of this would be:
Morning- Cleaning/Organizing
Late Morning- Work/Blog
Afternoon-Work/Blog
Evening-Family Time
Late Evening- Me time/ Catch up time
This is the way that I block out my day because I find it provides more flexibility. It keeps me accountable to stay on task during the designated amount of time. But, if I happen to go over by 15 minutes or so it doesn't throw the rest of my day off.
2. Brain Dump
Once you have determined your areas to focus on and you've decided how you want to divide up your day. Then, you need to sit down and write everything that you would like to accomplish for the week.
Highlight or star any tasks that are the most important so you can make sure and get these done first.
Then divide your tasks into the appropriate categories. Keep in mind that you may not be able to get everything done in the week. So be picky and prioritize.
3. Write it down
Once you've established the areas in your life that you want to focus on and decided on the tasks you would like to accomplish for the week. It's time to write it all down in a planner or calendar.
Before you start, make sure you have made note of any upcoming appointments for the week. This is helpful because you don't want to take time away from any of your focus areas. So, plan accordingly so you are not overscheduling yourself.
Make sure and schedule all day until you go to bed. This will ensure you are giving yourself downtime. I don't know about you but I am the type of person that once I start a project will keep working on it until I complete it. I have a difficult time stopping. Time block scheduling helps me manage my time better so I am focusing on what is most important….family.
Overall, the goal of time block scheduling is to help you increase your productivity by managing your day-to-day tasks more efficiently. If you are struggling like I was trying to find a planning system that keeps you organized then give time block scheduling a try. It may work for you too!
You may also like: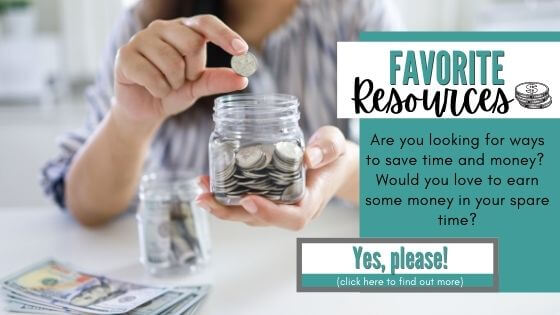 Don't forget to sign up for access to my Free Resource Library. You will find planner printables to keep you on task and wall quotes to motivate you. All are free for you to print out and enjoy!
Follow me on Pinterest for more organizing and time management inspiration.