When guests are on their way over and you need your house cleaned fast. Here are some helpful tips to speed clean your home in 30 minutes (or less).
This post may contain affiliate links. You can read my full disclosure here.
Love free printables? You can sign up for my Free Resource Library. It has free planner printables, plus wall art quotes to decorate your home.
You look around your house and suddenly a feeling of dread comes over you. There is clutter on the countertops, dishes in the sink, and toys all over the floor. You have guests coming over in less than an hour. How are you supposed to clean your house in such a short amount of time?
Don't panic you only need 30 minutes or less to get your home tidy and company ready.
Here are some quick ways you can tackle that mess in the least amount of time.
Learn more ways to clean your house fast:
How to Speed Clean Your Home in 30 Minutes or Less
1. Focus on the clutter
The first thing you want to do is grab a laundry basket and a garbage bag. Then, you need to go from room to room collecting any clutter that has accumulated. Pick up any trash along the way and throw it in the garbage bag.
Remember you only need to do this in your main living areas. You can stash the basket in a closet to take care of later. This is not a deep clean. We are trying to be as quick as possible.
Looking for more decluttering motivation?
2. Grab supplies
I usually keep my cleaning supplies in a cleaning caddy so I can carry them from room to room.
Here are a few supplies I recommend having on hand if a quick cleaning emergency arises:
toilet cleaner

glass cleaner (I usually use vinegar to clean my mirrors/glass)
Once you have your supplies, it's time to grab a timer and set it for 30 minutes. Turn on your favorite music and let the cleaning begin!
3. Start cleaning
Start in the area of your house that your company will see first or spend the most amount of time in. In my home, it's the kitchen.
Kitchen:
Clean out your sink.

Put any dirty dishes in the dishwasher

Spray and wipe counters

Wipe down appliances

Take out trash
Living Room:
Fluff pillows

Fold blankets

Quick dust surfaces

Sprinkle the carpet with baking soda (helps freshen and soften the carpet)
Have pets and want a better way to keep your home clean?
Bathroom:
Squirt toilet cleaner in the toilet

Wipe counters

Clean mirror

Replace hand towels

Put out extra toilet paper

Give the toilet a quick swish and clean
You may like: How to Clean Your Bathroom in 5 Minutes
Bedrooms:
Unless your guests are staying over then make the bed and do a quick dusting.
Lastly, pull out the vacuum and vacuum all rooms. It will be quicker than taking out the broom and the mop.
Don't forget to spray some Febreeze, light a candle, or turn on your wax warmer as a final touch to freshen up your home.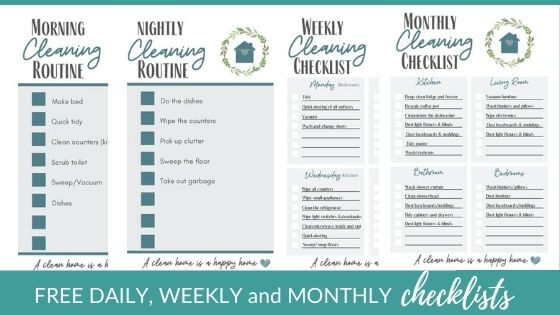 Learn how to keep your home consistently clean:
Now, pat yourself on the back for a (quick) job well done. Wipe that sweat off your forehead and go get yourself ready. You have company coming over.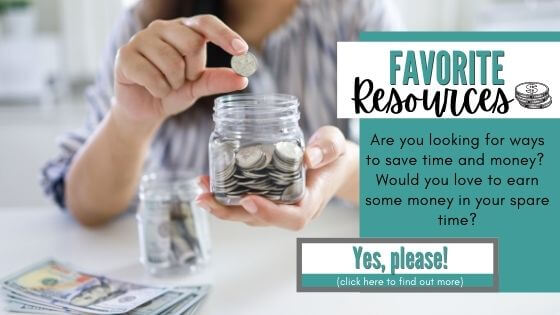 Don't forget to sign up for access to my Free Resource Library. You will find planner, wall quotes, and cleaning schedule printables for you to print out and enjoy.
Follow me on Pinterest for more cleaning motivation and inspiration.