Are you struggling to complete your to-do list? Do you wish you had more time in your day to get everything done? Learn how you can get more accomplished in your day with these 12 Simple Ways to be More Productive at Home.
This post may contain affiliate links. You can read my full disclosure here.
Love free printables? You can sign up for my Free Resource Library. It has free planner printables to help stay organized to be more productive.
Sometimes it can feel impossible trying to get everything done during the day. We spend time making to-do lists only to become frustrated and disappointed because there never seems to be enough time in the day to do all the things that need to be done.
As much as we can wish for longer days to knock out that never-ending list, it's just not possible. Instead, we need to be more intentional about the way we are spending our time. In order to be more productive at home, we need to learn time management skills.
The goal is always to work smarter not harder when it comes to mapping out your day so you are not just doing busywork, but being productive and accomplishing the most important tasks.
I've been working from home for many years, as a stay-at-home mom, as a college student taking online classes, as a freelancer, and as a blogger. While I love working from home, it can be challenging trying to juggle everything all the time. But, putting systems in place such as setting goals, prioritizing tasks, creating habits through routines, and avoiding burnout has helped me accomplish more throughout my day.
Whether you are a stay-at-home parent trying to figure out how to manage the millions of things that need to get done during the day or you've recently started working from home and you're trying to find a way to manage your time more efficiently than these 12 simple ways to be more productive at home can help you stay on top of things so you can focus on what matters most.
You May like:
12 Simple Ways to Be More Productive At Home

Plan ahead to be more productive at home
1. Find a planning system that works for you
Life is busy. We have so many responsibilities and things that we need to do every day that it can be stressful to keep up with it all. Luckily, there is something that can make life a little easier. Yes, I am talking about a planner.
A planner is essential in establishing good time management skills. It will help you schedule your days so you can keep track of events, appointments, bills and, deadlines so you don't forget about things or fall behind.
I have used planners for years to help me manage my time better. Seriously, they are one of my favorite things (my family may think I'm a tad bit obsessed). But, that's okay with me because I know they work. When I am feeling overwhelmed with everything I have to do it's usually because I haven't taken the time to write things down and make plans for my day.
Since there are so many different types of planners you may have to try out a few to find what works best for you. Over the years, I have tried daily and weekly planners with vertical, horizontal, and hourly layouts. But, it wasn't until I started using time block scheduling that I found what worked for me.
Time block scheduling or time blocking as some people call it is designating specific tasks to be done during a block of time in your day. This basically means I plan out my day in blocks. After I have set my priorities for the day, then I schedule a block of time to clean, work, exercise, and spend time with family.
2. Brain dump
Take a few minutes at the beginning of your week to sit down and get everything you want or need to do on paper. The goal is just to get it out of your head. After you are finished, go back and star or underline any tasks that are important and should be dealt with first. This will help you later on when making your to-do list because you are able to see what you want to focus on.
Keep in mind that it may not be possible to get everything done that you have just written down. So, be picky and prioritize the tasks that are essential and should be done right away.
3. Plan for the week
After you have written down everything you want to accomplish for the week, then it's time to make a plan. Don't forget to set goals so that you have something to work toward.
Do you have a drawer that you want to declutter? Write it down. A project that you want to start or finish? Make sure to set goals to keep you accountable throughout your week.
I will usually sit down on Sundays to make a weekly plan, and write down all my appointments and tasks, especially the most important ones I want to accomplish. Then, I just assign each task to a specific day during the week.
No matter what planner you've decided to use to start planning out your days, it may also be helpful to have a calendar displayed somewhere in your home so that everyone in your family can see it. That way they can keep up to date as well with appointments so there is no overscheduling.
I have a dry-erase calendar that I keep on my refrigerator that works well for keeping our schedules organized.
Use a meal plan
As you have probably come to realize, that in order to be more productive at home, planning is key. Meal planning is one of those things that can not only save you money but also saves you time. Planning your meals in advance it will allow you to use your time to focus on other tasks that need your attention.
Learn the benefits of meal planning:
4. Make a to-do list
So, you've picked a planning system, you put your must-do's on paper, and made a plan for the week. Now, it's time to start focusing on daily tasks. While I am having my morning coffee, I use this time to also make my to-do list for the day. It can be as easy as grabbing a piece of paper or making a list on your phone. I like using a to-do list like this for motivation.
This is when I will look over my weekly plan and add any important tasks I have listed to do for the day. I will also add any cleaning tasks and appointments and add them to the list.
Many people recommend always starting with the hardest job first. This way when you get it done, it will motivate you to complete the rest of your tasks.
However, if you are the type of person who gets easily overwhelmed when faced with a huge task. It may be in your best interest to start with the smaller jobs first and work your way up. Find what works for you!
If you would prefer to organize your day digitally on your phone or laptop, then you can use Trello. I've recently started using this app and it's been really helpful in keeping everything organized in my life. Plus it is convenient because it's on my phone and I can access it whenever I want.
Trello allows you to make boards (mine is called Daily Plan) Then, you simply make lists and add cards to the lists. So for this board, I have lists named weekly to-do (an overview of my week), Important, Done, and, Monday-Sunday. After creating your lists, you add cards. This is where I add my to-do list for each day. When I complete something, I drag it to my done list.
You can use Trello to organize many areas of your life. I also have boards for meal planning, blog planning, Pinterest, and more.
Helpful tips to be more productive at home
5. Have routines in place
It's important to create routines to help you be more productive at home. Routines will allow you to focus on other areas because you have put these simple habits in place to be more efficient with your time.
Establishing morning and night routines will help you stay on top of your daily cleaning tasks so you are not spending your entire weekend trying to catch up.
When it comes to routines, consistency is key. When you start a routine, you may have an adjustment period but continuing with it will motivate you, and eventually, it will feel completely natural because you've formed habits. These habits are what will help increase your productivity because it frees up your time to focus on other things.
Learn how to create easy cleaning routines that work:
Helpful tips to motivate you and jumpstart your day in a positive way
Get dressed- treat each day as if you are actually going to be leaving the house even if you have no place to go because it will encourage you to get moving and start your day.
Make your bed– take a few minutes and make your bed. It's one small, simple task but it will actually make you feel like you accomplished something.
6. Avoid Distractions
If you are working from home, then it's often necessary to find a place that is free of distractions. Carve out a space for yourself whether it's in an office or a small desk in the corner of your bedroom.
You will be most productive if you have a space you know that you can work. Of course, years of working at home as taught me that nothing can be distraction-free. There are always going to be things out of your control, like a neighbor mowing their lawn or an unexpected phone call. But, life happens we need to find ways to adjust and move on so we don't get off course.
7. Set a timer
If you are struggling to find the motivation to begin your day. Then, it may be helpful to set a timer on your phone or if you have Alexa, ask her to set a timer for you. By designating a certain amount of time for each task you can avoid becoming overwhelmed at everything on your to-list.
Setting a timer can also force you to stay focused on what you need to get accomplished. It can also remind you to move on to the next task if you are the type of person that becomes completely engrossed in whatever you are working on. This allows you to move to the next task more easily so you don't get burnt out.
8. Make a done list
So, you've made your to-do list but it's the end of the day and you start feeling down because you weren't able to get it all done. Stop beating yourself up. Sometimes, despite the best intentions, you are not going to get everything done. It happens. Things pop up.
Just because you didn't get some things done today doesn't mean you can't work on them tomorrow. Instead of feeling bad about what you didn't accomplish make a done list.
Sit down and write down everything you did that day. Maybe the plan was to clean out your silverware drawer but your child needed help with their school work and it took much longer than expected. Write that down on your done list.
I guarantee that you will find that you were much more productive within your day than you originally thought and just because you didn't get everything crossed off doesn't mean you didn't get things done. Learn to give yourself grace. Be proud of what you accomplished today because it will help motivate you tomorrow.
Self-Care is important for productivity
9. Take breaks
Breaks are a necessity for your mental health. You need a chance to recharge. Spend a few minutes at lunch watching a little bit of your favorite show or reading a couple of chapters in a book. Clearing your mind from work or home projects for even a few minutes will help you refocus when you need to get back to work.
Unfortunately, burnout can happen to the best of us. Have you ever become completely immersed in a project that it's all you can think about? You may be excited at first, but eventually, it can become overwhelming. This is when you need to step back and regroup.
Taking breaks so you don't eventually become burnt out from all the pressure is important for your well-being.
10. Get moving
You may be wondering what this has to do with being more productive in your day. Especially if you are struggling already to try and find the time to get everything done.
But, getting some exercise is a great way to help relieve stress and anxiety. A simple walk outside or a yoga practice can help rejuvenate you so you are more focused and can motivate you to start working again.
The point of this is to force yourself to clear your mind and get away from all the distractions of life and everything that you have to do. Spending a few minutes exercising will increase your overall energy level which will decrease your anxiety and make you feel happier.
If you are less anxious about things then you are more likely to want to tackle that to-do list and get things done.
You may like: 12 Tips for Losing Weight on a Budget
11. Get more sleep
In order to be more productive at home every day then you need to go to bed earlier at night. Don't stay up all hours of the night catching up on laundry or working on a project you want to finish. By staying up late, you end up paying for it the next day because you are too exhausted to do anything.
By making sleep a priority, you are also putting yourself first and letting your body recharge so you have the energy to get more done the next day.
12. Ask for help
If you are a mom who is working from home, you know how much pressure we put on ourselves to do everything and be everything for everyone. We clean the house, take care of the kids, work, carpool, plan the meals, and the list goes on and on.
But, instead of asking for help, many times we will push ourselves harder and harder to get everything done ourselves. What we don't realize is that if we simply asked for help when we needed it, then it would free up time to get more important things done on our list instead of doing smaller tasks that someone else could easily help with.
Overall, making self-care a priority can not only help us be happier people but can also help us lead a more productive life.
Hopefully, you will find these time management tips to be helpful so you can be more productive at home. When you take the time to plan out tasks in advance, it frees up your mind to stay on top of things so you are less stressed and can focus on what really matters in your life.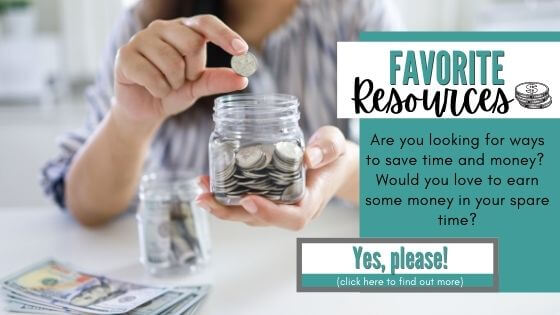 Don't forget to sign up for access to my Free Resource Library. You will find planner printables to keep you on task and wall quotes to motivate you. All free for you to print out and enjoy!
Follow me on Pinterest for more productivity and time management inspiration.