Do you struggle week after week trying to figure out what to make for dinner so you are not preparing the same meal night after night? Learn some easy strategies you can use in this Beginners Guide to Meal Planning to help you save time and money.
This post may contain affiliate links. You can read my full disclosure here.
Love printables?

Sign up here to access my free resource library

that has meal planning printables such as shopping lists and favorite meal worksheets.
Let's face it, the last thing we want to think about after a crazy busy day is what to make for dinner. It's just another task to add to our never-ending list of things to do everyday.
But, what if I told you there was something that could make your life easier, reduce your stress, save you time in the kitchen and save you money on groceries?
Meal planning has done all of that for me. It has saved my sanity on those busy nights because I know exactly what to make. And, I don't have to hear "What's for dinner, Mom?" since it's written down for the whole family to see.
I will admit when I first sat down to start meal planning it was intimidating. How was I supposed to find meals that appeal to everyone, especially with picky eaters in the house? But, I soon discovered a system that worked for me and I think it may work for you too.
Learn how this beginner guide will help you start meal planning today in 8 easy steps.
Save more time at home: 30 Time-Saving Hacks for Busy Moms
What is meal planning?
Meal Planning is when you set aside time to plan your meals for the week or month instead of trying to figure out what to cook each night. You usually write down your meal choices on a calendar or in a planner so you know what to prepare ahead of time.
Why should you use a meal plan?
A Beginners Guide to Meal Planning
1. Make a grocery budget
Decide how much you want to spend each week. If you are shopping for a month like me. Sit down and think about what you spend in a month including extras like toiletries and household supplies then add up that total and divide it in half.
So, if for example you go by the $100 per person rule for the month and you are a family of 4. In your first week, you would spend between $200-$220, and then each week after would become a pickup week for you. Things like bread, milk, veggies, and fruit. On those weeks you would spend about $60-$70.
The goal of meal planning especially monthly is to get all the ingredients for your meals in the first week of the month. Then each additional week will just be for things you frequently run out of.
You may like: How to Monthly Meal Plan to Save Time and Money
2. Check out sale ads
Grab your circular and see what is on sale before you sit down and make a plan. I'm always on the lookout for a good sale on produce or meat.
It makes meal planning easier when I am able to buy big packages of chicken, pork, and ground beef and use them for many meals. It also saves on the budget.
Looking for more ways to save on your grocery budget?
3. Look at your calendar
Look at your calendar to see what activities or appointments you have during the month and cross those dates out.
It's not necessary to plan meals for the nights you know you are not going to be home.
4. What do you need?
At this point, I will usually start looking in my pantry, fridge, and freezer to make a note of things that I have on hand that I could use to prepare meals.
I will also check the list that we keep on the front of the fridge to remind us what we need to pick up the next time we go to the store.
Related: Frugal Pantry Staples for Easy Meals
5. Favorite Meals List
When it comes to sitting down and starting a meal plan one of the best things you can do is to make a list of all your family's favorite meals.
This will give you a general guideline for the types of meals your family would prefer to eat. So, if you get stuck you can always check out that list.
You can create a board on Pinterest of recipes you want to try. Then, just add it to the list if your family enjoyed it.
You may like:
6. Theme Dinner Nights
One of the biggest things that have helped me in meal planning involves designating a certain night of the week as a theme.
For example, in our house Monday nights are Italian meals or pasta dishes, Tuesdays are Mexican, Wednesday is Breakfast, Thursday is Try Something New, Friday is Pizza night, Saturday is Grilling night (summer), Soups/Stews (winter) and Sunday is Slow Cooker Suppers or Casseroles.
Theme night dinners have been so helpful because it gives me a guideline of what to have. Since I plan for the month. I will go through and fill out all my Mondays first and then all my Tuesdays etc.
Looking for easy meal ideas to add to your meal plan?
7. Fill it in
Place a magnetic calendar on your refrigerator and fill in your meal plan for the week. This way everyone knows what is for dinner.
But, remember not to stress out if you can't stick to the meal plan exactly. Life happens. Things come up, such as appointments, sports, or school events or maybe you just want to go out to eat that night.
It's okay if you have to use the meal plan as a guideline if that is what works best for you.
Quick tip– A sharpie marker works better than a dry-erase marker for writing down your meals on your calendar-no smudges. Just use rubbing alcohol to wipe clean for the next month's meal plan.
Alternatively, you can use a chalkboard planner to hang on the wall (this is what I use and love it!)
8. Make a list
It's time to make your grocery list. The easiest way I have found to do this is to use a grocery list separated into sections.
I will usually look at the ingredients I need for each meal and fill in the appropriate section. This helps me stay organized so I am not forgetting things as I'm shopping at the store or having to backtrack.
So, there you have it, some tips that I use to try and make meal planning easier and save money in the process.
Although, my meal plan is for the month. These same strategies can be used for any meal plan. I have shopped weekly and bi-weekly over the years.
Remember the key to a successful meal plan is to find what works for you.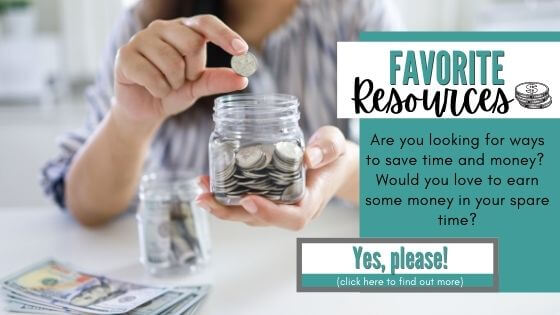 Don't forget to sign up for my Free Resource Library. You will find planner and meal planning printables plus more. All are free to print out and enjoy.
Follow me on Pinterest for more meal-planning inspiration.