Are you struggling to keep your home tidy and feel like you can never catch up? Then, my Quick 5-Step Morning Cleaning Routine may be just what you need.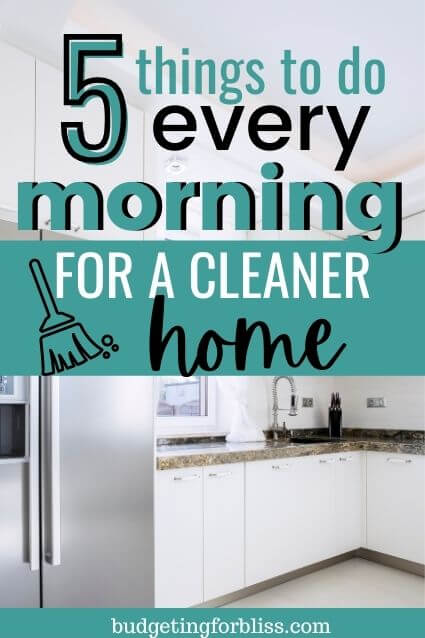 This post may contain affiliate links. You can read my full disclosure here.
Mornings can be so hectic. It feels like there are so many things that need to get done and you are running in all different directions.
Cleaning can definitely end up at the bottom of your to-do list if you let it. You keep telling yourself that you will get to it tomorrow or on your day off.
But, really who wants to spend their entire day catching up on cleaning? When they could be implementing small habits every day to keep their household running smoothly.
Recommended:
Tips to help you succeed with a morning cleaning routine
Establish a nightly cleaning routine
Before you begin your morning cleaning routine, you need to keep in mind, that it will be much easier if you use a nightly cleaning routine as well. A nightly cleaning routine will set you up for a less stressful and more productive morning. It gives you a jump start to your day so you are not dealing with last night's dishes and picking up the clutter that was left from the night before.
Set a timer
If you find that you have a hard time staying motivated to complete each task in your morning cleaning routine, you can always set a timer. As the routine becomes a habit, you will find that it gets quicker and easier.
You May Like:
Quick Morning Cleaning Routine
When I decided to start a morning cleaning routine, I knew I wanted to complete as much as I could in the least amount of time.
So, I sat down and made a list of everything I wanted to accomplish. My plan was to choose the areas I wanted to focus on that were most important to me.
When you sit down to make your list it may be completely different. You need to find what works for you as everyone has different priorities in their home. Here is what my quick morning cleaning routine consists of. Hopefully, it will inspire you to create a morning cleaning routine of your own.
Recommended:
Make your Bed
I think one of the most important things you can do before starting your day is to make your bed.
It makes your bedroom look more neat and tidy. Plus, it feels so good to be able to climb into a nicely made-bed at night.
Looking for a way to keep your home consistently clean? Try using my free daily, weekly, and monthly cleaning checklists.⇓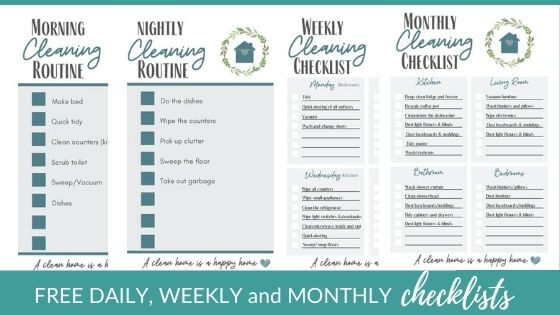 Do a quick tidy
This could be as simple as fixing the pillows on your couch, folding blankets, clearing off kitchen counters, tables, etc.
A helpful tip: Keep a basket in the corner of your living room to contain the toy clutter or other things that need to go back to their original home(a great chore for your kids to do when they get home from school is emptying the basket and putting things away). Since this isn't a deep clean you can also spend the extra time putting stuff away during your weekly cleaning routine.
Don't have a weekly cleaning routine? You can read about how I use a weekly cleaning routine to keep on top of my daily cleaning tasks so I'm not spending all weekend trying to catch up.
You may also like:
Wipe your counters
The next thing I like to do is wipe all surfaces. I start by wiping down my kitchen counters, island, table, chairs, and barstools with an all-purpose cleaner and microfiber cloth.
After cleaning all my kitchen surfaces, I make my way into the bathroom and wipe all the counters there.
I finish by cleaning the toilet with disinfecting wipes and then giving it a quick swish.
Do you have pets and want a better way to keep your home clean?
Sweep

/ Vacuum
After doing a quick wipe-down on all surfaces. I move on to sweeping and vacuuming. I will do a quick sweep (since I do a better job in my nightly cleaning routine).
Then, I will vacuum the living room carpet and any rugs that I have in the kitchen and bathroom.
Dishes
The last thing I do in my morning routine is to fill the dishwasher and start it if needed. That way I have a nice clean sink ( I do this as part of my night routine as well but it's amazing how many dishes can accumulate from late-night snacks and breakfast dishes).
That's it! It's a simple and quick way to keep your home tidy. This usually takes me less than 20 minutes to complete each morning.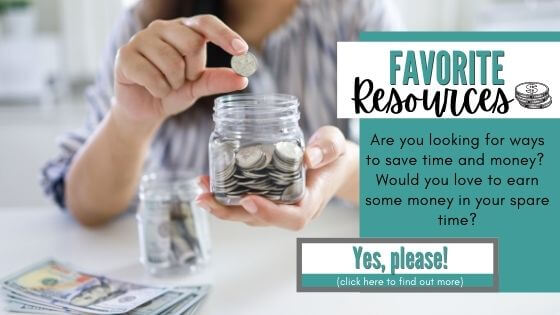 Recommended Posts:
Do you love free printables? You can sign up for my Free Resource Library where you will find planner, cleaning schedules, and wall quote printables. All are free to print and enjoy.
Follow me on Pinterest for more cleaning motivation. Have a wonderfully productive day!!