Are you looking for a simple way to keep your home clean in the least amount of time? Keep reading to find out how this Easy Monthly Cleaning Schedule can work for you!
This post may contain affiliate links. You can read my full disclosure here.
Love free printables? You can sign up for my Free Resource Library. It has meal planning printables and cleaning checklists plus wall art quotes to decorate your home. Sign up here.
Let's face it, keeping our home clean can seem like a never-ending battle. There is so much that needs to be done that sometimes even knowing where to start is overwhelming. You may find that you are just getting by each day doing the bare minimum.
But, it's understandable life is so busy and there are always so many other things pulling our attention away from cleaning. Unfortunately, that means that it often gets pushed aside until we have no choice but to address it. Which results in spending an entire day on the weekend trying to catch up. It can be exhausting.
Why use a monthly cleaning schedule?
In order to overcome all the overwhelm that cleaning can bring, we need to put systems in place to make our homes run more smoothly. By making cleaning routines and schedules we are taking back control of our home.
A monthly cleaning schedule reminds us to clean the necessary areas that we often forget about. I'm terrible at remembering to clean my light fixtures but having a checklist handy keeps me organized so I can stay on top of things to have a more clean and tidy home for my family. Because isn't that what we want? A home that we want to feel good about and spend time in.
Related:
How to make a monthly cleaning schedule work for you?
Before you start a monthly cleaning schedule it's important that you have a daily and weekly cleaning routine in place for it to be as effective.
Once you've established your daily and weekly cleaning schedule, you can start to add in tasks that you want to complete monthly. In order to do this, you will need to rotate them into your weekly schedule by:
Choosing one room each week to focus on. An example of this would be to do your monthly chores in the bedroom in the first week of the month, the livingroom tasks in the second week, and so on. (You can do this on your catch-up day which is Friday for me or work on it whenever it's convenient for you).
Another alternative is to choose one task to add to your weekly routine. In my weekly cleaning routine, I clean bathrooms on Tuesdays so that would mean I would add one or two bathroom tasks each week from my monthly cleaning schedule to my weekly cleaning routine.
Read more– Quick 5 Step Morning Cleaning Routine and Easy Nightly Cleaning Routine for Stress-Free Mornings.
Some tips to keep in mind about cleaning schedules or routines
Establishing habits can take time. You may be excited and ready to jump in headfirst. But, a week goes by and you get busy and miss a day on your weekly cleaning routine or skip something on your monthly cleaning schedule. You may feel like giving up but don't- keep going because it will soon become a habit. Eventually, you won't even have to think about it because it will be automatic for you.
Related: 14 Daily Habits to Keep Your House Clean
Don't let yourself get discouraged if a mess happens because it will happen. As long as you are consistently trying to keep up with your cleaning then a few missed days won't make a difference. And you can always speed clean or do a power hour cleaning to catch up if you need to.
Easy Monthly Cleaning Schedule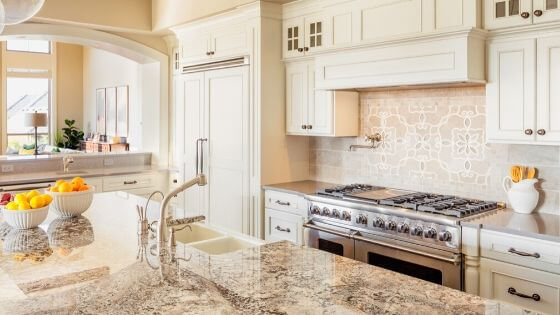 Kitchen
Deep clean refrigerator and freezer
Descale coffee pot
Clean inside the dishwasher
Dust baseboards, moldings, light fixtures, and blinds
Tidy pantry
Wash trashcans

Bathroom
Wash shower curtain
Clean showerhead
Dust baseboards/moldings
Tidy cabinets and drawers
Dust light fixtures and blinds
During my monthly cleaning schedule, I try to make time to do a little decluttering so I am staying on top of the mess to avoid becoming overwhelmed. When you let the clutter pile up, it gets out of control very quickly. Spending a few minutes every month decluttering a drawer or cabinet can help eliminate added mess and stress.
Related:

Living Room
Vacuum furniture (pull off cushions and vacuum into crevices to remove dirt and dust)
Wash blankets and pillows
Wipe electronics
Complete dusting of all surfaces including baseboards and moldings.
Dust light fixtures and blinds
My monthly cleaning schedule includes a thorough dusting of all surfaces. During my weekly cleaning, I just do a quick dusting. However, once a month I go through and do a more intensive dusting. I will move items to dust under, dust baseboards, and hidden corners.
You may like:90 Places People Forget to Clean in Their Homes
Bedrooms
Wash blankets/ pillows
Dust furniture/baseboards and moldings
Dust light fixtures and blinds
*Optional- You can also add cleaning your windows and windowsills to your monthly cleaning schedule. I prefer to clean them seasonally which is why I didn't add them to my schedule.
Have pets and want a better way to keep your home clean?
Through the years, I have found that it's much easier to stick to a daily and weekly routine. You do them so often they become a habit because you are doing them so regularly. However, monthly cleaning can often be neglected.
It helps to have a monthly cleaning schedule checklist to remind you to complete the tasks every month. You can print out the checklist below to keep you on task.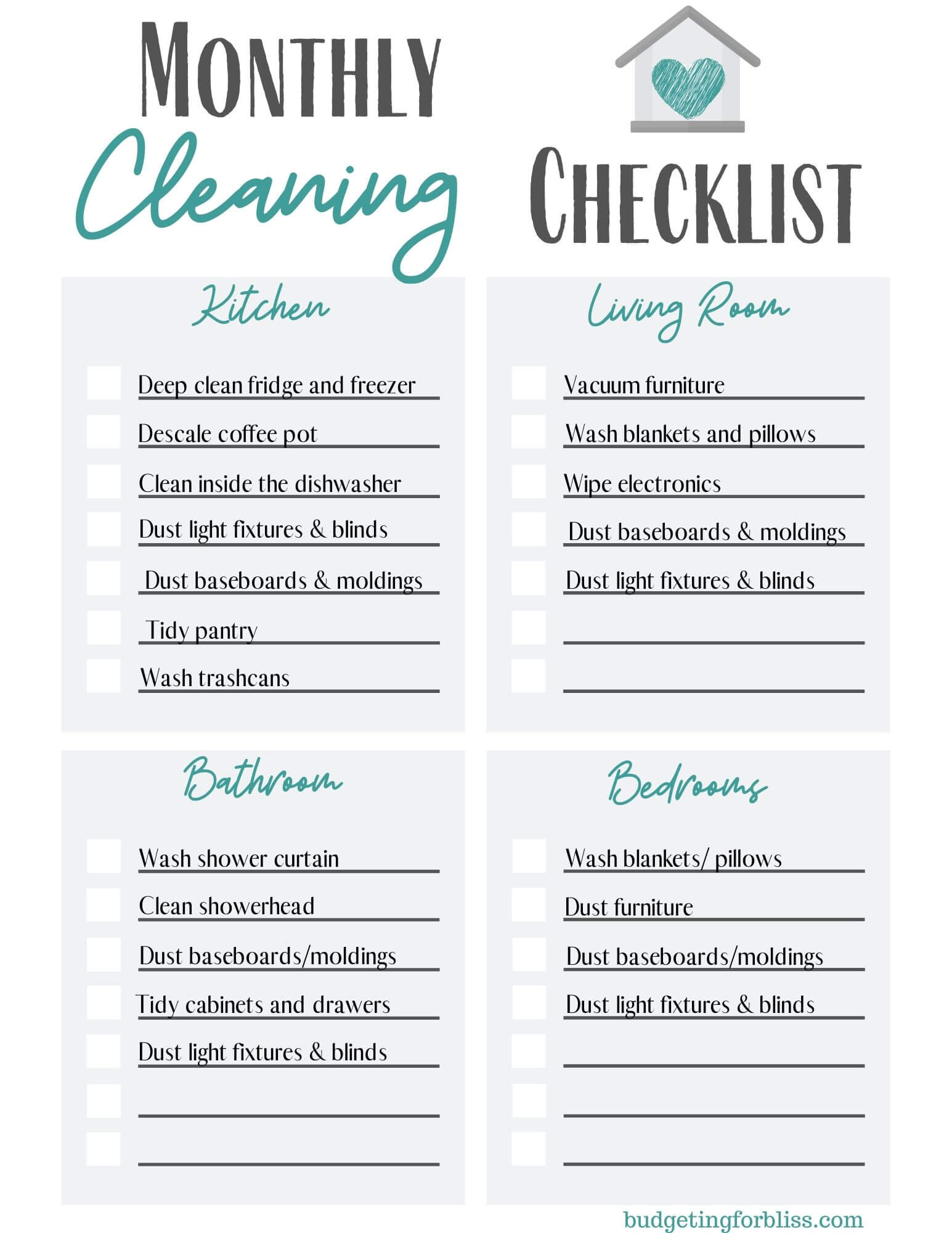 Keep in mind, cleaning routines or schedules can be different for everyone. What may work for some may not work for others. The goal is to find what works for you and your household. Your home may be larger than mine and have more bathrooms or bedrooms so it may take you longer to complete some tasks.
However, the goal is still the same, finding simple ways to clean your home in the least amount of time. After all, nobody wants to spend their entire morning or evening cleaning their home. Our time is valuable we want to spend it on the things and the people we love. A daily, weekly, and monthly cleaning schedule can help you achieve that.
You may also like: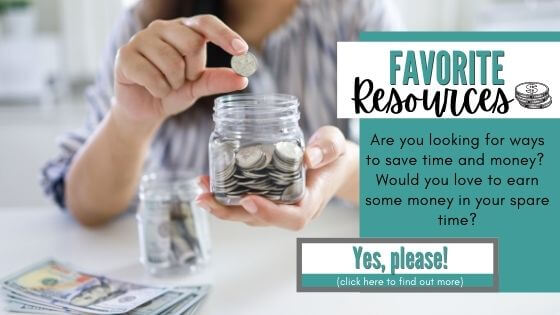 Before you go, don't forget to sign up for my Free Resource Library. You will find planner printables to keep track of all your everyday tasks, cleaning printables, wall quotes, and more.
Follow me on Pinterest to find more cleaning tips and inspiration.