Looking for fun and cheap at-home date night ideas? If you are trying to save money and a pricey date night is not in the budget then this list of 30 At-Home Date Night Ideas is for you.

This post may contain affiliate links. You can read my full disclosure here.
It's no secret that date nights can be expensive. However, date nights are crucial for all relationships as they help keep the lines of communication open especially when you get caught up in the day-to-day routines of life.
It's so important that we are spending quality time with our partners to strengthen our relationship but this can be a challenge if you are trying to save money or can't afford to go out on date night.
This doesn't mean you have to scrap date nights all together. There are many at-home date night ideas that are romantic, cheap, and fun that can all be enjoyed in the comfort of your own home.
Some of these at-home date night ideas are as simple as watching an evening TV show or preparing a meal together. As long as you are making an effort to spend time alone together your relationship will thrive.
Here are 30 at-home date night ideas that would be perfect for Valentine's Day or any of day of the year when you can't afford to go out.
30 Cheap At-Home Date Night Ideas
1. Movie night
A movie night is always our number one option when deciding to have an in-home date night. All you need is a few of your favorite snacks, some popcorn, and a good movie. Netflix, Amazon Prime, and Hulu are great options to find classics and new movies to watch.
2. Cook a meal together
Dust off old cookbooks or visit Pinterest for inspiration to find new recipes to cook together. Take turns choosing different recipes to spice it up.
Read more:
3. Have breakfast in bed
Take turns making breakfast for each other or pick up some muffins and fruit to have on hand for a lazy morning in bed.
4. Play board games
Spend the evening playing some board games together. A little friendly competition is good for any relationship. Some of the board games we enjoy are Yahtzee, Scattergories, and Bounce-Off.
5. Have an indoor picnic
Spread a blanket on the living room floor, grab some snacks, relax and listen to a podcast or audiobook together.

6. Put together a puzzle
Puzzles are a relaxing, stress-free activity for couples to enjoy. My husband and I love putting together Disney puzzles.
7. Bake a dessert together
Choose a favorite dessert to bake together. It can be as simple as chocolate chip cookies or as fancy as a trifle.
If you have an Instant Pot, try making a homemade cheesecake. (This Old Gal) It's one of my favorite easy desserts to cook in the instant pot.
8. Stargaze
Take a blanket outside to enjoy gazing at the night sky, add in some conversation, and a few snacks for a perfect evening under the stars.
9. Play cards
Grab some playing cards and indulge in a little friendly competition on your in-home date night. Some cards we enjoy playing are rummy, UNO, speed, and Skip-Bo.
10. Have a movie marathon
Pick an afternoon and have a movie marathon of your top 3 favorite movies of all time. Have your partner do the same for your next date.
11. Karaoke
Pull out the karaoke machine and have some fun singing to your favorite tunes. If you don't have a karaoke machine, check out YouTube. They have many karaoke channels to choose from featuring your favorite artists.
12. Do a DIY project
Are you looking to update something in your home? Spend the weekend painting a room in your home or fix something that you've been putting off. It will be more enjoyable doing it together and you will be able to check it off your to-do list.
Love decorating your home on a budget? Me too! Check out how we transformed our kitchen for less than $100.
13. Watch a comedy special
Netflix has some really funny comedy specials. Pop some popcorn, get cozy, and be prepared to enjoy a night of laughter together.
14. Watch the sunset
This is one of my favorite at-home date night ideas. Grab a blanket and head outside with snacks and some wine and enjoy each other's company.
15. Dinner and a movie
Choose a movie and prepare an entire dinner around it. Some fun examples are:
16. Play video games
If you enjoy playing video games then this can be a great at-home date night idea. Some video games we enjoy are Mario Kart, Mario Party, and Just Dance.
17. Take a couples quiz
This is a perfect way to get to know each other better. A relationship quiz is a fun way to learn new things about your partner.
18. Camp in the backyard
Head outside and pitch a tent in the backyard. Grab some snacks and enjoy sleeping under the stars for the night.

19. Dance
Put on your favorite slow song and ask your partner to dance. You can also learn a new dance on YouTube to try out.
20. Grill out
Have a backyard barbecue and enjoy some conversation over dinner.
21. Plan a romantic spa night
You can light some candles, put on some music, and give each other massages.
22. Make s' mores
If you have a fire pit you can get some graham crackers, marshmallows, and chocolate bars and have some s' mores.
If you don't have a fire pit, you can cook s'mores over a gas grill or even in the microwave.
Try these variations:
Cookie s' mores– instead of graham crackers, use fudge striped cookies or chocolate covered graham cracker cookies.
Peanut butter s' mores– add peanut butter to your graham crackers.
Nutella s' mores– add Nutella in place of a chocolate bar.
Mint s' mores– use thin mints instead of a chocolate bar and graham cracker.
23. Make a bucket list
Make a bucket list of the things that you would like to do together during the year. You can also write down places you would love to visit. This book is perfect for keeping track of your bucket list goals and journaling all your adventures.
24. Color together
Adult coloring books are the perfect relaxing at-home date night idea for any couple.
25. Binge-watch a television show
Spend an afternoon binge-watching an old classic television show or a new one you've recently discovered.
26. Spring clean
Although spring cleaning isn't a traditional at-home date night idea, spending time together to get your home deep cleaned can be more enjoyable with two people especially if you turn up some music and sing along.
Already did your spring cleaning? How about a decluttering project instead?
27. Pizza and wine
Make a homemade pizza together and put on all your favorite toppings. Add a bottle of wine and some good conversation and you have the perfect evening.
28. Start a new television series
This is an excellent way to commit to spending more time together. My husband and I look forward to our nightly at-home date night cuddled up on the couch watching our favorite television series.
29. Paint together
Pick up some inexpensive blank canvases and some acrylic paint to have a paint night. You can visit YouTube for free beginner painting tutorials. This inexpensive paint and canvas set is perfect for beginners.
30. Do a craft
Spend some time together working on a craft. It could be as simple as making a wooden homemade sign together. Do you have some plywood or old scrap boards hanging around the house?
Cut it, sand it down, stain, or paint it.
Then find a free quote printable on Pinterest or you can make your own.
Print it out (make sure to print in mirror image to make the letters appear backward).
Grab your sign and place your paper printed side down where you want it.
Use a pencil and press down while shading over the entire area where your quote is.
When you pick up the paper, the ink should have transferred to your wood.
Grab some paint or paint marker and go over the ink so it stands out.
Enjoy your homemade wood sign!
Related: Easy DIY Farmhouse Wreath Tutorial
Hopefully, these cheap, fun, and romantic at-home date night ideas will inspire you to make date night a priority even if you can't find a babysitter, the weather is bad or you are trying to save money.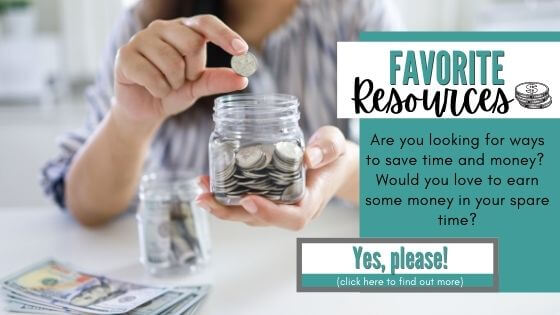 Love printables? Sign up for my FREE RESOURCE LIBRARY that's packed full of printables all free for you to enjoy!
Follow me on Pinterest, where you will find more inspiration about living well and having fun on a budget.