Are you struggling to find the motivation to declutter? These 15 best ways to get motivated to declutter your home will not only help you clear the clutter but simplify your life this year.
This post may contain affiliate links. You can read my full disclosure here.
Love free printables? You can sign up for my Free Resource Library. It has free planner printables that will help keep you organized. As well as motivational quotes to print out and hang on your wall. Sign up here.
With the new year upon us, you may be starting to think about all your goals and projects you would like to accomplish. If you are like me, decluttering may be high on your list.
Unfortunately, for many people the desire to clear the clutter in their home isn't enough to make much progress decluttering. Whether they are confused about how to start or feel overwhelmed at the whole process, it ultimately prevents them from being able to move forward.
They lose the motivation to continue to declutter and just give up. However, I want this year to be the year that you decide that enough is enough.
Sometimes in order to get the results you want, you need to push through all that decluttering guilt and overwhelm. And the best way to do that is to find ways to motivate yourself to keep moving forward.
So, if you are ready to start this decluttering journey and make this the year to finally eliminate the clutter in your home once and for all, then these 15 helpful tips to get motivated to declutter your home can help.
15 Best Ways to Get Motivated to Declutter Your Home
Start Small
As with any big project, the absolute best thing you can do is to start small. Don't expect to declutter your home in a weekend or even a week. It can be a huge undertaking and with any big project if you try to do it all at once. You will quickly get discouraged and stop.
By setting a small amount of time aside every day or even a couple times a week will motivate you to keep going because you are not allowing yourself to get overwhelmed.
As with my cleaning tasks, I like to set a timer to see how much I can complete in a certain amount of time. This keeps me motivated because I know once the timer goes off I am finished.
Are you looking for easy ways to keep your home clean?
If you are struggling to figure out where to even start, here are 10 things you can declutter in 10 minutes. They are easy, small tasks that take very little time.
Make a plan
Starting small, may be one of the best ways to motivate yourself to declutter. But, before you jump in, it may be helpful to decide how you actually want to start the decluttering process.
Do you want to start a 30 Day decluttering challenge, or concentrate on one room a week or even just make a checklist of tasks to complete and work on them when it's convenient for you.
Find what works best for you and then set a goal when you want to complete the project. I know that when I sit down and make a list of what I want to accomplish it usually motivates me to want to get started.
Put it on your calendar
Make decluttering your home as important as that appointment that you wrote on the calendar last week. Schedule in time to declutter to keep you motivated. It doesn't even have to be a huge chunk of time, it can be as little as 10 minutes a day a few times a week.
Picture a clutter-free home
In order to stay motivated, keep reminding yourself how much better it will be when your home is clutter-free. Things will finally have a place and your closets won't be stuffed with items that you haven't used in years.
Imagine how nice it will feel to open a cupboard without it being a cluttered mess or finally being able to see your countertops that have been cluttered with small appliances that you haven't used in months.
Remember your goals and keep working towards them to get to the end result. Trust me, you will be happy that you did.
Take before and after pictures
You will be surprised just how much taking a simple picture of the clutter and then taking another after it's been decluttered will give you the motivation to keep going.
When we are able to visually see our progress and compare the results it pushes us to want to continue to keep seeing those same positive results.
Make a checklist
Sometimes, something as simple as making a checklist will motivate us. When we complete one decluttering task and are able to check it off, it gives us a sense of accomplishment.
I know that whenever I'm feeling unmotivated to do something, it usually because there are so many things I want to get done and I don't know what to work on first. Doing a brain dump and getting those thoughts or tasks on paper helps me stay organized. Then, I simply just create a checklist to determine when I want them complete.
Listen to music
Listening to music can usually make any task bearable. Decluttering may not be your favorite thing to do but if you make a playlist of your favorite songs, and listen while you declutter a drawer. You will be surprised at how quickly you can get it done.
You can also try listening to a podcast or an audiobook while you are decluttering to keep you motivated.
Read motivational quotes
Honestly, there is nothing that motivates me more than a good motivational quote. Sometimes it's just the push you need to get started when you don't have the desire to.
When I'm feeling unmotivated, I will usually head to Pinterest and search for quotes that will encourage me to keep working towards my goal and not give up.
Find a good decluttering book to read
There are so many great books about how to declutter your home. A few of my favorite decluttering books include "Cluttered Mess to Organized Success" written by Cassandra Aarssen which is essentially a workbook filled with checklists and worksheets that will not only help you declutter your home but clean and organize it as well.
Also "Decluttering at the Speed of Life" by Dana K. White, is a must-have when you are looking for extra decluttering motivation. She helps you find small chunks of time throughout your day to declutter and guides you step-by-step to achieve your decluttering goals.
Watch episodes of "Hoarders"
Believe it or not, this really works. I don't know how many times I've watched the show Hoarders and immediately got the urge to get up and declutter a drawer or cabinet. Try it, it's one of the best decluttering secrets when you are feeling unmotivated to declutter.
Set a timer for quick results
If you are still having a difficult time finding the motivation to declutter, try to set a timer for 10-15 minutes and then tell yourself that after those minutes are up, you are done. Give yourself permission to stop and move on to something else.
Surprisingly when I do this the task doesn't seem so daunting, after all it's only 10-15 minutes. Many times I will keep going after my time is up because it wasn't as bad as I made it out to be.
Put away all distractions
Let's face it, there are probably many other things you would prefer to do then declutter. For most people, it's done out of necessity. So, it's easy to get distracted because we are looking for anything to do other than the undesirable task that is in front of us.
The best way to stay motivated when you are working on a decluttering task is to turn off all distractions so you can stay focused. Whether that means turning off your phone, TV or anything else so you can concentrate on what needs to be done.
Reward yourself
Sometimes all it takes for a little motivation is to reward yourself for all your hard work. It doesn't even have to be anything big. It could be as simple as a glass of wine and a bubble bath after the kids have went to bed.
Keep in mind though, that you are still trying to declutter your home so keep the rewards small. We don't need to bring more unnecessary items into the home when we are working so hard to get rid of the clutter.
Have the family pitch in and help
Nothing can be more motivating then getting a little help. Sometimes, when we are stuck doing something completely on our own we can get discouraged and give up.
Encourage the family to pitch in and help by going through their clothes and toys they don't wear or want anymore. It may take a little rewarding but in the end it will be worth the effort.
Save sentimental items for last
It's no secret, decluttering can be hard, whether it's deciding what to declutter or dealing with the difficult task of trying to let go. But for most, the the worst part of decluttering your home is going through your sentimental items.
If your goal is to downsize or move then sometimes letting go of those sentimental items become necessity. However, the the best way to lose motivation is to start too big. Instead we want to start small to see our results right away motivating us to keep going.
In order to do that it's probably best to save those sentimental items for last. They will be the hardest but by the time you get to them, it won't feel as hard because you will have already seen the positive impact decluttering has made in your home and life.
Find more decluttering motivation:
Hopefully, these tips have given you the motivation to start the decluttering process. Don't let the fear of being overwhelmed or not knowing where to begin stop you from moving forward and accomplishing your goal of a clutter-free home.
Do you want a way to keep your home consistently clean? Print out my free cleaning checklists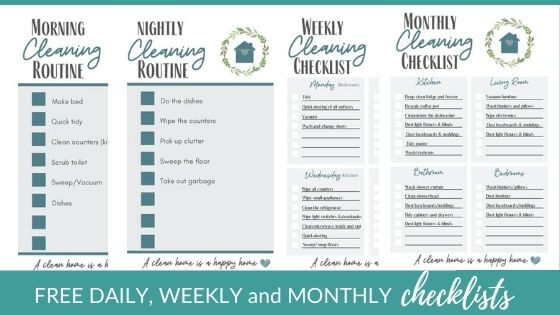 Don't forget to sign up for my Free Resource Library to grab my printables, all free for you to print out and enjoy!
Follow me on Pinterest for more decluttering tips.