Are you tired of all the clutter in your home? Here are the 5 Best Beginner Decluttering Tips when you don't know where to start. Simplify your home by clearing the mess and reducing your stress this year.
This post may contain affiliate links. You can read my full disclosure here.
Love free printables? You can sign up for my Free Resource Library. It has free planner printables that will help keep you organized. As well as motivational quotes to print out and hang on your wall.
There is no doubt about it, decluttering your home is a daunting task. It can be especially difficult when you don't know where to begin. You have visions of an organized and tidy home with less clutter everywhere but have no idea how to achieve that goal.
And if that isn't enough, finding the motivation to stick with it once you've begun without getting overwhelmed can be really hard especially if you are not prepared.
For many years, I was one of those people that only focused on the big picture. If I wanted a project done, I would jump in headfirst trying to declutter and organize everything in one day. However, it wasn't long before I became frustrated and overwhelmed.
After years of starting projects, losing motivation, then starting again and accomplishing nothing. I realized something needed to change.
If I wanted to actually eliminate the clutter in my home, then I needed to approach decluttering in a whole new way. I needed to get rid of the unrealistic expectations I had of getting my home completely decluttered in a day and realize that eliminating clutter was a process.
In order to be successful, I needed to find ways that would not only encourage me but motivate me to keep going.
After trying a lot of different decluttering challenges, and tips I finally found the ones that worked for me and I'm hoping that they can help you on your decluttering journey.
So, if you don't know where to begin and are looking for some motivation, here are the 5 best beginner decluttering tips for you to try today.
5 Best Beginner Decluttering Tips

1. Start small
One of the very best tips for avoiding overwhelm when trying to clear the clutter in your home is to break up your decluttering projects into small manageable tasks. Doing a small amount over a longer period of time prevents burnout, plus each completed task feels like a huge win and will push you to keep going.
---
"Remember, you are not what you own. Storing all those books doesn't make you any smarter; it just makes your life more cluttered." Francine Jay
---
2. Create a plan
Creating a plan is probably one of the most important steps when you begin to declutter your home. Just like with any other project, a plan allows us to set goals that we can achieve.
My best advice is to make a plan that works for you and your schedule. The best part is there are many different ways to declutter your home so finding something that you know you can make time for will allow you to be more successful.
Try a Decluttering Challenge
If you are the type of person that needs extra motivation every day and like having a plan made out for you then my 30 Day Home Decluttering Challenge is perfect for you. During the challenge, you will concentrate on a specific area in your home to declutter each day. So, for example, one day, you declutter a cabinet and the next day a bookshelf.
It's an easy way for beginners to start decluttering their homes when they don't know where to begin.
Make a list
Maybe you would prefer to take it at your own pace? If that is the case, make a list of all the places in your home that you want to declutter and then hang the list someplace that you can easily see it.
Then, every time you have a spare minute, work on something from the list. Even though you might not think you have the time, there are actually small moments throughout your day that you can take advantage of.
Declutter your utensil/silverware drawer while making dinner
Clean your refrigerator while putting away groceries
Pull out unused clothing while putting laundry away.
Look for opportunities throughout your day to fit decluttering in. You may be surprised how many quick decluttering projects you can cross off your list every day.
Still, need some inspiration to clear the clutter quickly?
Here are 10 Things in Your Home that You Can Declutter in 10 Minutes or Less.
Declutter while you're cleaning
Adding decluttering tasks to my weekly cleaning routine has been one of the ways that I have been most successful at clearing the clutter and keeping it out of my home.
Since I've designated Wednesdays to be my kitchen day, after completing my cleaning tasks I will pick a cabinet or drawer to declutter that day.
If my week is too busy to fit in decluttering tasks, I will try to find some time on Fridays (since it's my catch-all day where I work on anything I didn't finish throughout the week.)
Are you looking for easy ways to keep your home clean?
3. Find your motivation
Finding the motivation to not only begin decluttering is a challenge but continuing day after day is probably one of the hardest things people face when it comes to clearing the clutter in their homes.
Remind yourself why you started
It's common for people to make excuses and start to procrastinate because it starts to feel too overwhelming to continue. It may be easier to give up but it's more satisfying to stick it out. Keep reminding yourself of all the reasons that you started in the first place.
Instead focus on:
All the money you will be saving once your home is decluttered because you will begin to pay attention to what you are bringing into your home
Being able to look forward to getting your home organized and giving everything a proper home.
Feeling happy because you no longer have to spend hours searching for misplaced items.
Knowing how easy it will be to keep your home consistently clean because of all the clutter that you have eliminated.
Print out my free cleaning checklists below to keep your home clean all the time.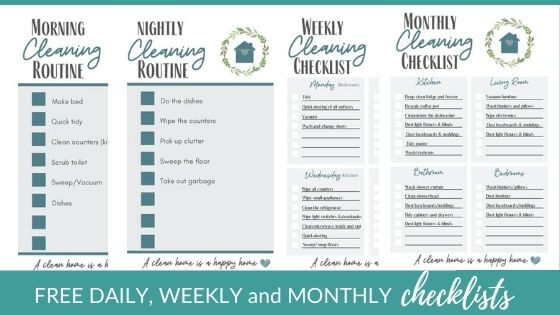 Set a timer
I've been using this for cleaning and decluttering my home for years. Using a timer has been a huge motivator for me, not only because it keeps me focused to get stuff done but it's also reassuring because I know when that timer goes off then I am done and can move on to something else.
4. Let go of guilt
Decluttering guilt is one of those things that can halt our progress quickly if we let it. My advice is to save your sentimental items for last. Trust me, it's better to keep the momentum going than to let guilt creep in and stop you from moving forward.
However, that doesn't mean you should throw everything that you don't want to deal with in a box and never get to it. What you should do, especially as a beginner is to gradually work your way up to the hard stuff.
Honestly, the more you declutter the easier it will get to let things go. That's what decluttering is about, giving yourself permission to let go of the things that don't matter and reminding yourself of all the physical and mental benefits that having an uncluttered home will provide.
5. Avoid common mistakes
When it comes to any big project, decluttering included, mistakes can happen.
You may try to do everything at once and completely fail because it becomes too overwhelming to finish.
Or, you find yourself having a hard time letting go, so you keep the things you might use "someday".
You might even start to organize your clutter instead of getting rid of it, just leaving you with organized clutter which doesn't accomplish anything.
These are just a few common mistakes when people start to declutter their homes for the first time. You can read more at 16 Decluttering Mistakes to Avoid.
In order to be most successful in your decluttering journey sometimes learning what not to do will help you be more prepared.
Final Thoughts
Remember, finding what works best for you is always the best advice. I hope these beginner decluttering tips help you clear the clutter and find peace in your home. Because ultimately that is the goal of decluttering to keep the things that you find useful and that you love so you can enjoy and be more comfortable in your home.
---
"What I know for sure is that when you declutter–whether it's your home, your head, or your heart– it is astounding what will flow into that space that will enrich you, your life, and your family." Peter Walsh
---
Find more decluttering motivation:
Don't forget to sign up for my Free Resource Library to grab my printables, all free for you to print out and enjoy!
Follow me on Pinterest for more decluttering tips.