Here are 30 Comforting Fall Soup Recipes to warm you up and soothe your soul on those chilly nights.
This post may contain affiliate links. You can read my full disclosure here.
Love printables? Sign up here to access my free resource library that has meal planning printables such as shopping lists and favorite meal worksheets.
You know fall is just around the corner when the air starts feeling more crisp and you find yourself reaching for that cozy blanket that's been put away all summer long.
And while I love the warm and lazy days of summer there is just something about fall. Whether it's the colorful crunchy leaves under your feet, pumpkin flavors everywhere, the smell of crisp apples in the air, or a comforting bowl of warm soup. Fall feels like a warm hug that you have waited all year for.
---
And all at once, summer collapsed into fall. –Oscar Wilde
---
Since fall is upon us, it seemed like the perfect time to share some easy and delicious soup recipes for you to try this season. Most of these recipes can be made on the stovetop but a few can be made in a slow cooker or an instant pot.
You will find classics like chicken noodle, tomato, and minestrone or creamy soups like cauliflower and pumpkin. As well, as soup favorites like taco or lasagna soup. You should be able to find something your whole family will enjoy.
The best part about soup is that it's not only a delicious and hearty meal for those chilly days but also perfect if you are trying to save money on your groceries. It's one of the best frugal options to make when you're wanting to stretch your budget.
Looking for more ways to save on groceries:
Before I share some easy, delicious, and frugal soup recipes with you- here are a few things to know about storing soup so you can make it stretch further, saving you money.
How Do You Store Soup?
Soup stores well in the refrigerator. In fact, many times it tastes even better the next day. Store soup for up to 4 days in the fridge.
Can You Freeze Soup?
Soup is the perfect meal to freeze especially since it's easy to make a large batch to divide and use for lunches or dinners throughout the week.
However, be aware that you may want to avoid freezing soups that contain rice, potatoes (unless pureed), or pasta because they will get mushy when you thaw and reheat them. Your best bet is to prepare them and then add while you are reheating your soup.
Also, avoid freezing soup that contains milk because it may have a grainy texture when you reheat it. If you would still like to make a large batch of your favorite creamy soup to freeze, omit the milk, cream or cheese and again add it when you are reheating instead.
Helpful tips when freezing soup:
Don't forget to label your soup and include the date it was made as well as any instructions for reheating.
Related: 18 Best Freezer Meals to Stretch Your Budget
How to Thaw and Reheat Soup?
You can either thaw your soup overnight in the refrigerator or place it in warm water until you can loosen it from the container into a saucepan to reheat it.
Then, it's as simple as heating it over medium-low heat to thaw it. You may need to add a little more liquid. Don't forget the milk, cheese, or prepared pasta/rice if your recipe called for it. Bring to boil and then simmer until ready to serve.
Soup is best reheated on a stovetop or in an instant pot. Also, remember to only reheat soup once.
Here are 30 Comforting Fall Soup Recipes to warm you up on those cool autumn nights.
30 Comforting Fall Soup Recipes
Better than Panera Broccoli Cheese Soup– (House of Nash Eats)
We are huge fans of Panera Bread's broccoli cheddar soup so when I found this recipe, I knew that we had to try it and it didn't disappoint- it was cheesy deliciousness in a bowl. It's my family's most requested soup recipe.
Cheddar Broccoli Potato Soup– (Cooking Classy)
A perfect combination of broccoli, cheese, and hearty potatoes in a creamy soup everyone will enjoy.
Potato Soup – ( Mama Loves Food)
A hearty potato soup with cheese and bacon. Comfort food at its finest.
Ham and Potato Soup– (Baking Mischief)
If you are looking for a low-calorie soup option that's quick and delicious then this is the soup for you.
Ham and Bean Soup– (The Salty Marshmallow)
A classic comforting soup recipe to use up that leftover ham.
Looking for more ways to use up leftover ham?
Lemon Chicken Orzo Soup -(Salt & Lavender)
Healthy and quick lemon chicken soup that is perfect for busy weeknights at home.
Homemade Chicken Noodle Soup– (Eating on a Dime)
There is nothing better than a warm and comforting bowl of chicken noodle soup and this recipe doesn't disappoint. Easy and fast to make in under 20 minutes.
Wild Rice & Mushroom Soup– (Saving Room for Dessert)
A delicious soup filled with flavor that's perfect to enjoy on those chilly, fall days.
Stuffed Pepper Soup (Chef Savvy)
Fans of stuffed peppers will enjoy this easy soup recipe that contains rice, peppers and spicy sausage.
Cabbage Roll Soup– (Simply Stacie)
If you love cabbage rolls but not the work that goes into them, try this simple and tasty soup as an easy alternative.
Cheeseburger Soup– (The Country Cook)
A tasty soup with that classic cheeseburger taste that will have everyone begging for more.
Hamburger Soup– (Spaceships and Laser Beams)
Satisfying and flavorful hamburger soup loaded with tomatoes and veggies.
Related: 35 Quick and Easy Ground Beef Dinner Ideas
Beefy Tomato Macaroni Soup– (Hot Eats and Cool Reads)
Looking for an easy tomato soup recipe? This yummy soup can be ready in 30 minutes.
Lasagna Soup– (Barefeet in the Kitchen)
A hot bowl of this delicious soup is sure to please even the pickiest eaters.
Taco Soup– (Creations by Kara)
Everyone's favorite soup! This recipe combines all the flavors you love plus it's easy and quick to throw together.
Chicken Tortilla Soup– (The Recipe Critic)
A hearty and appetizing Mexican soup topped with crispy tortilla chips.
Chicken Tortellini Soup– (How Sweet Eats)
A creamy and flavorful chicken soup that uses leftover rotisserie chicken.
Looking for more ways to use up rotisserie chicken?
Vegetable Soup– (Yellow Bliss Road)
This classic comforting soup recipe will have your kids begging to eat their vegetables.
Minestrone Soup– (Dinner at the Zoo)
This soup is filled with veggies, pasta, and beans and even better than the Olive Garden version that inspired it.
Tomato Basil Soup– (The Homestead Garden)
Easy and light soup that can be enjoyed in 30 minutes.
Pumpkin Soup– (Savory Nothings)
Nothing says fall like pumpkin soup. This creamy soup is sure to please.
Butternut Squash Soup– (Dinner then Dessert)
A rich and silky soup that's perfect to enjoy in the fall.
Cauliflower Chowder– (Damn Delicious)
This creamy and low-carb soup that the whole family will enjoy.
French Onion Soup– (The Cozy Cook)
A classic recipe with caramelized onions and gooey cheese on top.
Looking for easy dinner ideas?
Slow Cooker Bacon Cheeseburger Soup– (Life in the Lofthouse)
This delicious soup is a great choice for an easy weeknight dinner.
Slow Cooker Split Pea Soup– (The Rebel Chick)
A hearty soup that you can dump in your slow cooker in the morning and have dinner all ready when you get home.
Find more easy and delicious slow cooker recipes with 27 Easy Dump and Go Crockpot Recipes for Fall.
---
Soup is the ultimate warm hug to soothe your soul on a chilly fall day. –b4b
---
Do you have an instant pot? Check out these instant pot soup recipes that are perfect for fall.
Instant Pot Vegetable Soup– ( Buns in My Oven)
A healthy vegetable soup you can make in your instant pot for a quick weeknight meal.
Instant Pot Lasagna Soup– (Sweet and Savory Meals)
You can enjoy all the flavors of lasagna in this hearty and classic soup recipe.
Instant Pot Potato Corn Chowder– (Together as a Family)
A creamy soup filled with potatoes, cheese, and corn that cooks in only 15 minutes in your Instant Pot.
Instant Pot Chicken and Rice Soup– Cookin' Canuck
Make this comforting quick and easy chicken soup to warm you up on those chilly fall nights.
Related: 25 Easy Instant Pot Recipes for the Beginner– simple instant pot recipes that will make cooking dinner a breeze.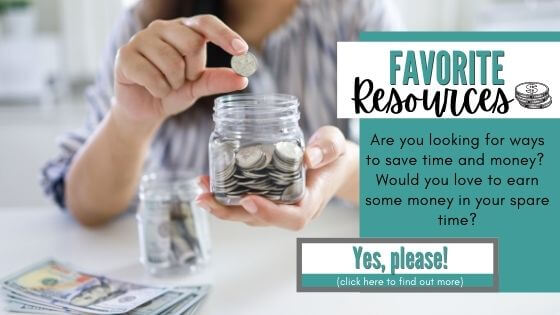 Don't forget to sign up for my Free Resource Library to grab my meal planning printables. You will also get access to lots more printables all completely free for you to print out and enjoy!
Follow me on Pinterest for more recipes and meal planning inspiration.