Is the mess in your house causing you stress? These helpful tips will teach you how to clean your messy home when you are overwhelmed.
This post may contain affiliate links. You can read my full disclosure here.
Love free printables? You can sign up for my Free Resource Library. It has free planner printables, plus wall art quotes to decorate your home.
It can be so frustrating dealing with a messy home especially if you don't have time to clean. A messy home can happen for many reasons-work, kids, responsibilities, and just not enough time in the day.
Regardless of how the mess happened, it has to be dealt with. As much as you may want to avoid it, it's there staring you in the face every day just taunting you to do something about it.
You may like:
---
"The objective of cleaning is not just to clean, but to feel happiness living within that environment." Marie Kondo
---
Why is cleaning so hard?
It can definitely be tough especially as a mom when you feel like you are being pulled in a hundred different directions every day. The easy answer is to suggest that you start forming better habits. Start daily cleaning routines because they work.
However, this doesn't deal with the huge mess that is in front of you right now. What you need now is motivation and 1-2 hours (depending on how big your house is and how large the mess is) of uninterrupted cleaning time.
Once the mess is taken care of, then making changes to how you approach your cleaning tasks will help prevent clutter from building up and getting out of control in the future. The ultimate solution to dealing with cleaning overwhelm.
How to Clean a Messy Home When You're Overwhelmed
Make a Plan
Decide when you can set a time to start cleaning your home. Find what works for you and schedule it on your calendar. Make sure you won't be interrupted so have Dad take the kids to the park or put on your kid's favorite Disney movie. (or better yet, you can have everyone pitch in to help get the house clean.) Either way, having a plan in place makes everything go much more smoothly.
Before you begin, make sure you check your cleaning supplies to see if you've run out of anything and stock up prior to your planned cleaning day. Here are a few cleaning supplies to have on hand:
all-purpose cleaner
toilet cleaner
furniture polish
broom
vinegar (I use it to clean my windows and mirrors)
baking soda (A great carpet deodorizer- just sprinkle, let sit for a few minutes, and vacuum)
Pick up Clutter First
Before you start your actual cleaning, grab a basket for items that need to be put back in their proper home. Also, a trash bag to pick up anything that needs to be tossed.
To save time, take care of items after your cleaning is complete. This is a great job for younger kids to help with.
You may like:
Focus on one room at a time
Once the clutter has been picked up. It's time to start focusing on cleaning your home. I would suggest focusing on one room at a time. As with any big project or task, I have found that it's easier if you concentrate on small areas to avoid overwhelm. Just focus on the room you are doing and once completed move on. As you complete each room it will help motivate you to finish the rest.
Have pets and want a better way to keep your home clean?
Stay motivated
When dealing with a messy house, you may find a little extra motivation is needed to keep going. If this is true for you, turn on some music, a podcast, or an audiobook.
If you are still struggling, try setting a timer to keep you motivated. You can set it for an hour (try a power hour cleaning!) or break up each task into 5-10 minutes so you don't get distracted Plus, it helps you stay focused so you're getting the job done faster.
You May Like:

Start cleaning your home
Kitchen
Wash dishes or empty dishwasher
Wipe down the countertops
Clean light fixtures and light switches
Dust all surfaces
Wipe down appliances
Sweep and mop your floors
You may like:10-Minute Kitchen Cleaning Checklist
Bedrooms
Replace your dirty sheets with clean ones and then make your bed
Dust your nightstands and dressers
Wipe down your light fixtures and light switches
Straighten any items that are out of place
Put any dirty laundry laying around in the hamper
Sweep and mop or vacuum
Living Room
Fold blankets and fluff pillows
Dust all surfaces
Wipe down light fixtures and light switches
Straighten anything out of place
Sweep/mop or vacuum your floors
Bathroom(s)
Wipe down all counters
Clean mirrors
Clean the bathtub and/and or shower
Scrub the toilet
Dust all surfaces
Sweep and mop
Empty any trash cans
Put out clean towels
Related:
Form cleaning habits to keep your home consistently clean
Now, that you have tackled the huge mess, it's time to start working on building habits to help you stay on top of your cleaning so that these huge messes don't happen as often. Life is busy, but being prepared will help you avoid the mess and the overwhelm that comes with it.
The best way to form better cleaning habits is to start using a cleaning routine. Cleaning routines are one of the best things that I have done to stay on top of my daily cleaning tasks. They have definitely saved my sanity over the years.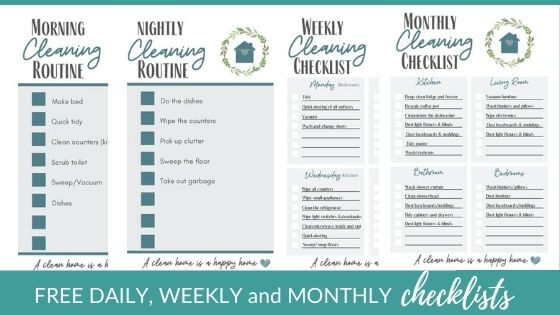 Before cleaning schedules, I would spend my entire Saturday morning cleaning, which I would dread the entire week. But, now just taking a few minutes to clean every morning and doing a quick pick-up after dinner has helped keep my home clean on a consistent basis.
Learn how I keep my home clean all the time:
Hopefully, these tips have helped encourage you to take back control of your home and simplify your cleaning tasks. Remember, habits take time to form but once they do, you will have a cleaner home that you can be proud of.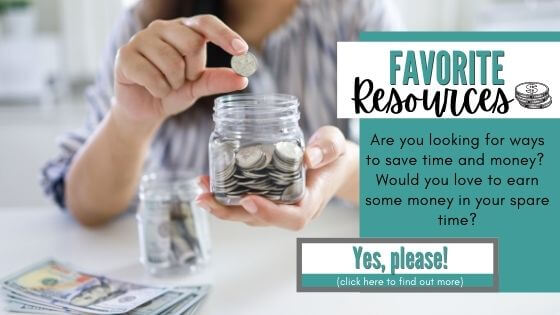 Before you go, don't forget to sign up for my Free Resource Library. You will find planner printables to keep track of all your everyday tasks, cleaning printables, wall quotes, and more.
Follow me on Pinterest to find more cleaning tips and inspiration.