Are you having trouble getting your teenage son to clean their room? Learn 7 ways to get a teen boy to clean their room today with less battle.
This post may contain affiliate links. You can read my full disclosure here.
Love free printables? You can sign up for my Free Resource Library. It has free planner printables and I've recently added new cleaning checklists for daily, weekly, and monthly cleaning routines.
There's no doubt about it, teen boys can be messy, and trying to get them to clean their bedrooms can feel impossible some days.
Or course, you can take the easier route and just close the door and avoid the mess. But, what if half-eaten food and dirty dishes are left out for days or weeks? The last thing we want to do is encourage critters into our home.
So, instead of avoiding the mess, we encourage them to clean up only to be met with resistance-
"I'll do it later, what's the big deal?"
"It's not that messy….."
Many teens don't care or understand why it's so important that they keep their rooms clean. I don't know how many times I've been questioned about the reason for making the bed when it's just going to get messy again.
Despite their protests, encouraging good cleaning habits in teen boys will teach them responsibility, accountability, and self-discipline. These are essential life skills that all teenage boys should have.
7 Ways to Get a Teenage Boy to Clean Their Room
Set Expectations
Make sure to set expectations so your teen knows what they need to focus on to get their room clean. You can help them by making them a to-do list. Just as we can get overwhelmed when cleaning our homes, teen boys can have a hard time even knowing where to start when it comes to cleaning.
When making a list, keep it small and just stick to the necessities, like picking up dirty dishes, emptying the trash, making the bed, vacuuming or sweeping the floor, and putting dirty clothes in the laundry basket.
Then, make a weekly to-do list so they are reminded to keep doing these jobs on a weekly basis. In this list, you can add in dusting surfaces and changing and washing the sheets. Make sure to pick a day of the week that the tasks need to be completed so it holds them accountable.
Give Consequences
Teens need to know what is expected of them but also what the consequences will be if they don't do what is asked. If you let things slide here and there, they won't take you seriously and you will find yourself constantly reminding them to complete the task. Get in the habit of only asking once and make sure you are following through.
Be a Good Example
If you want your teen boy to clean their room, then set a good example. Don't leave counters cluttered in the kitchen and stuff all over the family room because that's just showing your teenage boy that you are okay with the mess in your main living spaces but not in his room.
Obviously, this is confusing for him. So, if you are expecting him to clean up then make sure you are putting in the effort to keep your home clean as well. If you are having trouble getting motivated to clean your home because it's too overwhelming, try using a cleaning routine.
Once you start using daily cleaning habits, it will become easier to keep your own home clean as well as show your teen boy the importance of keeping a tidy house.
You may like: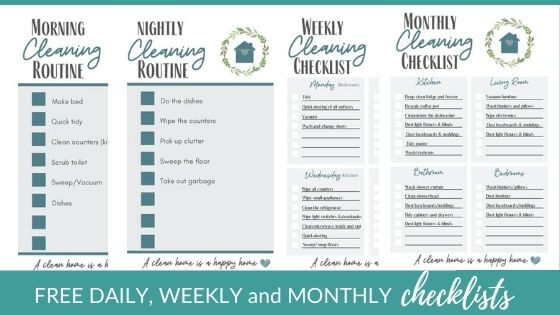 Offer Compensation
Depending on whether your teen gets an allowance or is expected to contribute to the household chores. It may be beneficial to offer additional compensation to keep their room clean.
An optional reward would be to let them redecorate their room if they show you that they can keep it consistently clean for a certain amount of time (your choosing). You may find that once they have been able to decide how they want their room to look, they may be more inclined to keep it tidy. So, it actually becomes a win-win.
Make Compromises
Remember you need to be okay with good enough. How they clean their room may not be up to the standard you choose to keep your house clean but that doesn't mean it's the wrong way. Be happy that they are making the effort and praise them for their hard work.
Motivate Them
I don't know anyone who truly loves to clean their home. So, we all need a little motivation to keep our homes clean. You can help motivate your teen by offering helpful tips to make the job more tolerable. They can set a timer to see how fast they can get their room clean, and listen to a podcast, audiobook, or music from their favorite playlist.
Make Cleaning Easier
You can help your teen out by making cleaning easier for them. Imagine how overwhelmed you would be if you didn't know where to put things in your home. Just as we use storage bins in our pantry or closet to stay organized, we should be offering the same helpful options to our teen.
This can be as simple as making sure they have a laundry basket in their room. As well as storage bins, a shoe organizer for their door, shelves, and hooks. Making sure that they have storage space so they know where everything goes will make it easier when it comes time for them to clean.
You May Like:
Ultimately, the most important thing you can do is to find what works for you and your teen. As you know time goes by way too fast, one day they are small, and you blink and they are young men. So teach them and guide them but also pick your battles because the last thing you want to do during their teen years is spend all your time nagging them about a clean room.
Do you love free printables? You can sign up for my Free Resource Library where you will find planners, cleaning schedules, and wall quote printables. All free to print and enjoy.
Don't forget to follow me on Pinterest for more cleaning motivation.