Are you tired of your messy home but don't have the motivation to clean? These 20 quick cleaning hacks when you hate to clean will have your home spotless before you know it without much effort.
This post may contain affiliate links. You can read my full disclosure here.
Love free printables? You can sign up for my Free Resource Library. It has free planner printables and I've recently added new cleaning checklists for the morning, nightly, weekly, and monthly cleaning routines.
Let's be honest, we want our home to be clean and tidy, but for the majority of us (myself included), cleaning is not something we enjoy doing. After a busy day, all we want is to put our feet up and spend time with our family.
The very last thing we want to do is put a load of laundry in, wash dishes or clean the bathroom. Especially when we know it will all have to be done again tomorrow. It's a thankless, never-ending job so it's no surprise that we lack the motivation to do it on an everyday basis.
The good news is that there are ways to make cleaning your home tolerable because let's face it, a clean home is not only necessary for our physical health but our mental health as well.
Over the years, I have learned to develop cleaning habits so things don't build up causing me unnecessary stress. Honestly, one of the best things I have done is to establish morning, nightly, weekly, and monthly cleaning routines to make my life easier.
Instead of letting everything pile up, I do a little bit every day and that has made a huge difference in keeping my home consistently clean which has helped me avoid cleaning overwhelm.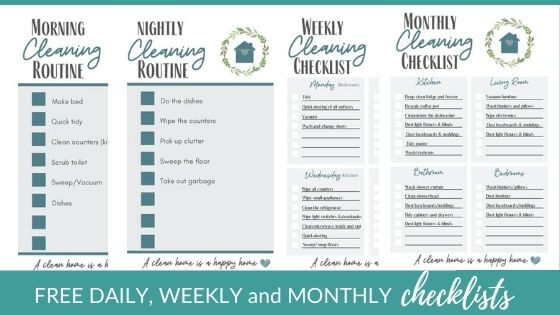 However, as much as I love my routines, I will be the first to admit that there will be days when I fall behind on my cleaning. Life can be crazy, we all know this and sometimes we just want quick cleaning hacks that will get the job done fast.
This is why I have decided to share some secrets I have learned along the way to keep my home clean every day. So, if you are lacking the motivation to start cleaning your home, then hopefully these 20 quick cleaning hacks will encourage you to tackle that mess in your home today.
Before you start cleaning, make sure to have all your cleaning supplies on hand so you are not running back and forth between rooms wasting time. Having the right tools handy is important especially when you hate to clean.
A few helpful cleaning tools:
20 Quick Cleaning Hacks When You Hate To Clean
Family Room/ Living Room Cleaning Hacks
Never leave a room empty-handed
Honestly, one of the best cleaning hacks ever is to not leave a room empty-handed. Why? Well, imagine how much faster you could wipe down your counters, or vacuum your floors without having to spend that time picking up clutter first.
So, the next time you leave a room, look around. Grab empty cups, plates, or toys and take them out with you and have your family do the same.
Invest in Storage Bins or Baskets
Another helpful hack that I used especially when my boys were young was to make use of storage bins or baskets. We used them for everything (I still do) But, keeping one in each room especially in your main living space helps to control the toy clutter.
After my boys were done playing, it was as simple as picking up toys and throwing them in the basket until they could be put back in their proper home.
Freshen Your Carpet
You can easily freshen your carpet with baking soda. Just sprinkle a small amount over your entire carpet and let it sit for about 30 minutes. Then vacuum as usual to absorb any odors. It also makes your carpet feel really soft.
Helpful Kitchen Cleaning Hacks
Garbage Bag Storage
Looking for an easy way to always have your garbage bags on hand? Then, simply place extra bags at the bottom of your trash bin to save time the next time you take out your garbage.
Quick Tip: Do you frequently deal with a leaky garbage bag? Place newspapers at the bottom of your garbage instead. Then, place a command hook on the back of your garbage can and hang any small bag on the back with a roll of garbage bags inside for easy access. They will still be handy but you won't have to deal with a messy situation and waste garbage bags if there is a leak.
Clean while you cook
If you don't have the time to start a cleaning routine (although you should try…they are life-changing) then, keeping your home clean when you don't have the time or motivation to do so, is all about multi-tasking. And as a mom, this is second nature to us.
So, to take advantage of every useable moment in a day, clean your kitchen while you cook dinner, prepare lunch, or make breakfast. You get the point. You are in the kitchen anyway, so take the time to wipe the counter or wash dishes. I will even use this time to tidy a drawer, cupboard, or clean out the fridge.
Don't forget to soak any dishes or pans while you are preparing/eating dinner so they will be easy to wash or rinse later.
Helpful Money-Saving Tip: Instead of constantly replacing your old sponges, throw your damp sponge in the microwave for 2 minutes to disinfect.
Clean Your Microwave Fast
Skip scrubbing stubborn caked-on food inside your microwave and use this clever hack to get your microwave squeaky clean in no time.
Simply, fill a bowl with water and a tablespoon of vinegar and microwave on high for about 5 minutes. The steam from the water will have loosened up all the food particles and you can wipe out your microwave with ease.
Deal with Mail Right Away
This is another cleaning hack that just makes life simpler. Mail is one of the biggest culprits of clutter. It comes into the house, you throw it on the table telling yourself you will deal with it later, and before you know it you have over a week's worth of mail to go through and no time to do it.
Eliminate the stress and this time-consuming task by simply dealing with it when it enters the home. I have found using a mail organizer has really helped me stay on top of my mail.
Keep appliances off counters
Obviously, your coffee pot or toaster is fine if you are using them every day. But, try to keep other small appliances that are not being used frequently stored away in a cabinet to reduce the amount of clutter on your countertops.
Think how much quicker it will be to wipe down your counters without moving your appliances out of the way. Plus, by storing them away, your kitchen will look so much cleaner.
Have pets and want a better way to keep your home clean?
Take Shoes Off at the Door
Whether you enter your home through the kitchen, mudroom, entryway, or living room, always keep a rug or mat at the door and remove your shoes so you are not tracking dirt throughout your home.
This doormat is the perfect solution for encouraging everyone to remove their shoes to keep a cleaner home.
Laundry Room Hacks for a Cleaner Home
Wash in Cold Water
I discovered years ago, that simply washing my clothes in cold water eliminated the need to have to sort them. When it comes to laundry, I think that even the smallest things to save a little time and energy is helpful.
Helpful Tip: Add a cup of baking soda in with your wash for whiter, cleaner clothes.
Get Out Wrinkles Fast
Did you forget to take your laundry out of the dryer and now your clothes are wrinkled? I've been there…a lot. But, no worries, you can get the wrinkles out without grabbing your iron or steamer by simply throwing them back in the dryer. Just grab a damp cloth and put it in with your wrinkled clothes for about 20 minutes.
Bedroom Cleaning Hacks
Make Your Bed
This is probably an obvious hack but making your bed every single day can make your room look and feel cleaner. Plus, doing this one small thing when you get up, will set the tone for a more productive day.
Get more done every day with these 12 Simple Ways to be More Productive at Home
Make sure everything has a place
This hack is helpful anywhere in your home but if you have small children then toy clutter is everywhere. So, in order to stay on top of this, make sure everything has a place.
Storage Cubes are the perfect solution for this. They can hold a lot of items, can be labeled, and are easy to pull out for small hands. Your kids will be much more likely to take care of their toys if they know exactly where they belong.
Hacks to Clean Your Bathroom Fast
Use my 5-minute Bathroom Clean
I don't know about you but cleaning the bathroom is at the very top of my list of the worst places to clean in my home. (I'm guessing it's up there pretty high for you too). But, luckily I have found a way to get the job done fast with this 5 Minute Bathroom Clean.
Multi-tasking for the Win
Giving your kids a bath? Take this time while you are in the bathroom with them to wipe down the sink, replace hand towels or give the toilet a quick swish.
Keep a dish wand filled with vinegar and dish detergent in your shower to give it a quick scrub while taking a shower.
Use a Daily Cleaning Shower Spray
You can save time cleaning your shower by using a daily shower cleaning spray to prevent soap scum and grime from building up. Check out this great DIY Daily Shower Cleaner Recipe from One Good Thing By Jillie.
Even More Cleaning Hacks to Make Your Life Easier and Home Cleaner
Declutter
Getting rid of clutter is probably the number one thing that you can do to make your life easier and your home cleaner. Take a few minutes and look around your home. Even the cleanest of homes have some form of clutter, whether it's books overflowing on bookshelves you haven't read in years or appliances taking up space on your countertops. Clutter is everywhere.
Decluttering your home reduces the number of things you have to move to clean under. Think of how much time you could save by not having to spend an hour dusting and moving all those items taking up valuable space in your home.
When you declutter you are only keeping the things in your home that are important to you. Less stuff means fewer things to clean. If you hate to clean then decluttering should be at the top of your list of things to do.
Learn more ways to Declutter your home:
Clean in 10-minute intervals
You would be surprised how much you can actually do in 10 minutes. You may be able to fold a load of laundry, wash dishes or even clean that messy cabinet you've been putting off.
This hack works great for me on days that I have zero motivation to get any cleaning done. I will write down my must-do cleaning tasks and then throughout the day I will take a break from what I'm working on and clean for 10 minutes.
Looking for more quick cleaning tips?
Make Cleaning Fun
You probably think I'm crazy. Cleaning and fun in the same sentence…impossible. But, hear me out. Anything is what you make of it and you know you have to clean so why not find ways to make it somewhat enjoyable.
Start a Cleaning Playlist
This is a great way to find a little cleaning motivation. Make a playlist of all your favorite songs, put some headphones on and get that cleaning done.
Set a Timer
When I'm feeling unmotivated to start cleaning my home, one of the first things that I will do is set a timer. Since I'm a fairly competitive person, the idea of trying to beat the timer helps me to get up and move.
I'm not sure if it makes cleaning more fun, but it definitely challenges me to get it done in a shorter amount of time which is a win for me.
You may like: How to Speed Clean Your Home in 30 Minutes or Less
Listen to an Audiobook or Podcast
You can find podcasts on Spotify, Apple Podcasts, or Google Podcasts. If you are looking for good audiobooks to listen to then check out Audible Plus.
Sign up today to get a free 30-day trial to access thousands of audiobooks, podcasts, Audible Originals, and more.
Get Everyone in the Family to Pitch in
As moms, we put so much pressure on ourselves to be everything and do everything. But, we have to remember we are not the only ones making the mess and if everyone helps out then the cleaning can get finished much faster.
It's true keeping a clean home can sometimes be overwhelming. We want a clean home but if we don't enjoy the cleaning process then it can be hard to stay motivated to keep it that way. Hopefully, these 20 quick and easy cleaning hacks will help you the next time you clean your home.
Keep your home consistently clean:
Do you love free printables? You can sign up for my Free Resource Library where you will find planner, cleaning schedules, and wall quote printables. All free to print and enjoy.
Don't forget to follow me on Pinterest for more cleaning motivation.