If you are struggling to pay your bills this month, this guide will help you get back on your feet. Learn 5 Things to Do When You Can't Pay Your Bills.
This post may contain affiliate links. You can read my full disclosure here.
Bills are a part of life. We may not want to pay them but regardless they need to be paid. Unfortunately, sometimes circumstances can make paying our bills difficult. Job loss, a cut in hours, a pay cut, or being overextended are all reasons we may fall behind on our bills.
Not being able to pay the bills, can make you feel embarrassed and alone. But, you are not alone. Millions of people deal with this situation. It's definitely hard, but there are many things that can help you get back on your feet. You may have to make some sacrifices and cut back on your spending to prioritize essential bills temporarily until your financial situation improves.
Despite how stressful the situation is, these options can help you through this difficult time. Here are 5 things you should do when you can't pay the bills.
What to Do When You Can't Pay the Bills
Make a Plan
The first thing you should do when money is tight is to make a plan. You need to stay on top of your finances so you don't get too far behind. It's definitely scary when you can't pay the bills but the last thing you should do is ignore the situation because it will only end up getting worse.
Look over the amount of money that you have coming in and compare that with your expenses. This will give you a better idea of where you can make adjustments to your finances.
Determine what bills matter most
When your income is reduced, it's important to determine what is considered to be the most essential bills. Prioritize what bills should be paid first such as your mortgage or rent, utilities, and food.
Mortgage or Rent– You need shelter there is no way around it. It's one of the most essential bills.
Food- Obviously, another essential bill. We need to eat to survive.
Utilities- Paying your gas bill or electricity allows you to cook and keep warm. These are essential expenses.
Look over the rest of your bills. Would you at least be able to pay the minimum payment on some of your bills? If not then it may be time to start calling your creditors to see if they can work with you.
When calling a company, make sure you are honest and polite when explaining the situation to them. Ask if it's possible to receive an extension or if they will waive late fees. Make sure to discuss options for repayment so they know that you are serious and want to get caught up as soon as you can.
Find ways to Cut Costs
It may seem impossible to find additional ways to cut costs when you are dealing with a reduced income. Finding ways to cut costs are imperative though so you don't fall too far behind. Take a minute to look over your expenses again to see if there are any places you can cut back on.
Can you reduce your grocery budget?
Cutting back on how much we spend on groceries is probably one of the easiest things that we can do when trying to save money. Most of the time, people don't even realize just how much they are spending on food every week.
Some of the most effective ways to reduce your grocery budget are:
Making a few small changes in the way you plan and shop for your groceries can help you reduce your grocery bill every month. An easy way to get some extra money that can be used to catch up on your bills.
Looking for more ways to save on your groceries?
How much cable do you really watch?
If you are paying for hundreds of channels that you're not even watching, then it may be time to cut the cord. Cable can be really expensive and unnecessary especially if you are not taking advantage of it. When you are trying to cut costs, cable should be one of the first things you consider especially when services such as Netflix, Hulu, or Amazon Prime are more affordable options.
Are there subscriptions/memberships you could cancel?
These days it feels like there are subscriptions to everything- music, movies, magazines, and subscription boxes are a few examples. And while they may be fun and convenient, when you are trying to cut costs looking for free options might be a better alternative.
Use free music services instead.
Borrow from the library and cancel magazine subscriptions
When it comes to cutting costs, always ask yourself if you need it because it will teach you to be more mindful of your spending.
Make some extra money
If you've looked through your budget and can't find anything else to cut, then it may be time to look for ways that you can make some extra money. Look for a part-time job, try a side hustle or declutter and start selling your stuff.
Part-time Jobs
If you are looking to bring in a little extra income every week, check out sites such as Indeed, Snagajob, or Monster. Check local newspapers and Facebook for job opportunities in your area.
Some ideas for part-time jobs include:
Retail jobs- (cashier, stocker, or floor associate)
Restaurants- (server, dishwasher, hostess, or prep cook)
Hotel- (front desk, cleaning staff, kitchen help)
Side Hustles
Side hustles are a great way to earn some extra money especially if you want to work from home. I have used side hustles for more than 10 years to help pay for vacations, pay down debt, and build up our savings.
Some ideas for side hustles include:
Survey Sites– Obviously this won't make you a ton of money, however, they are easy to do and can be done while you are doing other things like watching television. Swagbucks is one of my favorite reward/survey sites. Once you join, you can search the web, play games, watch videos, and complete surveys to earn Swagbucks, which can be redeemed for Amazon, Walmart, and many other gift cards.
Crowdsourcing Marketplace- Amazon Mechanical Turk is a crowdsourcing marketplace that I have used for many years to make extra money. As a worker, you complete microtasks for requesters that can be anything from surveys, to research studies, transcription, and data entry. In order to make the most money, search for Mturk Facebook groups that post the best-paid hits, and helpful tips.
Blog- Blogging is one of the best ways to make money online. It's not an instant money-maker but if you are persistent and motivated, you can earn a good income. If you are interested in starting your own blog, the first thing you need to do is find a reputable hosting company. I use Lyrical Host and love it!

Click here to find out why I love Lyrical Host and why I recommend them to anyone wanting to start a blog.
Sell your items
One of the best ways to make money fast is to sell your old stuff. Start decluttering your home and sell your used items on places like eBay or Facebook Marketplace.
You may like:
Prevent it from happening again
Life can definitely throw us curveballs every now and then, but the best way to deal with it when it happens is to be prepared.
To help this from happening again, you need to set up a budget. Many people try to avoid starting a budget because they think it will be too constricting. But, it actually lets you know where your money is going so you can stay on top of your financial situation.
One of the most important benefits of budgeting your money is understanding needs vs. wants. This encourages better spending habits. Learning to live within your means helps you avoid overspending that can help you reach your financial goals.
Once you've created your budget, and given your money a place to go every month, it's time to start setting goals. One of the best things you can do is to build an emergency fund. By having an emergency fund you will be prepared if this situation ever happens again.
It can be really frustrating when you can't pay your bills. But, you need to keep reminding yourself that it's only temporary. Things will improve. It may seem bleak now, and you may be feeling discouraged about the state of your finances but realize you will get through this. Just focus on making little changes every day to improve your situation and things will get better.
---
"Anyone can hide. Facing up to things, working through them, that's what makes you strong."– Sarah Dessen
---
Looking for more ways you can save money?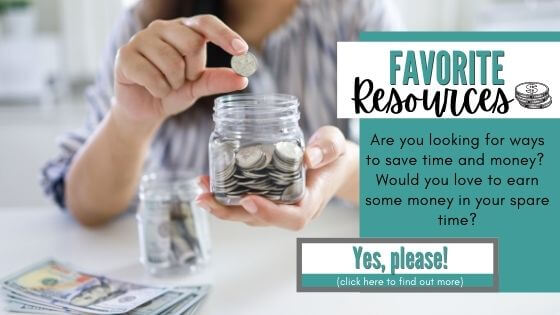 Don't forget to sign up for my Free Resource Library where you can find meal planning, shopping list printables, and more ways to organize your life to save money.
Follow me on Pinterest for even more money-saving tips.