Are you struggling to keep your home clean with pets? Here are 13 easy ways to keep your home clean when you have pets.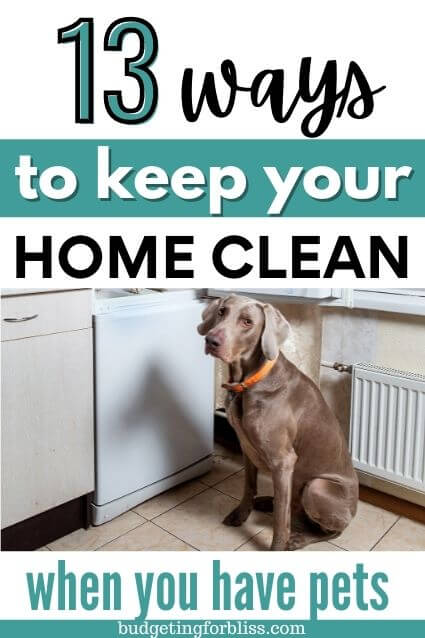 This post may contain affiliate links. You can read my full disclosure here.
Love free printables? You can sign up for my Free Resource Library. It has free planner printables and I've recently added new cleaning checklists for the morning, nightly, weekly, and monthly cleaning routines.
While we all love our furry friends, what we don't like is the smell, hair, and dirt that they leave behind. It can definitely be a challenge keeping our homes clean with pets.
We recently went from a one-cat home to a two-cat and one-dog home. Needless to say, there has been an adjustment period since having a clean home is so important to me. I have spent years, establishing cleaning habits and morning, nightly, weekly, and monthly cleaning routines to make my life easier.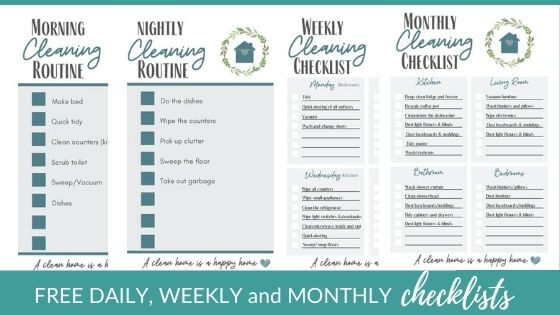 So, I knew I needed to find a way to enjoy our pets without feeling stressed by the mess they create. Here are some of the best tips that I have discovered to keep our home clean with pets and since they have been such a huge help to me, I thought I would share them with you in the hopes that you find them helpful as well.
13 Ways to Keep Your Home Clean With Pets
1. Groom your pets frequently
If you have allergy sufferers in your home (we have a couple), then one of the best ways to keep the pet dander down is to make sure you are grooming your pet regularly. You can do this by:
brushing your pet often (just remember it's best to do it outside if you have allergy sufferers in your home.)
bathing your pet to keep them smelling fresh and clean. This will not only remove dirt but allergens. Just be careful not to bathe your pet too frequently as it can dry out their skin. We like to use cleaning wipes to remove dirt and odor in-between bath times.
To make things easier, you can set up a grooming station. In our home, we have a bench near our door that holds cleaning wipes, towels, and a brush. You can also include some treats if you would like.
2. Wash blankets, beds, and toys often
Make sure to wash your pet's blankets, toys, and beds frequently to kill any odors that are left behind.
3. Wipe paws when they come in from outside
Dogs are notorious for playing in puddles or rolling in the dirt. You can keep an old towel or cleaning wipes by the door to wipe up dirty paws.
4. Clean up messes immediately
Accidents happen so make sure to invest in an enzyme-based cleaner and keep it handy. Hand-held steamers work well for this. Cleaning up messes right when they happen reduces the chances of stains and pet odors.
5. Lint rollers are a must
Every pet owner should have a supply of lint rollers on hand to remove hair from furniture. It also helps reduce the smell that can cling to fabrics. It's especially useful on blankets, throw pillows, and lamps.
6. Get a tray for food and water
We picked up an inexpensive boot mat at Walmart to keep water messes and food contained. It makes clean-up a breeze.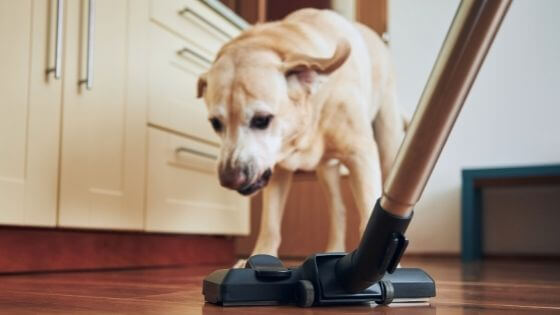 7. Vacuum and mop frequently
Invest in a good vacuum because you will be vacuuming…. a lot. I try to vacuum daily to stay on top of all the pet hair and dirt. We also like keeping a Swiffer mop on hand to quickly clean up messes on our laminate floors.
If you want to make your life easier and can afford to invest in a robot vacuum, most can be programmed to run while you are asleep or at work saving you time and energy.
A Quick Tip: To keep your carpets smelling fresh and clean, sprinkle baking soda on them to deodorize. Then, simply wait a few hours and vacuum it up.
8. Get an air purifier
Air purifiers are something that should definitely be considered when you have pets in the home especially if you have allergy suffers.
Since they filter the air in your home, they help control the dust and allergens reducing symptoms. We recently purchased this one for our home and it has helped so much.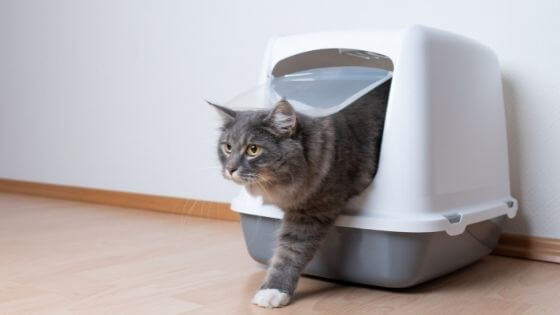 9. Clean the litter box daily
Try and clean the litter box daily so it doesn't start to smell. Also, if you have more than one cat in your home, it may help to get cat litter that is made specifically for multiple cats to better neutralize the odor.
Quick Tip: Just as you use it on your carpet to keep them fresh, sprinkle baking soda in the litter box when the smell lingers after it's been cleaned.
10. Keep wet pets contained to one area
If you have pets you know the smell after they come in from outside when it's wet, not to mention the mess it can make. So, the best thing to do is to keep them contained in one area such as a laundry room, mudroom, or kitchen until they dry off completely.
11. Place a rug in front of the litter box
If you deal with a cat that's constantly throwing litter out of its box or just tracking it across the floor when they leave the litter box, then it's time to get a rug.
Keeping a rug in front of the litter box has prevented us from constantly cleaning up loose litter on the floor. I also invested in this inexpensive vacuum that I keep near the litter box to stay on top of the mess.
12. Have a place for everything
I'm all about controlling the clutter in my home, keeping a basket to contain all the toys has been a huge help in keeping the clutter under control.
We also use an over-the-door shoe organizer that has everything our pets need such as toothpaste, brushes, treats, leashes, etc.
Learn more ways to Declutter your home:
13. Open your windows
Lastly, letting the fresh air in is one of the best things you can do to help keep your home smelling fresh and clean, especially with pets when odors can linger. A little bit of fresh air can go a long way in helping eliminate some of the odors in your home.
There's no doubt about it, pets are a lot of responsibility but they are also a blessing and we couldn't imagine our lives without them.
Hopefully, these tips have been helpful to you to make cleaning your home easier when you have pets.
Find more ways to keep your home clean:
Do you love free printables? You can sign up for my Free Resource Library where you will find planner, cleaning schedules, and wall quote printables. All free to print and enjoy.
Don't forget to follow me on Pinterest for more cleaning motivation.