Find out how you can deep clean your home this fall by using a fall deep cleaning checklist. Get your home sparkling clean just in time for the holiday season.
This post may contain affiliate links. You can read my full disclosure here.
Love free printables? You can sign up for my Free Resource Library. It has free planner printables, plus wall art quotes to decorate your home. Sign up here.
Although, we hear a lot about spring cleaning and getting your house back in order after the long, cold winter. We don't often hear about fall deep cleaning. Maybe because we are so focused on back to school and preparing for the holidays. But, actually fall is the perfect time to deep clean your home. It reminds us to clean the things we may have let slide during the summer.
I use morning, nightly, weekly, and monthly cleaning schedules to stay on top of my cleaning chores however when summer rolls around I will admit I'm not as diligent as keeping my house clean as I am through the rest of the year.
You may like: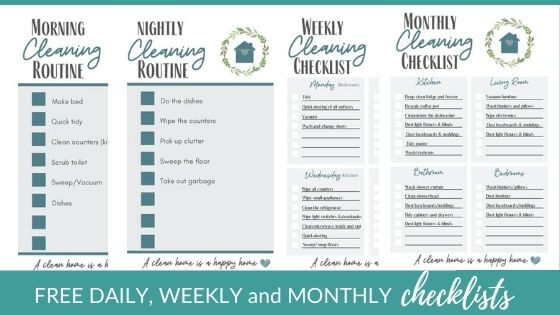 Since summer is my absolute favorite season and any chance I can get outside to soak up the sun, garden, or read a good book on our back deck I take it because I know that all too soon the cold weather will be back.
Even though it's important to try and stick to your cleaning routines to stay on top of your cleaning, life happens and there are always going to be times when you are finding it difficult to keep your house clean.
Related: How to Clean a Messy Home When You're Overwhelmed
During this time, I will speed clean my home or use a power hour to catch up. But, by the end of August as my kids are heading back to school. I realize that it's time to start thinking about deep cleaning my home for fall.
My goal is to use the months of September and October to get my home deep cleaned before it starts to get hectic around the holidays. While I adore the holiday season, it can get stressful at times. So, getting all the big cleaning done beforehand, allows me to spend more time focusing on family and the holiday festivities.
As you will see, my fall deep cleaning schedule is very similar to my spring cleaning as it concentrates on areas that have been overlooked such as under the furniture or on top of cabinets.
You may also like:
How to Deep Clean Your Home
When thinking about deep cleaning your home, no matter what time of year it is you need to sit down and make a plan of attack. I break it down from room to room to help you stay on task. Find what works for you by choosing where to start. You can focus on one room a day or divide the tasks in each room over a week.
Before you start cleaning there are some cleaning supplies you will need to make your deep cleaning go more smoothly.
All-purpose cleaner
Furniture Polish
Toilet cleaner
Vinegar- use to clean your mirrors and windows
Baking soda- works as a great carpet deodorizer- just sprinkle, let sit for a few minutes, and vacuum up
Broom
Deep Cleaning Tips
Clear the clutter
If you want to make deep cleaning your home quicker and easier, the best things you can do is to declutter first. It can be a challenge trying to deep clean when you are constantly moving piles of stuff to clean under.
Read more:
Clean from top to bottom
When you begin cleaning your home, make sure you are always cleaning from top to bottom. This will allow all the dust and dirt to fall to the floor so you are not constantly going back to reclean what has already been done.
Have pets and want a better way to keep your home clean?
Staying motivated
Sometimes, it can be hard to stay motivated to clean when there are so many more appealing things to do. But, it helps when you can listen to music, an audiobook, or podcast. Before you start your deep clean, make a playlist of all your favorite songs or you can ask Alexa to play something to keep you motivated.
Fall Deep Cleaning Checklist
Print out my free fall cleaning checklist below to help you stay on task and keep you motivated as you deep clean your home.

Kitchen
Dust all corners for cobwebs
Dust on top of cabinets
Wipe down the top of the refrigerator
Wipe down outside of cabinets
Wash walls and baseboards
Clean windows, windowsills, and doors
Dust blinds
Wash curtains
Wipe down light switches and light fixtures
Remove items from cupboards and wipeout
Clean out drawers and wipe down
Wipe refrigerator down and pull out shelves and clean
Deep clean oven
Clean inside of the microwave
Deep clean dishwasher (wipe down with vinegar to remove scale and then put a cup of vinegar on the top rack and start dishwasher)
Pull out appliances and sweep/mop behind
Vacuum and mop floor

Living room/Family Room
Dust corners for cobwebs
Dust wall art and pictures
Dust the blinds
Dust television and any media stands or shelves
Dust plants, light fixtures, and furniture
Clean doors and light switches
Clean walls and baseboards
Wash windows
Wash curtains/drapes
Clean throw blankets and pillows
Spot clean cushions
Remove sofa cushions to vacuum
Vacuum carpet or mop floors
Move all furniture and vacuum underneath
---
Don't forget to check and change the batteries in your smoke alarms when doing your fall deep clean.
---

Bathroom
Clean out any cupboards or drawers and wipe down
Clean out the medicine cabinet
Scrub toilet
Clean mirrors
Clean shower including showerhead
Wash shower curtain
Replace shower liner
Wash bathroom curtains
Wash bath mats
Dust the blinds
Wipe down walls and baseboards
Clean windows/blinds
Sweep and Mop
You may like: How to Clean Your Bathroom in 5 Minutes

Bedrooms
Dust furniture and light fixtures
Clean windows/windowsills
Dust blinds
Wipe down walls and baseboards
Wash all bedding and pillows
Wash curtains
Move and vacuum beneath the furniture.
Vacuum carpets/mop floors
Switch out your summer clothes with fall/winter clothing
Despite how you feel about cleaning, it still must be done. You can make your life easier by implementing simple and effective cleaning routines in your day so your home stays consistently tidy and clean.
But, even when you are staying on top of your cleaning tasks, it's good to give your home a deep cleaning and fall is the best time to jump right in and get it done. That way you are prepared when the holidays roll around so you are spending more time with the family and less time cleaning.
Related:
Click here for your Free Fall Cleaning Checklist Printable
You can sign up for my Free Resource Library to find planner, cleaning schedules, and wall quote printables. They are all free for you to print out and enjoy.
Don't forget to follow me on Pinterest for more cleaning motivation.