Looking for quick dinner ideas that are easy on the budget? Try these 28 family-friendly dinner ideas that cost $5 or less to stretch your food budget.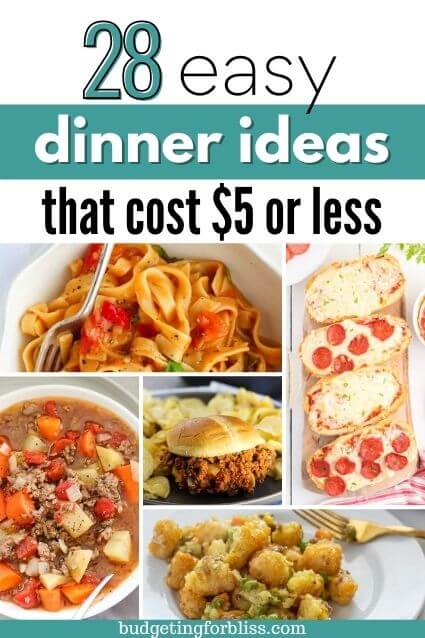 This post may contain affiliate links. You can read my full disclosure here.
Love printables?

Sign up here to access my free resource library

that has meal planning printables such as shopping lists and favorite meal worksheets.
In the last few years, I've been on a mission to cut our grocery bill in half and see how much money I could save by planning out our meals and finding different ways to save on groceries without the use of coupons.
But, lately, with the rising cost of groceries, it's not only a challenge but a necessity. Many families who are trying to live on a tight budget are struggling to find inexpensive ways to make their dollars stretch further.
Honestly, just looking at the price of eggs this week made me wonder if it was even possible to try to find frugal dinners that can feed a family of four for only $5. But, after looking over my meal plan for the week, I realized that it can be done with a little time and effort.
Here are some of the things that I do to make our grocery budget stretch so that 5 dollar dinners are possible.
How to Make Your Grocery Budget Stretch Further

Monthly meal planning
My number one tip to save money on groceries is to meal plan. Whether you decide to shop weekly, bi-weekly, or monthly a meal plan can help you save hundreds every month.
Why?
Because instead of figuring out what to make for dinner at the last minute, resulting in quick grocery runs with impulse purchases and expensive convenience meals, you know exactly what to make because you've planned ahead.
I have found that over the years, I have been able to save the most money on my groceries when I monthly meal plan. With monthly meal planning, I am able to budget more money at once so I can afford to purchase family-size packages of meat (that cost more but are usually less expensive per pound) so I can divide it up to use for many meals.
To make meal planning easier, I use theme night dinners, and a family favorite meals printable. These two things save me a ton of time when sitting down to make my monthly meal plan.
Stocking up on pantry staples
As you know $5 dollars doesn't go very far when planning your meals, so in order to be more successful finding meals that can feed your family for cheap. It may be necessary to stock your pantry with some essentials.
Items such as spices, condiments, and baking supplies will be a huge help so you only have to concentrate on the main ingredients of the dish.
Eat leftovers
Try to plan a leftover night every week. It's one less meal that you have to budget for, saving you money. Although keep in mind, that this can be a struggle when you have teens in the house as leftovers rarely last until the next day. But, if you have younger children this is a great way to stretch your meals a little further.
Make a list so you are not impulse buying
This is so important when you are trying to save money on groceries especially if you are on a tight budget. Make sure when planning out your meals to list your ingredients beside each meal so you know exactly what you need to purchase and you are not pulled in with all the sneaky spending traps grocery stores use to get you to spend money you don't have.
Plant a garden
Planting a garden is one of the best things you can do to save money on groceries and make those $5 dollar dinners possible. Adding vegetables to our meals is not only better for us, but it also helps us make our meals more filling.
Related:
Tips to Get the Best Prices on Groceries
Before you head out to the grocery store to gather your ingredients for these delicious meals, here are a few helpful ways to find the best prices when grocery shopping.
Try to shop sale items.
Buy family-size packages to use for multiple meals.
Shop places like Aldi and Walmart (or do some research in your area to compare prices).
Buy generic brands.
More ways to stretch your budget:
Important Things to Know
Keep in mind that not every recipe is the healthiest but the goal is to keep the cost low ($5 or under for the entire meal) We like to add in extra vegetables (having your own garden comes in handy for this) and sliced fruit to keep our meals more balanced. Of course, you can adjust ingredients but it may cause the price to increase over the $5 dinner budget.
As I mentioned before, many if not all of the recipes require some spices or condiments. I know when you are on a tight budget it can sometimes be difficult trying to get ingredients for the meal much less anything extra. But, try to add in a few pantry staples every time you shop instead of all at once to make it more affordable. I know that Walmart usually has spices for a dollar and you can always find a good selection at your local Dollar store.
Lastly, you will notice that some of these recipes will require you to buy large family-size packages of meat as they are usually cheaper. Keep in mind that grocery stores tend to mark down their meat in the morning so keep a lookout for any sales and stock up.
You May Like:
28 Family-Friendly Dinners that are $5 or Less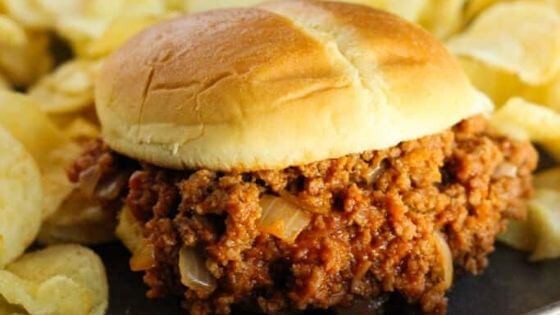 Turkey Sloppy Joes
Easy Turkey Sloppy Joes( Whiskful Cooking) is a healthier version of a family favorite recipe loved by both kids and adults. Just a few simple ingredients and these delicious and budget-friendly sandwiches are ready for potlucks or busy weeknight dinners.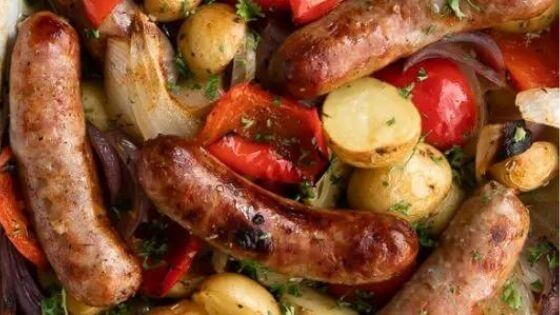 Oven-Roasted Sausage and Potatoes
Easy Oven-Roasted Sausage and Potatoes (The Forked Spoon) Enjoy this hearty, family-friendly dinner as a quick weeknight meal, and enjoy the leftovers for meal prep the next afternoon.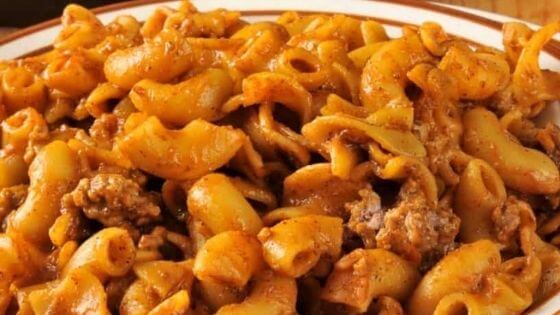 Silly Chili Macaroni
Looking for an easy, cheap dinner recipe that children will love? Give this Silly Chili Macaroni(Saving Talents) a try! It's a favorite of kids and adults alike, and it's easy to customize! It's also a perfect pantry, stockpile, or food storage meal.
Hot Dog Fried Rice
This Hot Dog Fried Rice(Beeyond Cereal) is a frugal and easy dish that uses hot dogs and leftover white rice to create a filling and tasty dinner that the whole family can enjoy.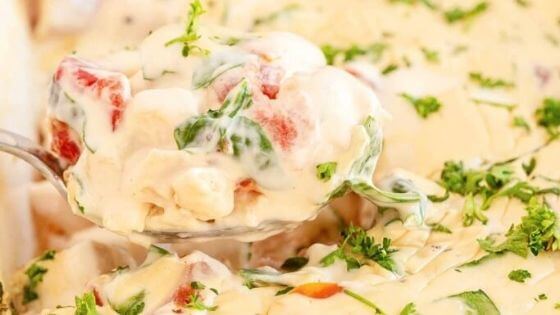 Bisquick Chicken Alfredo Casserole
Bisquick Chicken Alfredo Casserole (Thrifty Frugal Mom) is super easy to make, made with simple ingredients, and always hits the spot.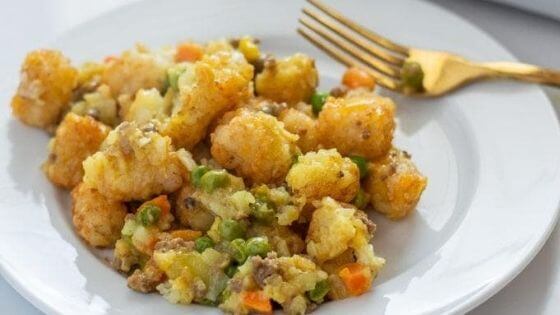 Tator-Tot Casserole
Gluten-Free Tater Tot Casserole (This Vivacious Life) is a one-dish meal of classic comfort food that will become an instant family favorite and satisfy even your picky eaters.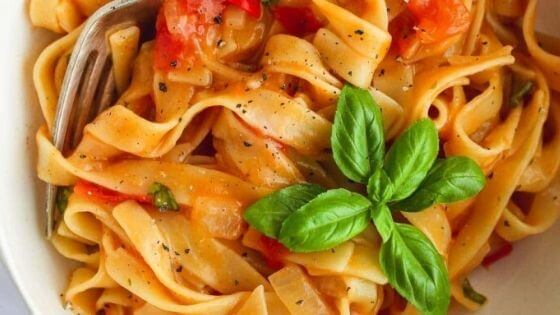 One-Pot Pasta
One-Pot Pasta(Little Sunny Kitchen) is an easy 15-minute one-pot pasta made with very basic ingredients. It's simple, frugal, and delicious.
Pasta, Bean & Tomato Soup
This Pasta, Bean & Tomato Soup (Plant-Based on a Budget) is a super budget-friendly and tasty soup. It's filling, and also oil-free.
You May Like:30 Cozy and Delicious Soup Recipes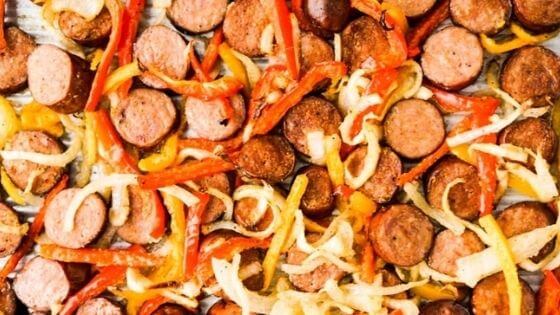 Sausages and Peppers in the Oven
Sausage and Peppers in the Oven(Joyous Apron)is an easy, budget-friendly, and satisfying meal everyone will love.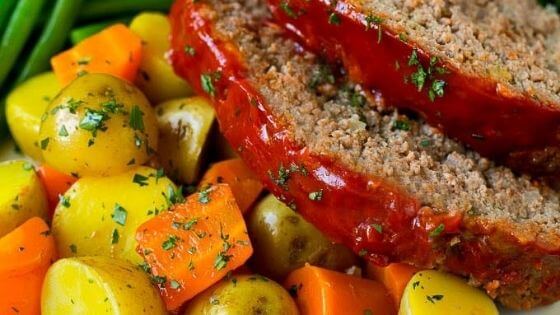 Crockpot Meatloaf with Vegetables
This Crockpot Meatloaf with Vegetables (Dinner at the Zoo) consists of lean ground beef mixed with breadcrumbs, herbs, and seasonings, then cooked in a slow cooker along with carrots and potatoes.
Related:27 Easy Dump and Go Crockpot Meals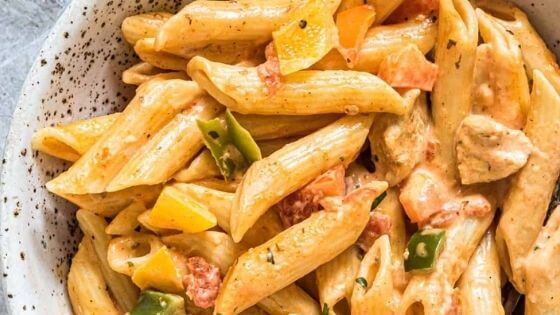 Instant Pot Chicken Fajita Pasta
Instant Pot Chicken Fajita Pasta (Budget Delicious) is one of those flavorful comfort food one-pot meals that cook fast in the Instant Pot, making it the perfect meal for your busy family.
Related: 25 Easy Instant Pot Recipes for Beginners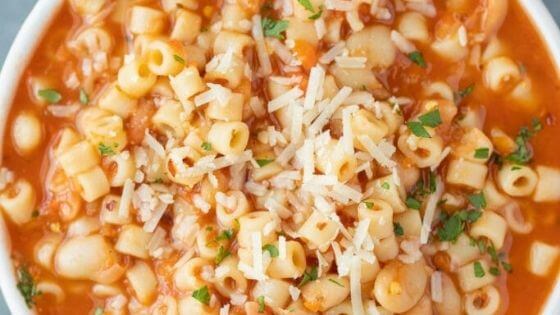 Easy Pasta Fagioli
Easy Pasta Fagioli (The Clean Eating Couple) is better than Olive Garden! Healthy, vegetarian & easy to make on the stove, crockpot, or instant pot.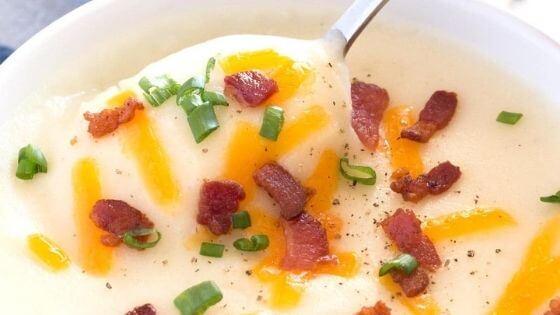 Easy 4-Ingredient Potato Soup
This Easy 4-Ingredient Potato Soup (Borrowed Bites) transforms pantry basics into a creamy, comforting bowl of goodness in the slow cooker or on the stovetop. Add bacon, cheese, and green onions to make it taste like a loaded baked potato, or serve as-is for an ultra budget-friendly dinner.
Poor Man's Stew (Hamburger Stew)
Poor Man's Stew (Cook at Home Mom) is a budget-friendly meal made with ground beef that costs less than $2 per serving! It's absolutely delicious, plus it's very simple to make. This recipe can be made in the Slow Cooker, Instant Pot, OR Dutch Oven.
Air Fryer French Bread Pizza
Air Fryer French Bread Pizza (All You Need is Brunch) is perfectly cooked with an insta-worthy cheese pull, crispy pepperoni, and a garlic butter bread base.
You may also like:
More Family Favorite Dinners That Cost $5 or Less
These budget-friendly meal ideas are my family's go-to dinners when we're trying to save money. They are not only inexpensive but delicious and will feed my family of four with occasional leftovers (I have teen boys in the house.)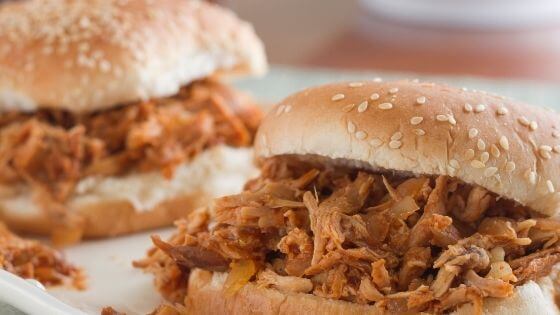 Shredded Barbecue Chicken Sandwiches
These chicken sandwiches are so easy to make. All you have to do is put a few chicken breasts or tenderloins in your slow cooker with a bottle of barbecue sauce. Then, simply add it to a hamburger bun.
Since chicken can be so expensive. Make sure you are buying the family pack so you can use it for multiple meals. I usually purchase the frozen 3 lb. packages and can get 2-3 meals for my family out of it.
Serve with an inexpensive box of macaroni and cheese for the kids (usually less than .50 cents a box -generic brand) Also some baby carrots and apple slices.
Chicken Quesadillas
We love these for a quick inexpensive meal. You can use the extra chicken from the package you purchased for another chicken meal (like the shredded barbecue chicken sandwiches above).
Just cut up some chicken and cook in a pan or you can also use cooked shredded chicken. Add it to a tortilla shell with cheese, fold over and then brown in a skillet. We like to add veggies like mushrooms, onions, and peppers but you can also just make cheese quesadillas to stretch your budget even further. Serve with salsa and sour cream.
Ramen Stirfry
It doesn't get any easier than ramen stirfry. Simply add cooked chicken (chunks or shredded) to prepared packages of ramen with cooked frozen broccoli. Of course, you can make this healthier by using rice and low-sodium soy sauce and seasonings.
Meatball Stroganoff
This is another budget-friendly recipe that only takes 4 ingredients (not including seasonings) Since ground beef can be expensive, purchase a package of frozen Italian meatballs to use for the next 3 meals. Simmer meatballs with 2 cans of cream of mushroom soup and about a half cup of sour cream. Prepare egg noodles. Once meatballs are fully cooked serve over noodles with a side of vegetables.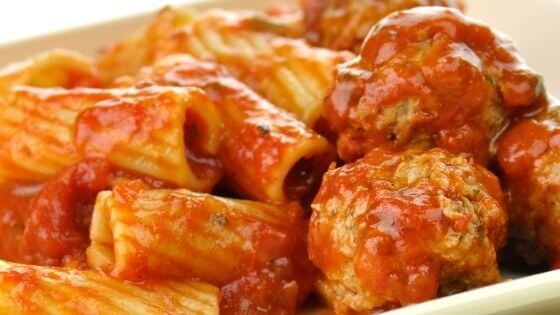 Baked Rigatoni and Meatballs
My boys love this recipe and I love that it is so easy to prepare. Just boil a 1 lb. box of Rigatoni (or any pasta of your choosing) and simmer meatballs (from the package for the above recipe) in pasta sauce on the stovetop until done. Combine together. We like to top it with mozzarella cheese (purchase a large package to use for many meals to keep the cost down) and sprinkle it with Italian seasoning. Bake at 350 degrees for 20-30 minutes or until cheese is melted and bubbly. Serve with green beans.
Meatball subs
These are sure to be a hit with your family as my family loves this simple but tasty recipe. Add frozen meatballs (remaining from the above recipes) to pasta sauce, cover, and simmer until heated through. Add 3-4 meatballs to a hot dog bun and top with mozzarella cheese. Bake in the oven at 350 degrees for around 10-15 minutes or until the cheese is melted and the bun is crusty. Let cool and then serve with a side of veggies of your choosing.
Baked Ziti
If you are looking for a meatless option, then try making some easy-baked ziti. Simply boil your noodles until cooked, and drain. Then, add in your pasta sauce and pour into a 13×9 inch dish top with mozzarella cheese, parmesan, and Italian seasoning. Bake at 350 degrees for 20-30 minutes or until heated through and cheese is melted. Serve with veggies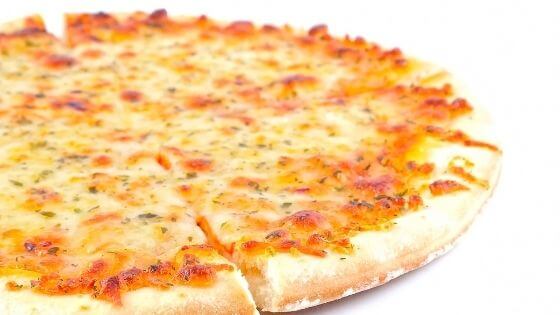 Cheese Pizza
Pizza is definitely a family favorite and is very budget-friendly if you purchase the packages of pizza crust that cost less than $1 (generic) in most stores. I use 2 packages for one large pizza that makes 8 slices. All you have to do is prepare the pizza crust, and top it with pizza or pasta sauce and mozzarella cheese. Bake at 450 degrees for 10-12 minutes.
Angel hair pasta, tomatoes, and parmesan
Another delicious meatless option that we love to make is angel hair pasta, tomatoes, and parmesan. Simple boil your angel hair pasta until done, drain, and combine with pasta sauce and diced Italian tomatoes. Simmer over medium heat until warmed through. Top with parmesan cheese.
We like to serve this with homemade garlic bread and green beans.
You May Like:22 Quick and Easy Pasta Recipes for Busy Weeknights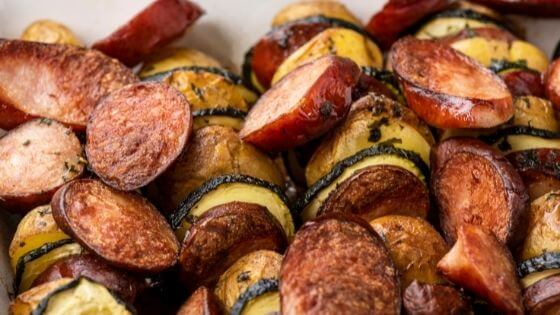 Smoked Sausage, Noodles, and Zucchini
This recipe is one of my family's favorite 20-minute meals. It's so easy to make and so flavorful. Start out by slicing your smoked sausage and zucchini. Then, cut into chunks. Add some oil to the pan and cook zucchini until soft, add the smoked sausage until warmed through. While you are cooking the zucchini and smoked sausage, boil the egg noodles until done, and then drain.
Toss egg noodles in butter, garlic powder, and parmesan cheese. Then, serve smoked sausage, and zucchini mixture over the top.
Bean Burritos
These make a quick dinner or lunch. Simply spread refried beans on a tortilla shell and sprinkle with shredded cheddar cheese. Roll it up and warm in the microwave until the cheese is melted. Serve with salsa and sour cream.
Macaroni and Tomato Soup with Grilled Cheese Sandwiches
There is nothing like a hot bowl of soup on a cold day and tomato macaroni soup is the perfect inexpensive dinner idea when you are on a tight budget.
Simply boil your macaroni until done, drain and add to tomato soup. Season with salt, and pepper, and top with parmesan cheese. Add some grilled cheese sandwiches on the side and you have a cheap and filling meal idea.
Breakfast
When all else fails, serve breakfast for dinner. Pancakes, french toast, scrambled eggs, or omelets are all budget-friendly meals that are not only quick to prepare but hearty choices for busy weeknights.
Try our family's favorite frugal egg, ham, and cheese crunch wrap for an easy inexpensive meal idea.
There you go, 28 Family-Friendly Dinner Ideas that cost $5 or less. I hope it has helped give you some ideas for your next meal plan.
More easy and frugal dinner ideas to try:
Don't forget to sign up for my Free Resource Library to grab my meal planning printables. You will also get access to lots more printables all completely free for you to print out and enjoy!
Follow me on Pinterest for more recipes and meal planning inspiration