No time to make dinner? No problem! Try these 19 Quick and Easy 10-Minute Meals when you need dinner on the table fast.
This post may contain affiliate links. You can read my full disclosure here.
Love printables?

Sign up here to access my free resource library

that has meal planning printables such as shopping lists and favorite meal worksheets.
Need a easy dinner idea that you can have on the table in 10 minutes or less?
We've all been there. You've walked through the door after a busy day and realized you have no idea what to make for dinner and you only have a short amount of time before you have to leave the house again.
You don't want to order in because even that would take too much time not to mention it would wreak havoc on your budget for the week.
So what do you do on those crazy busy weeknights when you need to get dinner on the table quickly?
10-minute meals to the rescue! Quick, easy, and frugal recipes that only need a few ingredients. Sounds perfect right? Especially, since you probably have many of these simple ingredients right in your pantry or fridge saving you money on your groceries.
Looking for more ways to save on groceries:
Another perk to these quick and affordable 10-minute meals is that they are family-friendly and will please even the pickiest of eaters.
19 Quick and Easy 10-Minute Meals
Family Favorites
Here are a few of our go-to meals when we need a quick dinner idea. All of these meals are easy to prep and kid-approved.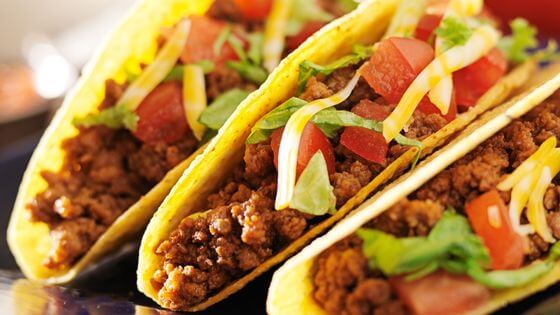 Tacos
Tacos are definitely a must in my home. They are requested weekly which is fine with me since they are so easy to throw together. Plus, they are so versatile as you can have them in hard or soft tortilla shells, in taco boats, or even on tortilla chips for a taco salad.
Just brown some ground beef in a skillet, add in a packet of taco seasoning then serve on a warmed tortilla shell, with shredded cheddar cheese, lettuce, tomatoes, and anything else you enjoy. Serve with salsa, sour cream, or guacamole.
You May Like: 35 Quick and Easy Ground Beef Dinner Ideas
Saucy Ramen Noodles
My boys can't get enough of these saucy ramen noodles from The Comfort of Cooking. Restaurant-quality noodles that you can enjoy from home and they only take 10 minutes to prepare. You can eat them by themselves or add in some precooked chicken with stir-fried veggies on the side.
Burritos
Burritos are one of my favorite 10-minute meals because they are not only tasty but filling. Brown some ground beef and add refried beans and shredded cheddar cheese to a flour burrito shell. Roll up and microwave for about 30-45 seconds to melt the cheese.
These would be a great freezer meal idea for a grab-and-go dinner.
Bagel or English Muffin Pizza
Pizza is one of our very favorite meals but unfortunately, it takes longer than 10 minutes to make. But, don't despair- you can still get that delicious pizza flavor just by toasting a bagel or an English muffin and topping it with your favorite pizza sauce, mozzarella cheese, and pepperoni.
You can either microwave it for a few minutes or put it in a toaster oven, air fryer, or even the oven for a few minutes to melt the cheese and warm the sauce. Quick, easy, delicious, and kid-approved.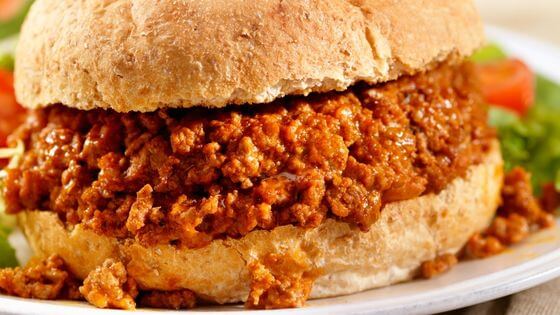 Sloppy Joes
Sloppy joes are not only quick and easy to prepare but they are something the whole family will love. Of course, to make things even easier you can pick up a jar of sloppy joe sauce and add it to a pound of ground beef and serve it on a hamburger bun.
If you would prefer homemade sloppy joes, I recently tried this recipe from Five Heart Home. Since it only takes a few ingredients which you probably have on hand, it's simple to put together. (Serve with veggies and fruit on the side)
Have a few extra minutes? Try a grilled cheese sloppy joe. Place a slice of cheese on a piece of bread, top it with the sloppy joe mixture, and place another slice of bread on top. Then, just brown it as if you were making a grilled cheese sandwich.
Looking for more easy and frugal dinner recipes?
Pasta Meals
Here are a few pasta meals that I'm always adding to my meal plan. Simple but delicious!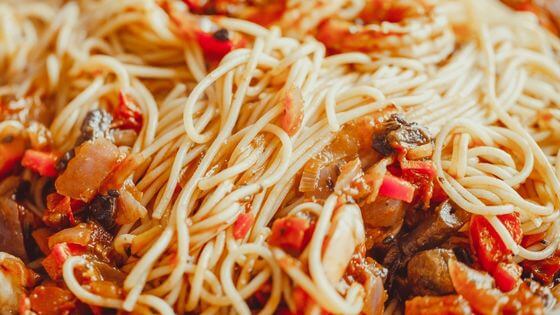 Angel Hair Pasta with Tomatoes and Sauce
We love making this meal because it has so few ingredients but is still so flavorful. Boil angel hair pasta until cooked through about 4-5 minutes, add a jar of your favorite pasta sauce and a can of Italian-style diced tomatoes. Season with salt, pepper, garlic powder, and Italian seasoning. Then, top with parmesan cheese for an easy and tasty meal that takes less than 10 minutes to prepare.
Meatball Stroganoff
Meatball stroganoff is such a comforting meal that is not only perfect for busy weeknights but can also be made to enjoy as a slow Sunday dinner in the crockpot.
But, for a quick 10-minute meal, all you have to do is start by boiling the egg noodles, then add your frozen meatballs to a can of cream of mushroom soup, 1/2 cup of sour cream, and 1/2 cup of milk in a saucepan. Season with salt, pepper, and garlic powder and cook over medium heat until meatballs are cooked through, drain the egg noodles and top with meatballs and sauce.
You may like:
Soup, Salad, and Sandwiches
Soup, salad, and sandwiches are the perfect combination any time of year. Of course, you can enjoy them all together or on their own. But, either way, they are quick and easy to throw together for a fast 10-minute meal.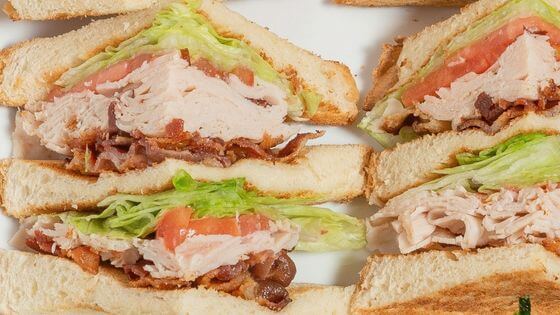 Turkey Club
When you are short on time, a turkey club is definitely the answer to getting dinner on the table fast. Simply toast three slices of bread, and top with mayonnaise, lettuce, tomato, cheese, turkey slices, and bacon. Then, just add the second piece of toast and repeat the ingredients. (Serve with chips or pretzels and fruit)
Tuna Melt
A tuna melt is perfect if you are looking for a lighter dinner. But, you can always add it to a bowl of soup if you want something a little bit heartier. It can be as easy as adding a slice of cheese to your tuna fish sandwich and cooking it like grilled cheese.
But, if you want to try a new variation, this tuna melt recipe from Cooking Classy is one of my favorites.
Greek Salad
Greek Salad is my very favorite salad and I can't get enough. It's so fresh and flavorful. If you are like me, then you will love this recipe from Love and Lemons.
Tomato Soup and Grilled Ham and Cheese Sandwiches
When all else fails, open a can of tomato soup and make up some grilled ham and cheese sandwiches for an easy and fast dinner idea when you don't have time to cook but want something comforting to eat. Because, let's face it nothing says cozy more than a hot, steaming bowl of tomato soup.
Related:
Meals with Rotisserie Chicken
Rotisserie chicken is one of the best ways to get dinner on the table quickly. But, even if you don't have a rotisserie chicken handy, you can always cook up some chicken ahead of time and shred it so you have it on hand. I like to use my instant pot for this because it's fast and easy.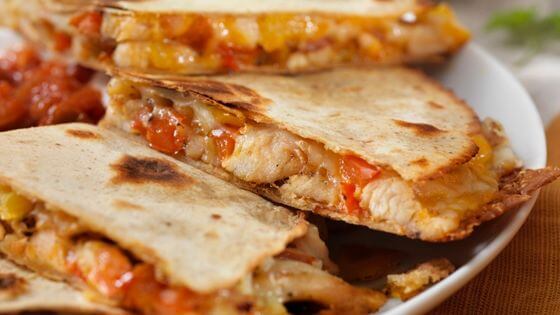 Buffalo Chicken Quesadillas
We are obsessed with everything buffalo chicken, so when my son suggested we wrap it in a tortilla shell with cheese, it was an instant hit. Simply add 2 cups of shredded rotisserie chicken with a 5 oz bottle of hot sauce, and 1/2 cup of ranch dressing. Then, top with shredded cheddar cheese, place in a tortilla shell and fold over. Cook in a skillet until both sides are brown.
Of course, you can adjust the ingredients to your liking, if you want it milder or spicier.
Barbecue Chicken Nachos
We love nachos in our home, and I'm always looking for different ways to make them. Although we love our layered nacho casserole, we wanted something that didn't take as long to prepare. After doing a little research, I stumbled upon a barbecue chicken nachos recipe (365 Days of Baking and More) and we quickly fell in love.
They not only make a delicious dinner but they are the perfect party food or game day appetizer. A perfect way to use up that leftover rotisserie chicken.
Chicken Parmesan Sandwiches
If you are looking for something simple and tasty, it doesn't get any easier than rotisserie chicken parmesan sandwiches. All you need is your favorite pizza sauce, buns, rotisserie or shredded chicken, and shredded mozzarella cheese.
Mix together pizza sauce and shredded chicken, place on a bun, and top with cheese, then warm in the toaster oven, air fryer, or in the microwave. You can have a quick meal in under 10 minutes that the whole family will enjoy. (Serve with side salad)
Cobb Salad
This delicious cobb salad (Natasha's Kitchen) is so easy to make especially when using rotisserie chicken. It's made with lettuce, tomatoes, bacon, chicken, eggs, and cheese for a delicious but filling option when you want something lighter.
A quick tip: Keep some hard-boiled eggs made up in your fridge to save even more time.
Recommended:
Breakfast Meals
Breakfast meals are an easy 10-minute dinner idea because there is usually little prep time and they can be cooked so quickly.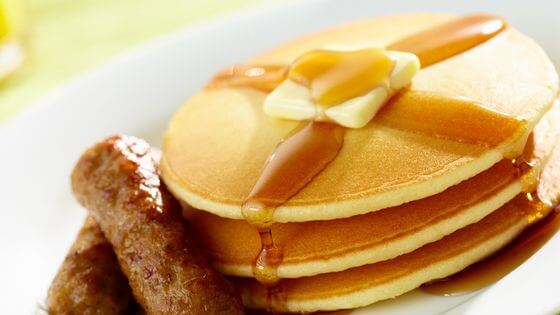 Pancakes or Waffles with Sausage
You can simply buy a box of pancake mix for a quick and easy breakfast-for-dinner idea. But, if you would prefer to make them yourself, this homemade pancake mix recipe from Spend with Pennies is simple to prepare and so tasty topped with maple syrup. Serve with breakfast sausage.
French Toast with Bacon
French toast is a must-make for breakfast or dinner in our home because we love it so much. This french toast recipe from Tastes Better From Scratch is one of our favorites. While you are cooking your french toast, you can put your bacon in your microwave for 5 minutes or so. If you have an air fryer, you can also use that to cook your bacon up quickly.
You may like:
Omelet
Omelets are so tasty and filling since they are packed with protein. The best part is that they can be customized so everyone in the family will enjoy them.
If you've never made an omelet they are super simple to put together. Add two beaten eggs to a skillet with melted butter. Let the eggs cook for a few minutes until they are no longer runny. I like to make a few slits so the uncooked egg falls to the bottom of the pan and gets cooked. Then, just add the cheese, meat, and vegetables that you like. Fold over and continue cooking until cheese is melted and veggies are soft.
Egg, Ham, and Cheese Muffins
Need an easy alternative to your favorite fast food breakfast item? Save some money and time by skipping the drive-thru and making this delicious egg, ham, and cheese muffin.
Start by toasting an English muffin (you can use bread or even a bagel if you would prefer), then fry an egg. Once the egg is cooked top it with a slice of cheese and ham. Cook until cheese is melted and then transfer to the muffin.
We like to serve our egg, ham, and cheese muffins with hash browns or tater tots.
You may like:
And that's it! 19 Quick 10-Minute Meals you can make to get dinner on the table fast for those busy weeknights at home. Hopefully, this list will not only be helpful to you when you need something in a pinch but also easy ideas you can add to your weekly meal plan to save you time.
You may like: 30 Time-Saving Hacks for Busy Moms
Don't forget to sign up for my Free Resource Library to grab my meal-planning printables. You will also get access to lots more printables all completely free for you to print out and enjoy!
Follow me on Pinterest for more recipes and meal-planning inspiration