Try this easy 4-day living room deep cleaning challenge to make spring cleaning your home this year a breeze by focusing on one room at a time.
This post may contain affiliate links. You can read my full disclosure here.
Love free printables? You can sign up for my Free Resource Library. It has free planner printables and I've recently added new cleaning checklists for the morning, nightly, weekly, and monthly cleaning routines.
Whether we are relaxing on the couch watching a movie, catching up on our favorite series, or playing board games with the family, the living room is one of the most used rooms in our home. It's the place where the entire family comes together to hang out, snack, and spend time with one another.
So, it's no surprise that it can get very cluttered, dirty, and dusty fast. And, while good cleaning habits are great for consistent everyday cleaning. It's always good to add in a deep clean every now and then to keep your home and family healthy.
Plus, doing deep cleaning in the living room helps you become aware of all those places you may be forgetting to clean on a regular basis.
Recommended:
Usually, this time of year, I'm gathering my cleaning supplies, and my spring cleaning checklist to start deep cleaning my home. But, I decided this year I was going to slow down and try to avoid the overwhelm that usually always comes when I start a big cleaning project.
Instead, I've started a deep cleaning challenge that focuses on one room a week. I started with my kitchen deep cleaning challenge and then last week moved on to deep cleaning the bathroom.
This week, I've decided to tackle the living room. Although it's a smaller challenge than the other two, there is still a lot to be done. So, if you are ready….let's make our living rooms sparkle again.
Related: 5-Day Bedroom Deep Cleaning Challenge
Before You Begin Deep Cleaning Your Living Room
Pick up any clutter
Although clutter can form in any area of your home, it seems to be most common in the living room. Probably because of the time we spend in there relaxing, playing games with the family, watching movies, and snacking.
So, before you start your living room deep clean, take a few minutes and pick up anything that is out of place, bring any dishes back to the kitchen, and make sure toys and games have been put away.
Although, this is going to be a multi-day cleaning, starting each day with a clutter-free room will make the deep cleaning process go much smoother.
Learn more ways to Declutter your home:
Pull out your cleaning supplies
Make sure to assemble a cleaning caddy so that your supplies are handy when you need them. A few cleaning supplies that I recommend when you are deep cleaning your living room are:
Microfiber cloths
Furniture polish
Electronic wipes
Duster
Vacuum with attachments
Mop
Find motivation
Despite the fact that the living room is usually one of the easiest rooms for me to deep clean, I still need a little cleaning motivation to stay on task. If you are like me and need that little boost to keep you going, then you can set a timer, put on a podcast, start an audiobook, or put on music from your favorite playlist.
Print your free 4-day Living Room Deep Cleaning Checklist
Lastly, you can use my free living room deep cleaning challenge checklist to not only encourage but motivate you to stay on task.
Recommended:
4 Day Living Room Deep Cleaning Challenge
Day 1- Dust
Dust around the ceiling and remove any cobwebs that might have formed in the corners of the ceiling.
Dust the ceiling fan with a microfiber cloth or duster with an extender.
Wipe down picture frames and wall art.
Dust your television with a microfiber cloth or electronic wipes.
Dust lamp shades and lamps.
You can also take this time to dust walls, baseboards, and window blinds. I usually focus on these areas as well as cleaning my windows in my monthly cleaning schedule so I didn't include them in this challenge. But, if you would prefer to clean them seasonally you can add them in here.
After dusting the entire room try and do a quick vacuuming to pick up any of the dust that has fallen on the floor.
Day 2- Hard Furniture/Surfaces
Declutter your entertainment center- Pull out movies, games, gaming consoles, and decor, and go through and get rid of anything you don't watch, play or use anymore. Use wood cleaner or polish to wipe down shelves and wipe items with a microfiber cloth before putting them back. Finish by wiping the top, front, and sides of the entertainment center.
Pull books or decor off bookshelves or decorative shelving. Declutter anything that you haven't used in a while or don't plan to use (especially if your shelves are starting to look cluttered). Then, wipe the shelves and items before placing them back on the shelf.
Wipe down coffee tables and end tables with wood cleaner/furniture polish and a microfiber cloth.
Day 3- Soft Funiture/Surfaces
Pull cushions off couches and chairs. Then, using an attachment, vacuum any crumbs and dirt, making sure to get into all the crevices.
Wipe any stains with an upholstery spot cleaner. (make sure to test first in a hidden area if you haven't used it before.)
Use a lint brush to clean any decorative pillows.
Wash throw blankets.
Day 4- Carpets/Flooring
Move furniture and vacuum underneath.
Continue vacuuming your entire carpet thoroughly.
Spot treat any stains. If your carpet is really dirty, you may want to consider cleaning them. If you don't own a carpet cleaner, you can rent one. They are usually available to rent at your local retailers.
If you have hardwood floors or laminate flooring, mop the floors.
And that's it, you've deep-cleaned your living room! Hopefully, you decide to stick around for the rest of the challenges. I really wanted to find a way to make seasonal cleaning more manageable so we don't feel so rushed to get it all done at once or end up avoiding it altogether because it's too stressful.
You May Like:
Don't forget to check out my three other deep cleaning challenges and make sure to print your free living room deep cleaning checklist (above) to help you stay on task.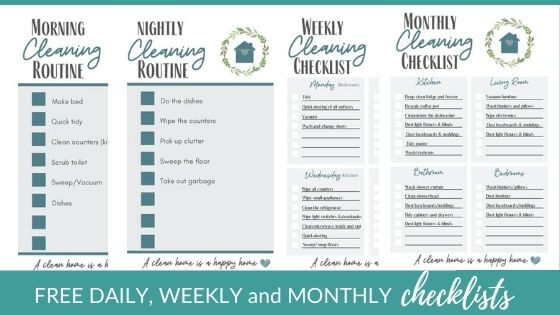 Are you looking for ways to keep your home consistently clean?
Before you go, sign up for my Free Resource Library. You will find planner printables to keep track of all your everyday tasks, cleaning printables, wall quotes, and more.
Follow me on Pinterest to find more cleaning tips and inspiration.