Looking for an easier way to deep clean your bathroom? Try this 5-day bathroom deep cleaning challenge and make spring cleaning your home more manageable this year.
This post may contain affiliate links. You can read my full disclosure here.
Love free printables? You can sign up for my Free Resource Library. It has free planner printables and I've recently added new cleaning checklists for the morning, nightly, weekly, and monthly cleaning routines.
If you've been here a while you know that I love my daily cleaning routines. But, as much as these cleaning habits have helped keep my home consistently clean, I also realize it still needs a good deep cleaning every now and then.
You may like:
So, once the snow starts melting and I know spring is just around the corner, I will pull out my spring cleaning checklist to start deep cleaning my entire home (usually in a week).
However, this year I've decided to break up the cleaning tasks into small manageable chunks concentrating on one room a week. I also thought it would be fun to turn it into a challenge for motivation and to help avoid cleaning overwhelm.
Last week, I started my 7-day kitchen deep cleaning challenge and this week I've decided to move on to the bathroom. I hope you decide to follow along and join me on this deep cleaning challenge as we make spring cleaning more manageable and less stressful this year.
Join my other deep cleaning challenges:
Helpful Tips For Deep Cleaning Your Bathroom
Gather Cleaning Supplies
Before I start deep cleaning my bathroom, I like to gather my favorite cleaning supplies. Since I keep them in a cleaning caddy under my bathroom sink they are easy to grab when I need them. A few things I like to keep in my cleaning caddy are:
All-purpose cleaner
Microfiber cloths
Glass cleaner (I use vinegar)
Disinfecting wipes
Toilet bowl cleaner
Scrubber
Clean these places first
Dusting light fixtures and cleaning baseboards are things I do in my monthly cleaning routine so I didn't add them to this bathroom deep cleaning challenge. But, if they are not something you've done in a while, I would recommend that you start here first.
You can do these cleaning tasks all at once or break them up into multiple days. Of course, if you would prefer to jump right into this challenge then you can add them on at the end or fit them into the other days. Find what works for you!
Dusting
Dust around the ceiling, and make sure to remove cobwebs.
Dust any light fixtures.
Dust pictures.
Wipe the baseboards.
Cleaning the doors and walls
Wipe down doors as well as door handles.
Clean light switches.
Wipe or dust the walls.
Washing windows and curtains
Dust window blinds.
Clean windows and window sills.
Wash curtains.
Print my Free 5 Day Bathroom Deep Cleaning Checklist
If you are ready to start this 5-day bathroom deep cleaning challenge, you can print out this free checklist to help you stay on task and keep you motivated while you get your bathroom sparkling clean and ready for spring.
You May Like:
5 Day Bathroom Deep Cleaning Challenge
One last quick tip before you start deep cleaning your bathroom is to try and declutter while you are pulling items out of cabinets and drawers. You can use my bathroom decluttering checklist to make things easier so you know what to focus on.
Day 1- Medicine Cabinet/Mirrors
Take items out of the medicine cabinet and wipe down.
Declutter anything that has expired or you don't use.
Clean your toothbrush holder.
Spray and wipe mirrors.
You May Like:
Day 2- Sink/ Counters
Remove items from your bathroom counters and wipe clean.
Clean out the inside of your sink and around faucets where grime can build up.
Declutter any items you keep on your counters before putting them back.
Day 3- Bathroom Cabinets and Drawers
Pull everything out of your cabinets and drawers, then wipe out.
Declutter items you no longer use or have expired.
Put back items you have decided to keep.
Wipe the outside of your bathroom cabinets as well as the handles or knobs.
Day 4- Clean Bathtub/ Shower
Clean your shower head by placing a ziplock bag filled with vinegar over the shower head secured with a rubber band. Allow it to sit while you continue cleaning.
Wash your shower curtain and replace your shower liner.
Remove all shampoo, conditioner, body wash, and soap.
Scrub your shower or tub with your favorite shower cleaner. (I like to sprinkle my shower with baking soda and then use a dish wand-filled vinegar and dish soap to clean my shower.)
Put all body care products back on shelves.
Wipe down the faucet and handle.
Day 5- Clean the Toilet
Add toilet cleaner to the bowl and let sit while cleaning the rest of the toilet.
Clean and disinfect all surfaces on the outside of the toilet.
Use a toilet brush to scrub the inside of the toilet bowl.
Lastly, you can sweep and mop your floor. Although I do this in my weekly cleaning, It's always nice to finish off a deep cleaning session with fresh and clean floors.
You will find once you've completed this 5-day bathroom deep cleaning challenge, it will be so much easier to keep your bathroom clean every day.
Recommended: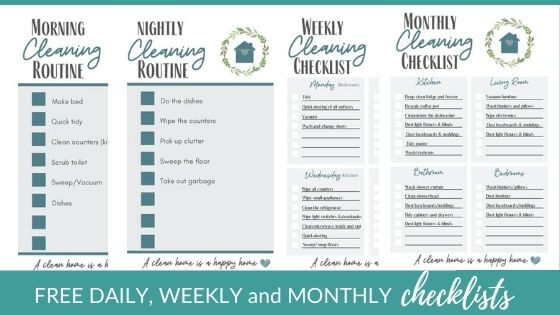 Before you go, sign up for my Free Resource Library. You will find planner printables to keep track of all your everyday tasks, cleaning printables, wall quotes, and more.
Follow me on Pinterest to find more cleaning tips and inspiration.