Whether you have guests coming over for a party, staying for the holidays, or just want to spend less time cleaning this Christmas season and more time enjoying all the festivities then this Ultimate Holiday Cleaning Checklist is for you.
This post may contain affiliate links. You can read my full disclosure here.
Love free printables? You can sign up for my Free Resource Library. It has free planner printables that will help keep you organized. As well as motivational quotes to print out and hang on your wall.
There is nothing like the holiday season, from the twinkling lights on the tree to the snow falling outside, the scent of pine in the air, and the sound of Christmas carols everywhere. It's without a doubt the most magical time of the year.
However, it can also be the busiest and most stressful. Between the shopping, cooking, baking, and everything else on our list. It leaves very little time for the things that we need to get done such as our holiday cleaning.
As much as I would love to just forget about the cleaning, I know that being prepared ahead of time will make for a much more relaxing and enjoyable holiday season. That is why I have decided to create a Holiday Cleaning Checklist to share with you.
The goal is to be able to get your holiday cleaning done early this year, so you have more time to focus on all the fun Christmas activities and baking all those yummy Christmas cookies.
Need to clean your home fast because holiday guests are on their way over?
Write down all the things you are thankful for this holiday season with my 30 Day Holiday Gratitude Challenge.
Ultimate Holiday Cleaning Checklist
Be your Guest
The first thing you should do before you start cleaning your home is to look around. Walk into your home as if you are the guest. What do you notice first? Are your counters cluttered with appliances you're no longer using? Is there dust on the back of your dining room chairs? Smudges on the windows?
Focus on the things people will see first. Add these places on your Holiday Cleaning Checklist if they are not already listed.
You may like:
Pick up Clutter
I always recommend that before you start cleaning anything in your home, you should always spend a few minutes picking up the clutter first.
This doesn't mean to completely declutter your home before Christmas. Of course, if you want to you can but if the goal is to get things done now to enjoy time with family watching Christmas movies and drinking hot cocoa, then wait until after the new year to start those declutter challenges.
Learn more ways to Declutter your home:
Are you ready? Let's start cleaning!
Entryway
Remove scuff marks on doors
Clean door handles/ light switches
Wash rugs
Sweep/Vacuum
Kitchen
Wipe all appliances down
Clean pantry- pull out any expired items and try to organize like items together. Then, take an inventory of what you have on hand and what you need to make room for those baking supplies. You can find a list of frugal pantry staples here to keep on hand.
Wash any holiday linens, or dishes.
Clean the stovetop and oven
Wipe down the refrigerator and clean out the freezer if you plan to get a jumpstart on your holiday baking.
Disinfect garbage cans
Wipe down the outside of your cabinets.
Clear off your counters to make room for a hot cocoa bar for your holiday party or space for that

air fryer

that is on your Christmas wish list.
Looking for some easy and delicious air fryer recipes?
Livingroom
Dust surfaces
Vacuum flooring/carpet
Vacuum furniture
Clean and fluff decorative pillows
Wash blankets and throws
Have pets and want a better way to keep your home clean?
Bathroom
Wash shower curtain
Clean mirrors
Wash rugs
Scrub shower and/or bathtub
Clean toilet
Cleaning routines are the best. Learn how they have helped me keep my bathroom clean in just 5 minutes every day.
Are you having guests over this holiday season?
Guest room
Wash linens
Vacuum/Dust
Fill a basket with essentials they will need while they are staying
Remember, these holiday cleaning tasks don't have to be done all at once. You can tackle these jobs a little at a time or over a couple of weeks, whatever works for your schedule. I like to break up my tasks into manageable chunks so I don't get overwhelmed.
Don't let cleaning overwhelm stop you from having a clean home:
Keep in mind that this doesn't have to be deep cleaning, I have a fall deep cleaning checklist that can be done or you can wait until after the new year and use my spring cleaning checklist to get your house back in order.
The goal of this holiday cleaning checklist is to give attention to areas of your home that might have been neglected over the summer and fall to get your home presentable for the holiday season.
You also need to remember that depending on when you choose to do your holiday cleaning you will need to continue to maintain it leading up to the holidays. Using a weekly cleaning routine is a great way to do this. You can simply print out my free cleaning checklists to stay on top of your cleaning this season.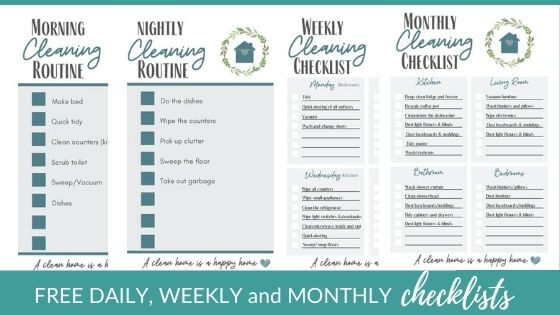 Here are the cleaning routines that I use to keep my home consistently clean:
Next year, you can make your life easier by decluttering your entire home beforehand. Here are 106 things you can declutter in your home to get started or you can start my 30 day home decluttering challenge.
Still unsure where to begin decluttering?
A little bit of effort will result in a clean and tidy home for the holidays. Plus, it will allow you to focus on the more important part of the holiday…spending time with friends and family.
Don't forget to print out your Holiday Cleaning Checklist below.
Click here for your Free Holiday Cleaning Checklist Printable
Love all things Christmas? Me too! Here are some ideas to make Christmas more magical and less stressful for you this year:
Do you love free printables? You can sign up for my Free Resource Library where you will find planners, cleaning schedules, and wall quote printables. All free to print and enjoy.
Don't forget to follow me on Pinterest for more cleaning motivation.