Are you struggling to find the time to clean your home? Try using this simple daily cleaning schedule you can stick to for a more effective way to keep your home consistently clean every day.
This post may contain affiliate links. You can read my full disclosure here.
Love free printables? You can sign up for my Free Resource Library. It has free planner printables and I've recently added new cleaning checklists for daily, weekly, and monthly cleaning routines.
Cleaning our homes can be one of the most dreaded jobs that have to be done. If you are like me, cleaning is the last thing I want to do after a busy day. It wasn't until I finally decided to sit down and make myself a morning and nightly cleaning routine that I was able to keep my home consistently clean.
But, that's not before I spent months bouncing from one daily cleaning schedule after another until I finally found something that worked for me and our home. Of course, as the years have gone on there have been times when I've gotten off my routine so I've done a few power hour cleanings on the weekends and tried speed cleaning (which is great when you have absolutely no time to clean but want to do the bare essentials).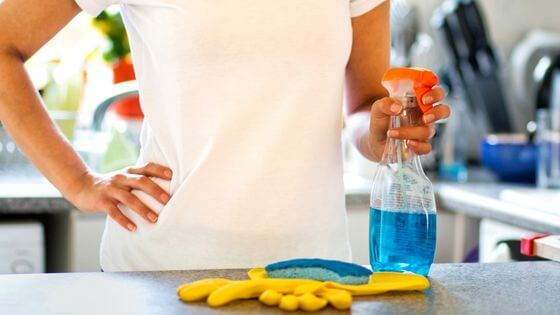 Because let's face it, cleaning can be overwhelming no matter what season of life you are in. It can feel impossible to keep up with everything and cleaning always falls to the bottom of the list. It's understandable, life can be crazy sometimes. There are definitely times when we need to focus on other things more.
However, despite all of this, it can be possible to keep our home clean and still have time for work, family, and responsibilities. It's all about finding a balance, establishing habits, and making things work for you.
There is no question that it can be challenging but I've found that sticking to my cleaning routines and using a few cleaning hacks here and there have helped me keep my home cleaner every day.
You can print my free cleaning checklists if you are ready to get your entire home cleaned.
Why You Should Try a Daily Cleaning Schedule
The ultimate goal of a daily cleaning schedule is to make your life easier and your home cleaner. It doesn't matter how you decide to approach your cleaning. You may not have the time to devote to a morning cleaning routine. It can be enough of a challenge to try and get yourself and your kids ready and out the door in the morning.
So that is why a daily cleaning schedule may work for you instead. A simple checklist of essential cleaning tasks that should be done every day to keep your home clean.
You can do them in the morning, afternoon, or after dinner. Find what works for you. As much as I love my morning and nightly cleaning routines, I know that they won't work for everyone. This is why I decided to share this daily cleaning schedule so you know what to focus on when you are cleaning your home.
A few things to consider before you start cleaning
Clear the clutter first
When you begin any type of cleaning routine or schedule it will always be beneficial to try and clear the clutter in your home first. A simple 30-day decluttering challenge can help with this.
Here are a few more ways that you can start decluttering in your home:
Clutter not only makes cleaning so much harder because you have to clean around items but after you clean, your house can still look dirty because there is so much stuff everywhere.
You may like: 18 Cleaning Mistakes You Might Be Making
Make sure you have a cleaning caddy
Assembling a cleaning caddy is as easy as picking up a storage caddy from Dollar Tree and filling it with all of your favorite cleaning supplies. That way your cleaning supplies are handy when you need them which will make the job so much easier for you.
A few products to include in your cleaning caddy are:
Multi-purpose cleaner
Disinfecting wipes
Glass cleaner
Microfiber cloth
The good news is that you will find as you begin to establish these cleaning habits that it will take you less time. Currently, it only takes me about 5 minutes to clean my bathroom and around 10 minutes to clean my kitchen every day.
You may like:
Simple Daily Cleaning Schedule You Can Stick To
Bedroom Daily Clean
Make your bed- This is one of the first things I recommend you do when you start your daily cleaning. It not only helps your bedroom look nicer but it gives you that boost of motivation to start your day.
Do a quick pick up- Spend a few minutes picking up anything that has been left on the floor, dressers, bedside stands, etc.
Vacuum the floors- Although this doesn't have to be done every day, try to do a quick scan before you leave the bedroom and vacuum or sweep your floors as needed.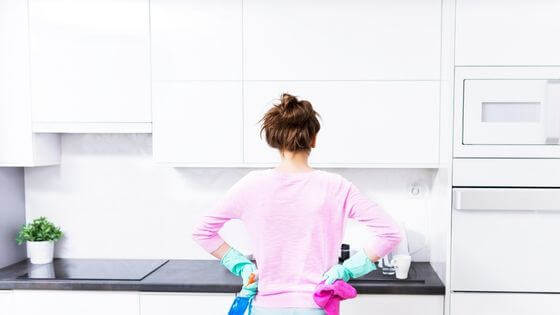 Kitchen Daily Clean
Wipe kitchen counters- Make sure to keep your cleaners or cleaning wipes handy so they are easy to grab. I like to keep my cleaning caddy under my kitchen (and bathroom sink) for this purpose.
Wash dishes- Try to keep up with your dishes daily by either washing them after dinner or loading and unloading the dishwasher.
Sweep the floor- Take a few minutes to give your floors a quick sweep. It doesn't matter if it's after dinner or after breakfast or sometime in between. By staying on top of it, you're not letting it pile up and get worse.
Empty garbage as needed.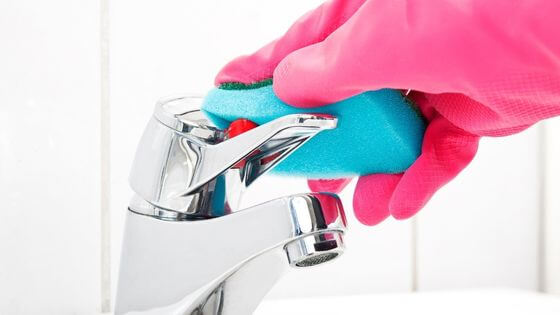 Bathroom Daily Clean
Clean sink and counters- Take a minute and wipe down your bathroom sink. Don't forget to buff the faucet.
Wipe down the toilet- Use a disinfecting wipe to wipe down the outside of the toilet (including the handle), the rim, and the toilet seat.
Pick up any towels or clothes left on the floor– You can make things easier by keeping a laundry basket in the bathroom and having hooks for towels to hang when they are drying.
Do a quick sweep- This may not be necessary every day in the bathroom so you can just do it as needed. We have two cats and we keep their litter box in the bathroom, and if you have a cat you know that sweeping every day is necessary to collect all the stray litter that makes its way out of the box.
Put out a clean hand towel.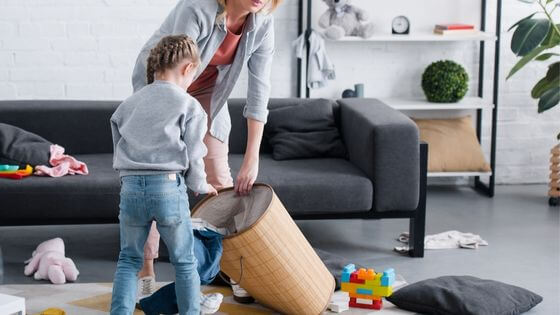 Livingroom Daily Clean
Quick tidy– Pick up any clutter that has been left behind, including toys, books, movies, etc. Fold throw blankets and fluff pillows.
Vacuum or sweep the floor– You can do this as needed. Since we have pets in our home, I like to take a minute and do this daily because of all the pet hair and dirt that comes in from the outside.
Do you have pets and want a better way to clean your home?
And that's it, an easy daily cleaning schedule you can stick to. Ultimately, you want to focus on the areas of your home that get the dirtiest every day. Keeping on top of these areas will prevent you from having to devote an entire day on the weekend cleaning your home.
A few last tips to help make cleaning your home easier
Put things back where they belong. When leaving a room, make sure you take out what you've brought in. Encourage other family members to do the same.
Try and wipe up counters after meals or while you are preparing dinner. Find moments that work for you.
Clean the bathroom sink or wipe down the toilet while the kids are taking a bath and you are in the bathroom with them anyway.
Make sure to take your shoes off at the door so you are not tracking in dirt.
Save time and scrub your shower while you are in it.
Let your pots and pans from dinner soak in hot soapy water while you are eating, then it's just a quick wipe when you do dishes after dinner.
Have everyone in your family pitch in and help to get everything done at once, or assign chores to different family members to complete daily.
Put a laundry basket in each family member's bedroom and either designate one day a week as laundry day or you could do one load a day to make it easier (you can even assign a day for each person's laundry to be done). If you have teens this would be a great chore for them.
You may like: 7 Ways to Get a Teen Boy to Clean Their Room
Once you've established your daily routine, it may be time to start working on a weekly and monthly cleaning schedule.
In my weekly cleaning routine, I focus on one room every day. So, for example, Wednesday is my kitchen day so on top of my daily cleaning, I will add in a few additional cleaning tasks such as cleaning out the fridge or wiping down appliances.
For my monthly cleaning schedule, I focus on areas that are often neglected throughout the month like dusting light fixtures or vacuuming under furniture. Here are 90 other places people may be forgetting to clean in their home.
Are you ready to start deep cleaning your home?
Hopefully, you've been inspired to try one of these routines to keep your home consistently clean every day.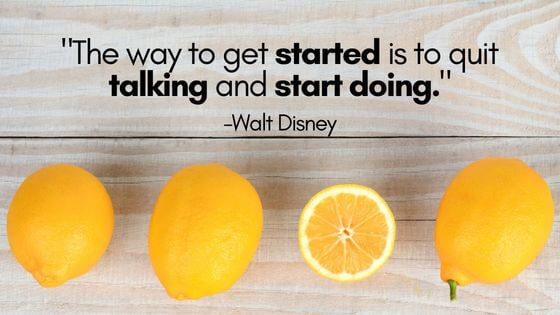 Do you love free printables? You can sign up for my Free Resource Library where you will find planners, cleaning schedules, and wall quote printables. All free to print and enjoy.
Don't forget to follow me on Pinterest for more cleaning motivation.